Asia is quickly becoming a hotspot for tourists as it is considered as moderately safe, affordable and accessible from most countries. There's also the flair that Asia truly has it all. From overgrown forest temples to untouched beaches and even amazing nightlife. There are many reasons for you to pack your bags and visit, but if you need some convincing, here's a list of ALL the Asian countries that are are visa-free for South African passport holders:
Cambodia
Visa-free for 30 days
Currency : 1 ZAR = 293.31 Cambodian riel
Cambodia has a rich culture and history that can be seen and experienced in many different ways on a trip to the country. From watching a performance of Khmer Apsara dance, visiting produce markets, sampling the Cambodian cuisine and admiring the groups of saffron robe-clad monks that seem ubiquitous in the country Cambodia is a riot of color, culture and the exotic.

Hong Kong
Visa-free for 30 days
Currency: 1 ZAR = 0.58 Hong Kong Dollar
Hong Kong is a sophisticated fusion of the east and the west. It is under the cultural influences of Cantonese, Mandarin, British, and there are also substantial communities from Hakka, Fujian and Shanghainese people. Known as the gateway of Asia, Hong Kong is also a shoppers paradise, Hong Kong offers a unique shopping experience for anyone, from street markets to trendy boutiques to traditional Chinese product stores, from luxurious shopping malls, you can find everything from the latest designer fashions and to known off fashion and antiques. Need more convincing? Here are 10 reasons to visit Hong Kong.
Indonesia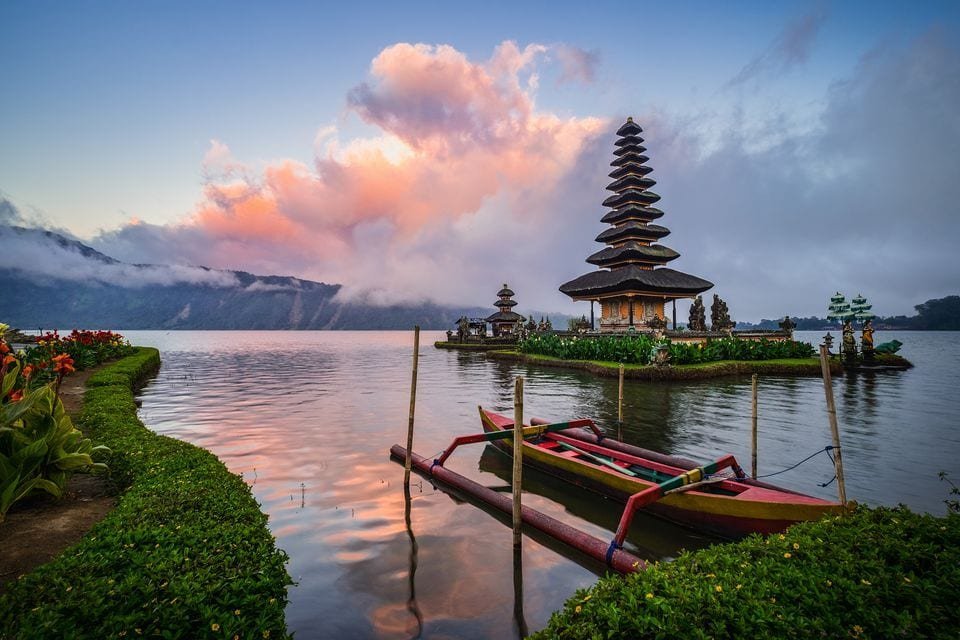 Visa-free for 30 days
Currency: 1 ZAR = 1,028.70 Indonesian Rupiah
With the largest archipelago in the world, Indonesia is one of the most beautiful countries as comparing the natural charm and beauty that it holds. Indonesia is famous for the 127 natural active volcanos and 17500 islands and an ample range of temples and beaches. Indonesia is an exceptional amalgamation of hundreds of unique cultures and languages.
Planning a trip to Indonesia? Start HERE
Kyrgyzstan
Visa-Free for 30 days
Currency: 1 ZAR = 5.13 Kyrgystani Som
Named the Pearl of Central Asia, the Republic of Kyrgyzstan is a small country mostly covered by mountains and almost untouched by tourism. For an authentic Kyrgyz experience, you can spend a night (or nights) sleeping in a yurt in the countryside. These stays can be surprisingly luxurious, considering their simple and humble set-up. If you're staying with a family in the countryside, this is the ultimate in authentic experiences – and one highly recommended!
Laos
Visa-free for 30 days
Currency: 1 ZAR = 628.12 Laotian Kip
Macau
Visa-free for 30 days
Currency: 1 ZAR = 0.59 Macanese Pataca
Located just 40KM from Hong Kong and known as "The Las Vegas of Asia", Macau is the the perfect fusion of the Portuguese and Chinese cultures. Its a hot spot for leisure and gambling. Tourism flourishes to great extent here and believe it or not, they make more cash from gambling than Las Vegas. The Venetian Macao is also the largest casino in the world, and the largest single structure hotel building in Asia. Sheraton Grand Macau and Sands Cotai Central are among the top ten world's largest hotels.
Malaysia
Visa-free for 90 days
Currency: 1 ZAR = 0.30 Malaysian Ringgit
Malaysia has so much to offer: amazing cuisine, stunning national parks, picturesque beaches, world-renowned aquatic life, rich history, and a vibrant culture. Unsurprisingly for a country situated entirely on a peninsula and islands, Malaysia has thousands of miles of beaches for relaxation and recreation. Most of its western coastline is swamp and mangrove, not sandy beaches, but the tiny offshore islands contains some of the country's most visited beaches.
Maldives
Visa-free for 90 days
Currency: 1 ZAR = 1.14 Maldivian Rufiyaa
Maldives is a country of isles that is surrounded by the sea and has a unique underwater beauty. Ocean lovers and dive enthusiasts come to Maldives to explore the vibrant marine life and remarkable coral reefs that is beneath the crystal clear ocean. A nation known to have some of the best dive sites in the world and the finest surf points. Maldives is a snorkeling destination, a diver's paradise, and one of the best spots for surfers.
Nepal
Visa-free for 90 days
Currency: 1 ZAR = 8.34 Nepalese Rupee
Nepal offers a wide variety of architectural styles, landscapes, cultures, tribes, and religions. It's one of the most interesting countries you can visit in the world! Located right in the heart of the great Himalayas, it's the perfect destination for hikers and adventure lovers.

Philippines
Visa-free for 30 days
Currency: 1 ZAR = 3.86 Philippine Piso
Known for Island Hopping – the world's second-largest archipelago is, naturally, an island-hopper's dream. Little clusters of islets abound off all of the main islands, and in any coastal community you'll find a boatman with a bangka ready to take you exploring. Home to over 7100 Islands, Philippines is known for their amazing food and beautiful people – Catriona Grey (Miss Universe 2019) is from Philippines. More reason to visit Philippines
Singapore
Visa free for 30 days
Currency: 1 ZAR = 0.099 Singapore Dollar
A smorgasbord of cuisines – Chinese, Indian, Malaysian, Indonesian – has earned Singapore the reputation as Asia's dining capital. Fine restaurants abound, but a visit would be incomplete without a full tasting tour of the hawker centers scattered through the city. 30 other things to do in Singapore
South Korea
Visa free for 30 days
Currency: 1 ZAR = 82.16 South Korean won
South Korea has 2,413 kilometres of seaside, with wide coastal plains to the west and south, and nearly 3,000 small uninhabited islands just offshore. This relatively small country (about the size of England) with the 11th largest GDP in the world ($1.4 trillion, according to the latest ranking by the World Bank) is unique in most ways. With a sex-themed park on the island, Jeju Love Land; 12 UNESCO World Heritage Sites including royal palaces, tombs, shrines and well preserved hanok villages (hilly settlements packed with traditional Korean houses). You will find some amazing gems!
Sri Lanka
Visa-free for 30 days
Currency: 1 ZAR = 13.27 Sri Lankan Rupee
Tajikistan
45 days (e-Visa). Apply for one HERE
Currency: 1 ZAR = 0.69 Tajikistani Somoni

With 93% of the countries land being mountains, it has everything an intrepid traveler can dream of. Hiking, trekking, mountaineering, rafting, paragliding, adventure jeep touring, camping, cycling, horse riding and even Yak riding. One of the most epic and adventurous road in the world, named Pamir highway or M41 runs across the country from Dushanbe to Osh of Kyrgyzstan. By car or bicycle, the road trip on the Pamir highway, which is the second highest in the world is truly epic. A continues route through rugged mountains, along the Oxus river, which is the border between Tajikistan and Afghanistan and on the roof of the world makes a lifetime journey you won't find anywhere else.
Thailand
Visa-free for 30 days
Currency: 1 ZAR = 2.32 Thai Baht
Thailand is known as Prathet Thail in Thai language which means "land of the free." Very fitting because Thailand is the only country in Southeast Asia that has never been colonized by a foreign power. Famous for its majestic beaches, amazing people and great weather. There are so many reasons to visit. Here's a list of the Best Places to visit in Thailand!
Timor-Leste
Visa-free for 30 days
Currency: USA Dollars and Indonesian rupiah

If you want to try something new yet still enjoy the conventional sun, sea and sand with an adventurous twist, Asia's "newest nation". East Timor or Timor-Leste officially the Democratic Republic of Timor-Leste only gained independence on May 20, 2002. Popular for diving, whale-watching, trekking, biking, great scenery, stunning mountain driving and beautiful white-sand beaches. East Timor is one of the world's unsung tourism destinations.
Vietnam
Visa needs to be pre-arranged online before arrival. More information HERE
Currency: 1 ZAR = 1,703.04 Vietnamese dong
One of the reasons to visit Vietnam is for the food!
The Northern cuisine is probably the mildest in flavour. You must try Pho Nam Dinh (rice noodle soup from Nam Dinh) and Bun Cha Ha Noi (Grilled Pork with rice noodle from Hanoi – The street food dish that Obama tried when he was there). Though we northerners eat a lot of rice, noodle soups are popular in restaurants. Noodles can be served in hot broth or cold mixed with many types of vegetables to make tasty salads.
In the centre, people tend to cook spicy dishes so watch out if you can't handle chillis. The famous places for good food are Hoi An – Da Nang and Hue. My favourite is Bun Bo Hue (Rice noodle, beef, pork and sometimes trotters in a spicy broth).
Southern cuisine has a lot of Chinese influence, in my opinion. Dishes can be a bit sweeter, great if you have a sweet tooth. Service in restaurants is known to be better in the South, though could be a myth if you stay in a tourist area. Try Pha Lau, Banh Trang Tron or Com Suon.
Disclaimer: All information (currency conversions) on this blog post was correct at the time of publishing and may change at any time without prior notice. Life from a Bag Blog will not be held liable for loss or inconvenience resulting from the use of out-dated or incorrectly noted information.