Are you planning a trip to are one of Turkey's most popular natural wonders? Famous for its unique rock formations and amazing hot air ballooning opportunities, the otherworldly landscapes of Cappadocia. The name derives from the Persian word Katpaktukya, which means 'the land of beautiful horses' for in ancient times the region was known for its equine offering.
Before you go, here's a list of things to know before visiting Turkey for the first time.
Now lets plan your Cappadocia trip
How to get to Cappadocia?

Depending on where you are traveling from you can travel to Cappadocia by flight, bus or car.
A bus from Istanbul to Goreme takes 10 hours and costs approximately €15 (90 Turkish Lira) for a one-way Trip.
HERE is your one stop shop for all buses in Turkey

A flight from Istanbul will take 1.5 hours and cost approximately €40 – €100 depending on the day, time and season. There are two main airports that you can use to reach Cappadocia. One of them is Kayseri Erkilet Airport (ASR) located in Kayseri and nearly one hour driving to the center of Cappadocia region. The other airport is Nevşehir-Kapadokya Airport (NEV). NEV is the closest airport and most popular.
Turkish Airlines operates several direct (nonstop) flights from Istanbul Airport (IST) to Kayseri Airport. Pegasus Air operates daily flights from Istanbul to Nevşehir Airport.
Tip: Before booking a hotel, call or email and ask if they can arrange a FREE shuttle to pick you up from the airport or you will have to spend €20-€30 to get to Goreme (depending on which airport you're traveling from).
Where to stay in Cappadocia?
Cappadocia cuts across 3 central Anatolia provinces including; Nevşehir, Keyseri, and Niğde. It covers an area of about 5,000 square kilometers. When visiting Cappadocia, there are 3 areas where you should stay: Goreme, Uçhisar and Ürgüp.

The village of Göreme serves as the region's main tourist centre and is also one of the few Cappadocian settlements still inhabited today. Christians gave the town of Göreme its name meaning 'you cannot see here', as they hid in the area during the Arab invasion.

The village of Uçhisar has some of the best views as its highest point in Cappadocia and commands panoramic views across Cappadocia and its valleys. Göreme is busier and more tourist focused while Uchisar has a more boutique and quieter feel.

Ürgüp is one of the region's largest towns and has many upmarket hotels and fine restaurants.
Best Hotels In Cappadocia: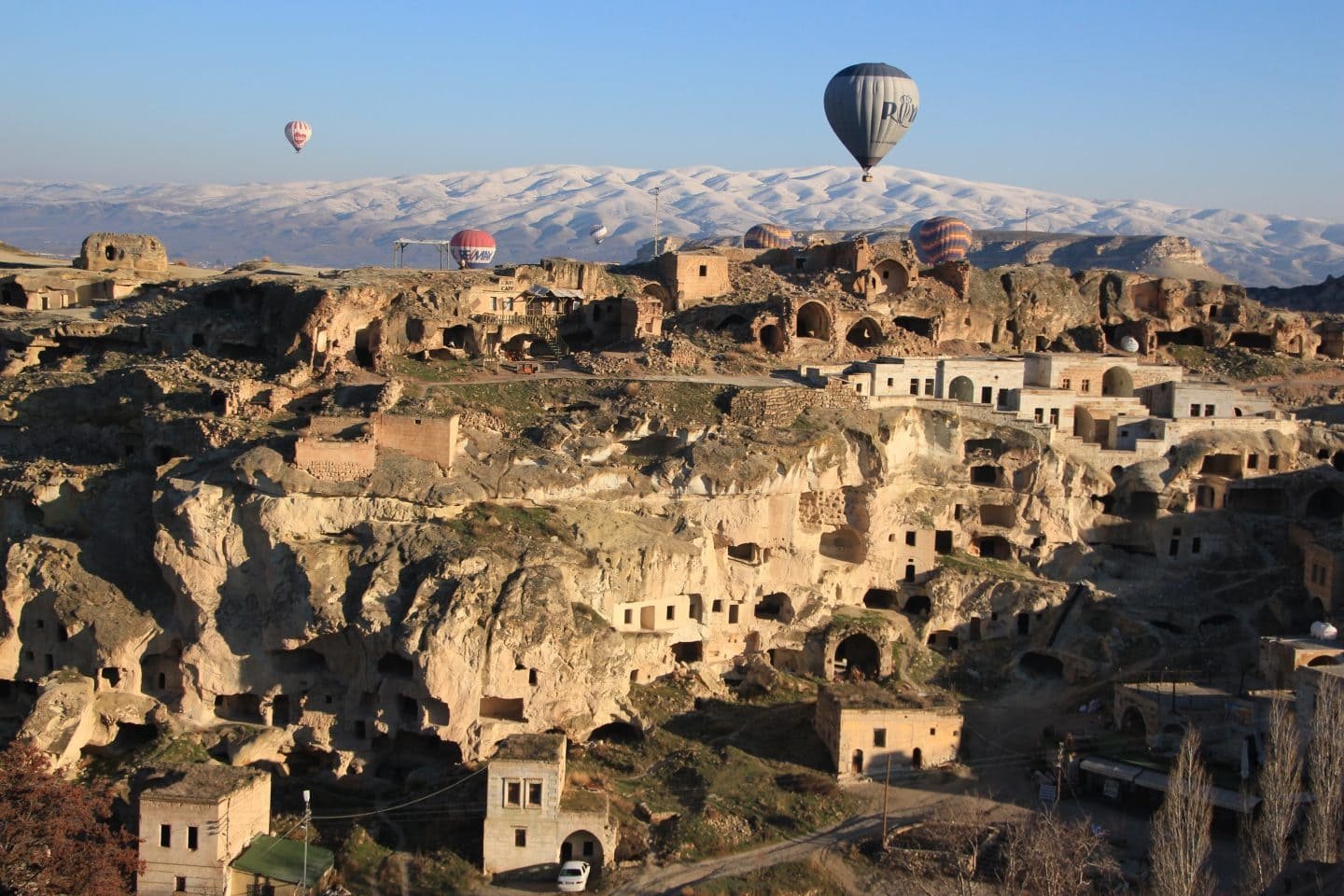 Luxury – Cappadocia Elite Stone House – The best part is the rooftop pool and, if you're after incredible photographs, the balloons and the pool make for the perfect combination

Mid-budget – Aydinli Cave Hotel –This cave hotel in the heart of Goreme has rooms built into volcanic rocks with vaulted ceilings and traditional Turkish style decor.

Budget – Hostel Terra Vista – One of the most affordable accommodations in Goreme with fantastic reviews if you're looking to save money.


There are over 430 hotels and guesthouses in Cappadocia you can check the latest prices here.
How to get around in Cappadocia
While In Cappadocia you can make use of public transport: buses and taxis or rent a car or bike for approximately 10TL per hour or 50TL per day. Quad bikes and Scooter rentals are also available. All these can be rented from Silk Road Rent a Car.
Things to do in Cappadocia
I went on the Red Tour which starts from 9am till 4pm. The tour included transportation from my hotel and back, lunch and entrance fee for all the attractions listed below:
Göreme Open Air Museum
Learn more about Cappadocia's history by visiting UNESCO World Heritage – Göreme Open Air Museum. Once there you can check out the medieval cave churches, with beautiful frescoes (wall paintings) whose colors still retain all their original freshness. (Entry Price In 2019: 25TL / €4)

Uçhisar Castle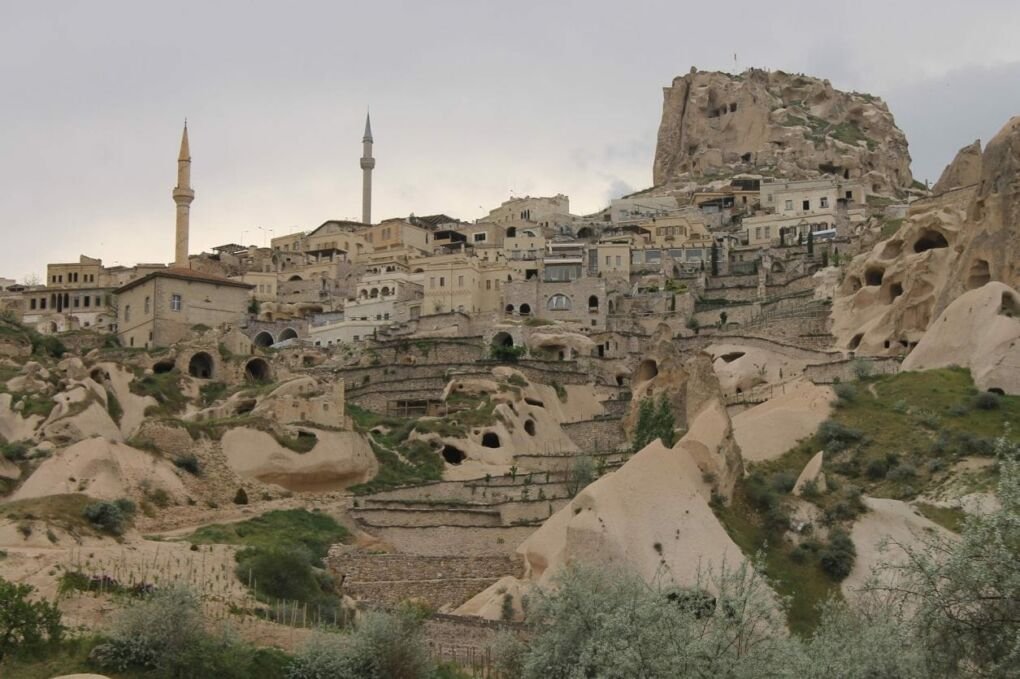 Open from 8am – 7pm. This castle is the tallest point accessible in Cappadocia and was used for centuries by villagers as a place of refuge when enemy armies overtook the surrounding plains. You can make way up the stairs to its peak for panoramic views over the rock valleys of the Cappadocian countryside. (Entry Price In 2019: 8TL / €1.50)

Love Valley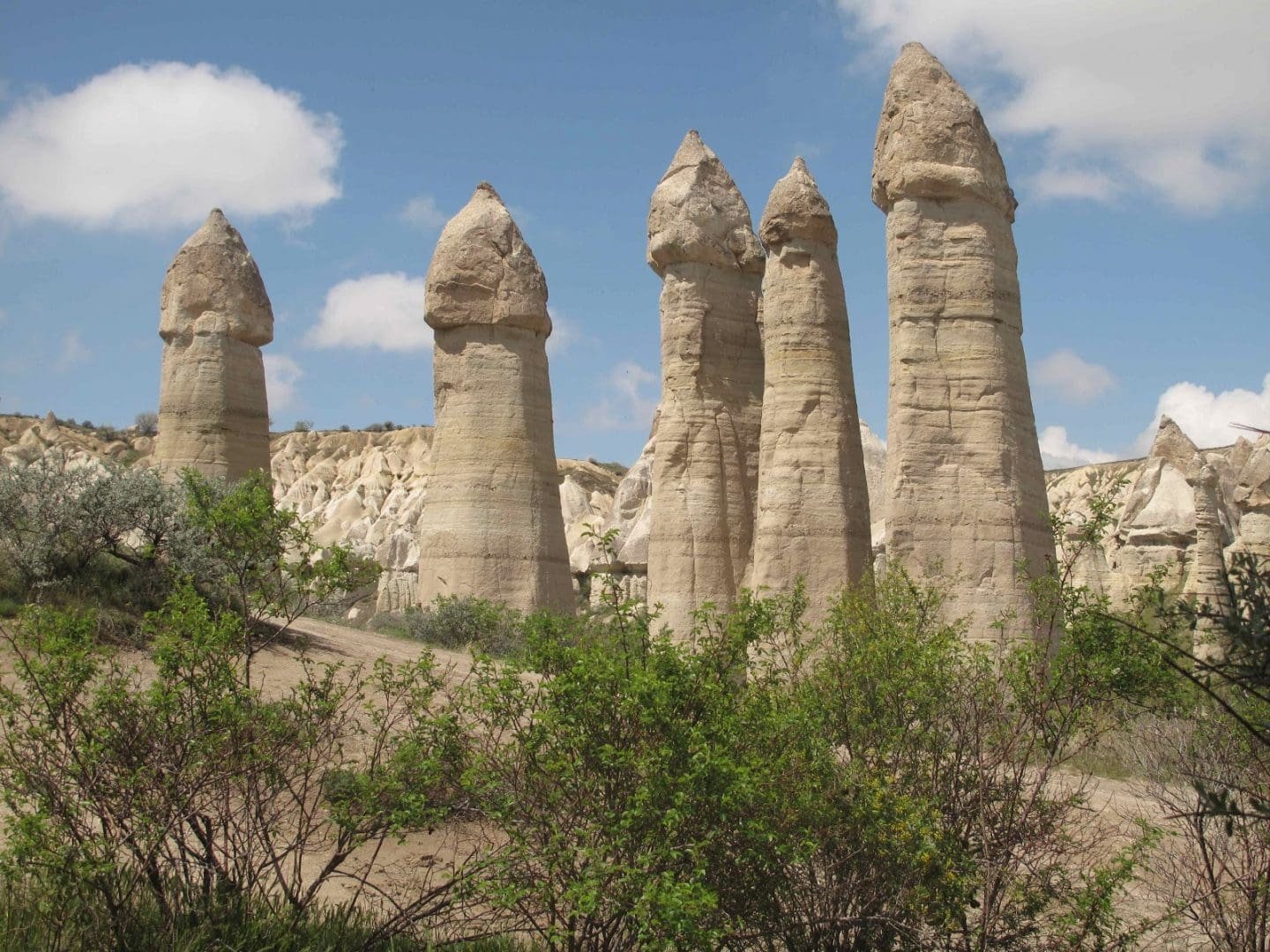 Located about 10 minutes from Goreme, this hidden valley with scenic formations gets its name from the penis shaped fairy chimneys. Entry is free.

Pasabag Valley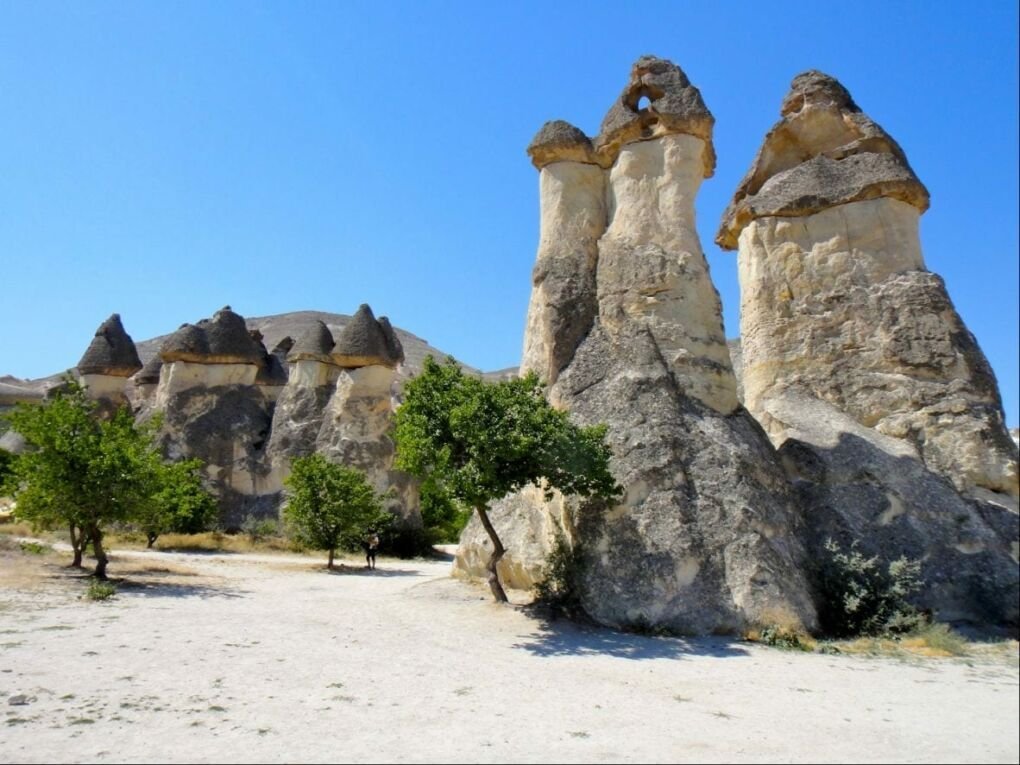 Formally known as Monk Village as a reference to the Byzantine hermit monks that carved their shelters in the tall rocks. Pasabag Valley is where to go to find mushroom-shaped fairy chimneys. Entry is free.

Deverent Valley

Devrent Valley, also known as Imaginary Valley Is where you go to let your imagination run wild. Unlike the other valleys in Cappadocia, this one was never inhabited. It doesn't have cave churches, Roman castles or even tombs. It's special because it resembles the moonscape. Entry is free.
Ürgüp Fairy Chimneys

Avanos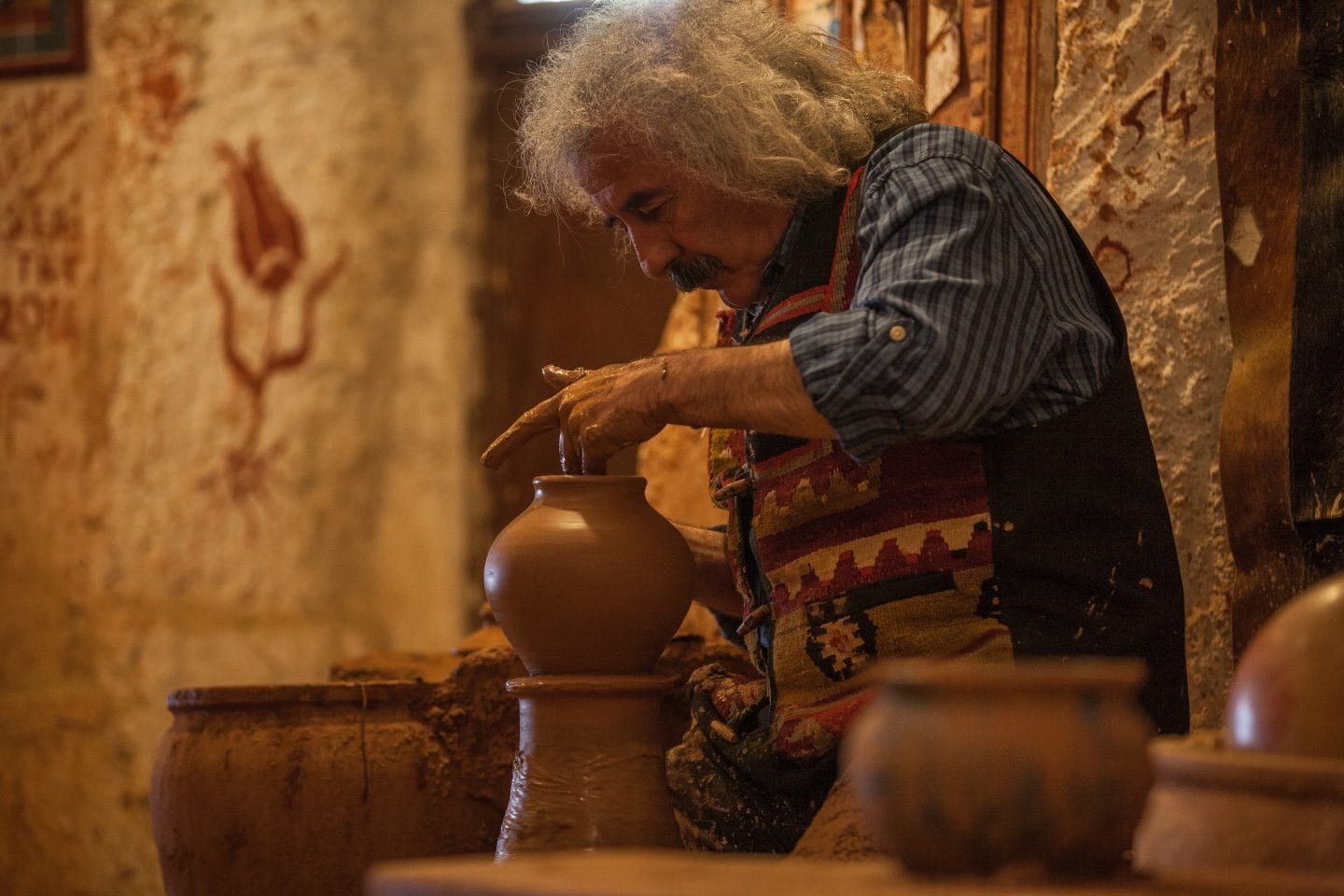 Avanos is the center of pottery since the Hittites. Located on the shore of the Red River, the longest one in Turkey. The reddish-brown clay that is harvested from this river is used in the workshops to make exquisite handmade ceramics. Our tour stopped at one of the workshops where learned about the process of making pottery and we went into the showroom to see art work.
More places to see (not included on the Red Tour)

Underground Cities
The local Christians were persecuted, first by the Romans and then raiding Muslims, and they often had to hide from hostile forces. When they heard hoof beats, they would abandon the cave churches and go underground – quite literally. Beneath Cappadocia's rock formations is a network of subterranean cities, which housed up to 10,000 people each. The largest discovered are almost ten levels deep, with narrow passages connecting the floors like hamster tunnels. Kaymakli is the largest underground city and Derinkuyu is the deepest underground city.

Zelve Open Air Museum: an empty cave town with churches

Ortahisar: Roman rock-cut castle. Similar to the one in Uçhisar.

Gulsehir: The first settlements in Cappadocia

Caravanserais: 13th century hotels on the Silk Road

Hot Air Balloon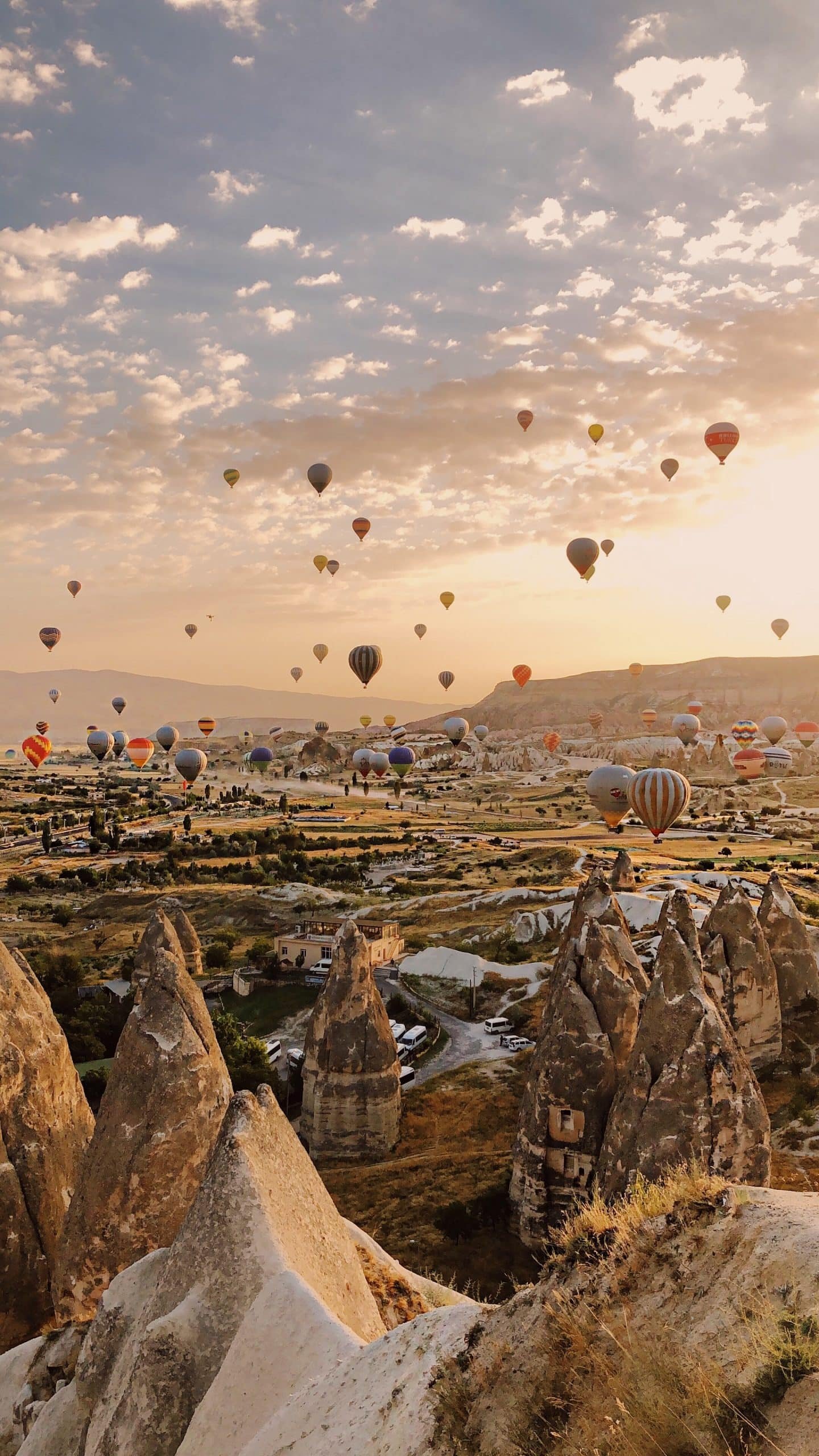 The best time to go to Cappadocia for the hot air balloon experience would be from mid-April through October when the skies are clear, the days are warm and the nights are cool. I booked my balloon experience here. Price ranges from €150-€200, depending on the season, number of people and duration of the trip. You have to pre-book early and you pay on the day of the tour. Each balloon accommodates 10-20 guests. Also keep in mind that the cheaper it is, the more people will be on it.
What to expect:

A hotel pickup at around 4-5am and drop off at around 7-8am. When you arrive on-site you will be treated to a Turkish breakfast before an hour long hot air balloon ride where you will see Cappadocia and it's marvelous landmarks from above. After an hour of sightseeing from the sky the hot air balloon will land and guests will be treated to a glass of champagne before departing for the hotel.
Not all hot air balloons take flight. It is weather dependent. Also, remember to bring cash, preferably EUROs to pay for your ride.
Horse Riding in Cappadocia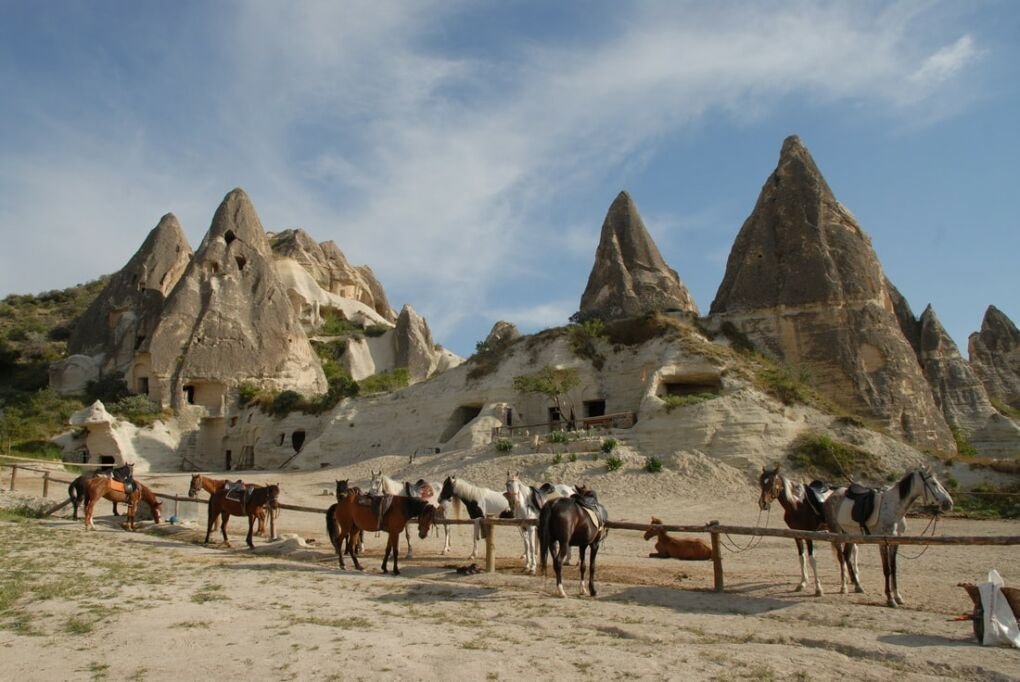 For €45 per person for 2 hours you can travel through some of the most beautiful valleys in Cappadocia – Swords Valley, Meskendir Valley, Rose Valley and Love Valley. Ride among the apple, apricot, walnut and quince orchards as well as the grape vines used for local wines. The trails wind up through volcanic stone hills passing many beautiful fairy chimneys and churches along the way – with breathtaking vistas on mountain tops and unique landscapes in every direction.

Budget for Cappadocia (for one person):
• Return flights from Istanbul to Cappadocia with Turkish Airlines: €80
• Hotel for two nights at Cappadocia Elite Stone House: €165. Check availability and rates HERE
• Hot Air Balloon ride: €150. Book HERE

• Red tour: €28. Book HERE
• Meals: €30 (1 lunch and 2 dinners)
Breakfast:
Breakfast was included in my hotel fee. I also had the option of having breakfast before the hot air balloon ride.
Lunch:
The Red Tour included lunch. I only had to pay for lunch on one day. There are family-run restaurants all over town and meals range from €2-€20.
Dinner:
Try Cappadocia's local delicacy "Pottery Kebab" which requires prior booking and takes five hours to cook. They take a ceramic pot and fill with meat (lamb, beef, chicken), vegetables and spices. It is then sealed and baked until all the flavours come together. When its ready they crack open the pot in front of the guest.
Total: €453
Are you planning a trip to Cappadocia? Feel free to ask me anything in the comments section.