With a combination of beautiful landscapes, people, history and culture it's no surprise South Africa is a popular tourist destination. It's also no secret that South Africa doesn't have the best reputation especially when it comes to safety. Most travelers are advised to be extra cautious or simply not to visit the country. Here is everything you need to know to stay safe and make the most out of your next trip to South Africa.
What's going on in South Africa?
As of 1 January 2019, South Africa's first-ever minimum wage was enforced. The legislation stipulates a minimum national rate of R20 per hour, or R3 500 per month, depending on the number of hours worked.
R20 (ZAR) = $1.35 (USD)
By July 2019, the new minimum wage was listed as one of the reasons for an increase in the unemployment rate.
In April 2019, TIME Magazine listed South Africa as one of the most unequal country in the world. With a cover picture is from photographer Johnny Miller's Unequal Scenes, a series of photographs from around the world which he took to highlight inequality and the plight of the poor.
In May 2019, Cyril Ramaphosa was elected as the President of The Republic of South Africa. After former President Jacob Zuma resigned while facing 18 charges of corruption, including more than 700 counts of fraud and money laundering.
In July 2019, it was reported that the government sent the South African National Defense Force (military) to Cape Town to help fight crime.
Cape Town has the highest recorded rates of murder, robbery and non-violent property-related crimes out of nine major cities in the country.
The country's unemployment rate was 27.6% in the first quarter of 2019. In August 2019, it was reported that our unemployment rate has increased to 29%. There are 58 million documented people living in SA and most of them don't have jobs.
Living in South Africa vs. visiting the country:
Most travelers visit popular tourist cities and attractions and they don't venture to the outskirts of the country. Living and visiting any country are not the same. As someone who was born in South Africa and also had an opportunity to live in 4 other countries, I understand that South Africa is a third world country. I understand that the country has a lot of debt from the apartheid era. Today, 25 years since apartheid ended, there are still people with no access to basic rights like water, electricity and sanitation.
Momentum, a South African financial solutions company that provides medical aid, life, home and car insurance recently published their annual Citizen Survey Report which shows that, almost three in every four citizens listed unemployment as the largest problem in South Africa.
With all the issues mentioned above, people seem to think crime will solve their problems and unfortunately it won't but this shouldn't discourage you from visiting the country. You just need to be a smart traveler.
Types of Crime in South Africa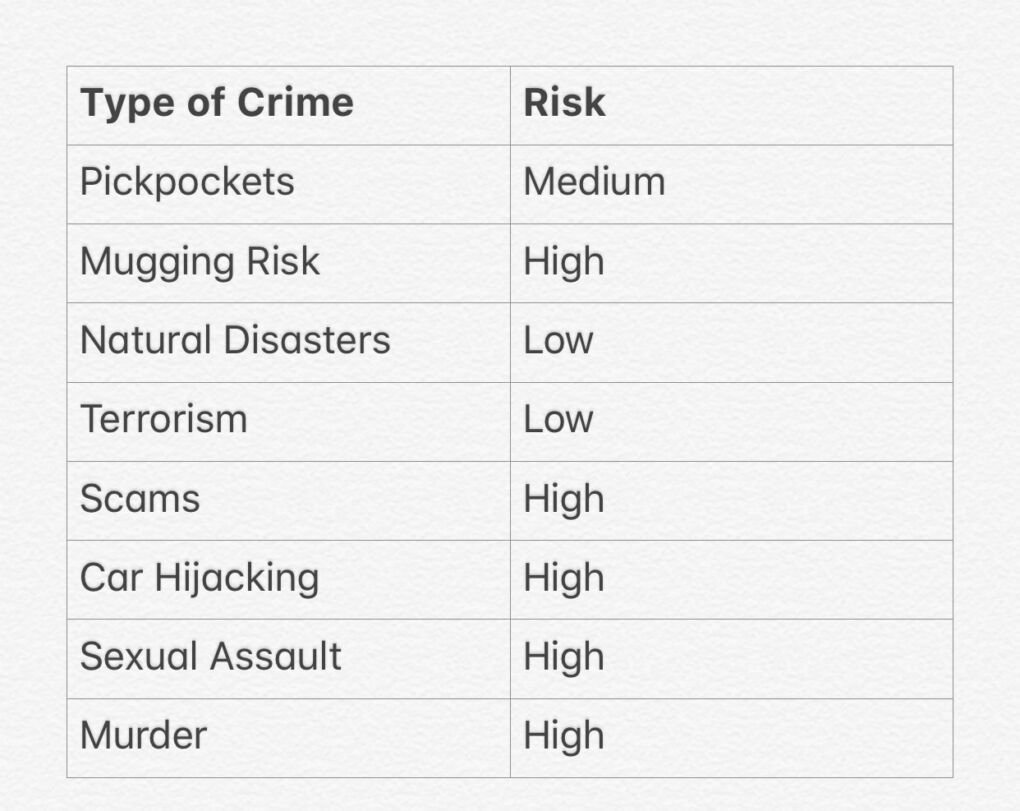 Are Taxis in South Africa Safe?
Taxis in South Africa are safe and plentiful. Most locals use minibus taxis also known as ride shares in other country. These can be flagged down on the side of the road (there are specific hand signals for different locations) or you can find a taxi at one of the many taxi ranks in the country. I wouldn't recommend using this method of transportation because when you don't know where you are going or how to stop a taxi, you will stand out and might attract attention. I would recommend using UBER, as the drivers will pick you up and drop you off at the exact location of your choice. It's also it's safer (especially at night) and you don't have to pay in cash.
Is South Africa Safe for Solo Female Travelers?
South Africa is safe for solo travelers. South Africa ranked 92nd on the list of the world's safest countries. By following the tips below, solo travelers will be able to have an amazing time in South Africa while staying safe.
If you are concerned as a solo traveler, try to meet-up with other travelers. Traveling together, you can keep each other company and deter any potential petty theft or robberies.
How to meet Solo Travelers in South Africa
How to stay safe in South Africa
Most international visitors arrive at OR Tambo International Airport in Johannesburg, where there are no overnight flights and all shops close between 11pm to 5am. I'd advise arriving in the daytime as it's easier to navigate your way through the city and if you'd like to rest, I shared a list of Hotels near Johannesburg Airport.
Get travel insurance. Anything can happen anywhere and you don't want to be stuck in a bad situation or having to pay a ton of out-of-pocket expenses. Whether for a potential accident, sudden illness, or unforeseen travel cancellation – I always choose World Nomads, because you can buy and claim online, even after you've left home. It's designed for adventurous travellers with cover for overseas medical, evacuation, baggage and a range of adventure sports and activities.
If something like protests, demonstrations, or a national crisis of some sort are happening, do not get involved. It may seem tempting, but not engaging will help ensure your safety. Protests in SA usually end in violence and police shooting at protesters.
Don't carry cash. Almost all establishments accept debit and credit cards. Keep in mind that they don't accept any currency other than South African Rand's (ZAR). I'd recommend getting a Transferwise Bordlessless travel card like mine. Beware of Card cloning, ATM scams, pick-pocketing. Never give anyone your card, ID or passport. Take precautions to avoid identity theft.
Suggested Reading: How to protect yourself from cyber crime while traveling
If something bad happens, call your local embassy. Speaking of your embassy, make sure you google their address and emergency contact number before coming to South Africa. Most consulates are in the capital city of Pretoria (near Johannesburg).
Give a copy of your itinerary to a close friend or family before leaving for your holiday in South Africa. This should include contact numbers for your accommodation and tour operators you are using while in South Africa.
Heading to South Africa soon?