The ancient city of Hierapolis is located on a 200 meter high terrace of limestone deposits amid a wonderland of mineral water pools and petrified limestone waterfalls. The ancient city overlooks the modern town of Pamukkale in Turkey's Inner Aegean region. Founded as a thermal spa in 190 BC by Eumenes II, the King of Pergamon, the city was most likely named for Hiero, the wife of the legendary founder of the Pergamene dynasty.
The word "Pamukkale" translates to Cotton Castle.
Pamukkale is one of the most popular tourist destinations in Turkey, with over two million visitors every year. It's famous for its white terraces made of travertine, a sedimentary rock deposited by water from the seventeen naturally occurring hot springs in the area. If you're planning a trip, here are a few things to know before you visit Pamukkale:
Where is Pamukkale?
Pamukkale is located in the Southwestern province of Denizli. The area is reachable by car, bus, train and plane – depending on from where you are traveling from. When flying, I'd recommend arriving at Denizli Airport as it's only 1 hour away, alternatively you can arrive at Izmir Airport but you will have to drive for 4 hours or take the train (5 hours) to reach Pamukkale. From Cappadocia it took me 9 hours by bus.
Tickets for the train and bus can be purchased HERE
Cost of visiting Pamukkale
Entry into Pamukkale costs 50TL per person (price in June 2019). This includes entry into Heiropolis as well as the Travertines. You have to pay an additional 50TL to swim in Cleopatra's Pool.

When is Pamukkale open?
Hierapolis Archaeology Museum: 9am – 12:30 and 13:30 to 7pm (closed on Monday)
Cleopatras Pool: Open every day from 9am until 7pm
Travertine Pools: open every day 24/7
Things to do in Pamukkale
Pamukkale was the site of the ancient holy city of Hierapolis. The area was chosen as the city's grounds for the natural thermal springs that dot the hillsides. The water that emerges from these springs is supersaturated with calcium carbonate. When it reaches the surface, carbon dioxide de-gasses from the water, depositing the calcium carbonate as a soft gel which eventually crystallizes into travertine.
Walk through Hierapolis City
Established by King Eumenes II of Pergamon not long after 190 BC, Hierapolis was initially a sustained military province. The first city was pulverized by a quake in 60 AD, and it was after the reconstructing that its grandness days started. This city was flourishing during the days of the Roman Empire.
See the Hierapolis Theatre
Walking up a hill in 40 C weather was probably the worst part for me but when I saw the theatre, I had no complaints. The theatre at Hierapolis was built in the second century AD under the Roman Emperor Hadrian during a period of extensive rebuilding following a devastating earthquake in 60 AD. It was later renovated under Septimus Severus (193-211 AD). At this time, the scaenae frons was modified and decorated with elaborate limestone and marble carvings. Although the exterior is relatively unassuming as viewed from the front, the interior contains one of Anatolia's most complete and best-preserved collection of Greco-Roman theatre decorations.
Hierapolis Archaeology Museum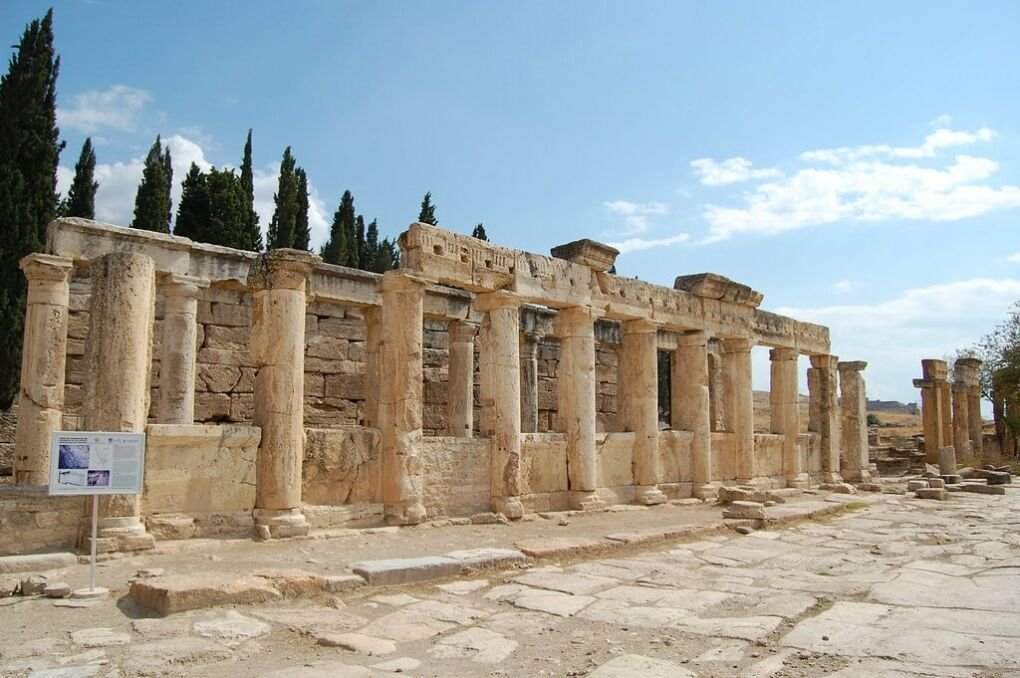 This is the building that encloses the original Roman Baths and houses a display of the smaller and more fragile finds from the site such as coins and other small objects in one of it's three galleries.  The other two galleries are given over to statues and sarcophagi respectively.
Swim in Cleopatras Pool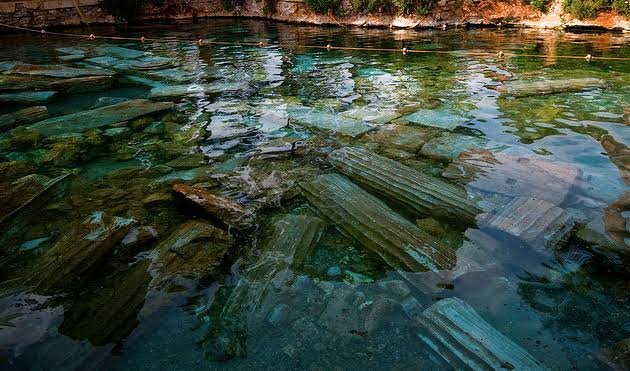 Cleopatra's Pool is set within the well-preserved ancient Greco-Roman city of Hierapolis. For over a thousand years, people have been coming to this region to soak in the mineral rich, geothermal waters. This particular hot spring is sometimes called a champagne pool, because of the bubbles that move through the water and dance across your skin.
Tip: Visit before sunrise to avoid the crowds.

Paragliding over the Cotton Palace
Deriving from springs in a cliff almost 200 m high overlooking the plain, calcite-laden waters have created at Pamukkale – an unreal landscape, made up of mineral forests, petrified waterfalls and a series of terraced basins. The ruins of the baths, temples and other Greek monuments can be seen from the sky if you choose to paraglide. Tourists don't have access to some parts of the Travertines and  no drones are allowed so this is one of the best ways to see Pamukkale.
Hot air balloon in Pamukkale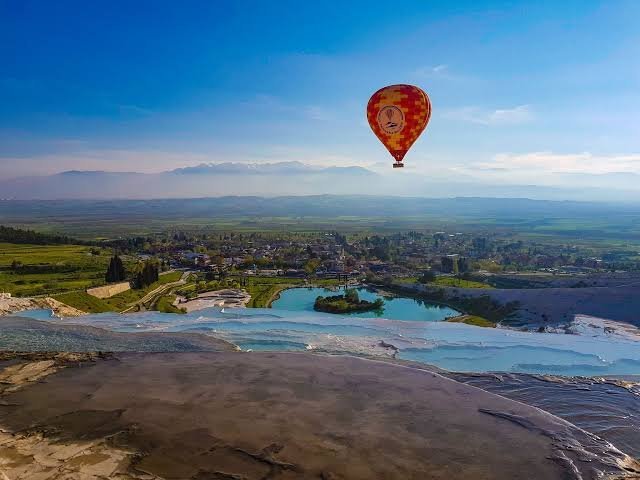 An alternative to paragliding is a hot air balloon ride. Not as popular as the balloons in Cappadocia, this is another great way to watch the sunrise in Pamukkale.
Dip your feet in the springs
The water from the springs ranges in temperature from 35-100°C (95-212°F) so it's been used as a spa since the second century BC. To preserve their appearance, tourists are asked to remove their footwear and follow a set pathway, along which are shallow pools where you can dip your feet whilst crossing the travertines.
Did you know: Pamukkale became a UNESCO World Heritage Site in 1988.
Best time to go to Pamukkale
The best time to visit Pamukkale is in Spring. Summer time is too hot, when I was there it was 40 degrees and uncomfortably hot. Winter time is very cold and it snows sometimes.
Is Pamukkale worth visiting
Yes, Pamukkale is beautiful but the truth is, it looks nothing like the travel brochures. So don't have high expectations. Due to over tourism most of the magical pools are gone. In fact less than 10 remain and tourists aren't allowed to access them which is great because they will be preserved. This shouldn't discourage you to visit this magnificent UNESCO World Heritage site.
I booked my Pamukkale tour with Tours4Turkey. I sent them an email and Selim responded immediately. He arranged my bus from Cappadocia to Pamukkale, shuttles for me while I was in Pamukkale, a hotel for me to shower and rest before my tour of Pamukkale and a bus to Izmir. He kept checking on me along the way, he answered all my questions and he was so helpful. I highly recommend Tours4Turkey, they are an affordable and reputable company. I would book with them again. Book a hot air balloon experience with HERE or a Paragliding experience HERE.
Heading to Istanbul soon? Here's how to spend 48 hours exploring the city where the east meets the west