Seattle is for people who love culture, but refuse to sacrifice their wild nature to attain it." – Kimberly Kinrade
Planning on spending 48 hours in Seattle? Seattle is the largest city in Washington State and lies to the west of Bellevue and the North of Tacoma and Olympia. North of Seattle you drive through Lynnwood, Everett, Marysville, Mount Vernon, and Bellingham on your way to the Canadian border. You'll find a thriving community in the Downtown Seattle district as well as great lodging and dining. After living here for a month, it's pretty much been all work and no play so I decide to explore a little.
Challenge: Do 48 things in 48 hours.
This was obviously not going to be easy so I needed a game plan, After much research and consideration, I would advise you to buy a CityPass from citypass.com/seattle for only $74 for adults and $54 for children. You'll save 45% off of 5 different attractions, skip most of the ticket lines, and get nine days to use the pass from first day you use it! With the CityPass you will have admission for:
• Space Needle
• Seattle Aquarium
• Argosy Cruises Harbor Tour
• EMP Museum or Woodland Park Zoo
• Chihuly Garden and Glass OR Pacific Science Center
Getting there:
Whatever you do, don't drive! Parking downtown is either impossible and ridiculously expensive. Rather walk, hire a bicycle and cycle around, use the bus or metro or Uber (For first time users if you'd like 20$ OFF on your first ride, use my promo code: "leratob106ue")
Here's the list of best places to see in two days around Seattle:
The shopping district in Seattle where you will find Westlake Shopping Center on 400 Pine Str and the Pacific Place on 600 Pine Str. Shoes, Cosmetics, Jewellery, Kitchenware and more is all available here.
Born in 1907, Seattle's Pike Place Market is the granddaddy of farmers' markets. Today, it's a major global tourist attraction (33rd most visited in the world) with 200 businesses operating year-round, 190 craftspeople and 120 farmer booths – plus street performers and musicians.
• Visit the Original Starbucks

Located on Pike Place between Stewart and Virginia Streets. This is where it all started for the coffee giant, Starbucks. Their first store was opened in 1975, and today you can still see their original branding that's if you can brave the long queues to say you ordered a latte.
• A snack at Turkish Delight
After living in Turkey for 6 months I fell in love with the people, culture & food and this place really reminded me of my second home "Istanbul". Try the Börek, Baklava and Chicken Kebabs!
• Bell Harbor International Conference Center Rooftop
For the best views of downtown Seattle at the rooftop of Bell Habour Center.
• Buy Bread at Bakery Piroshky Piroshky Bakery

Since 1992 Piroshky Piroshky has been blending traditional Russian recipes with local flavor, they offer a variety of savory and sweet pastries.
• The Seattle Great Wheel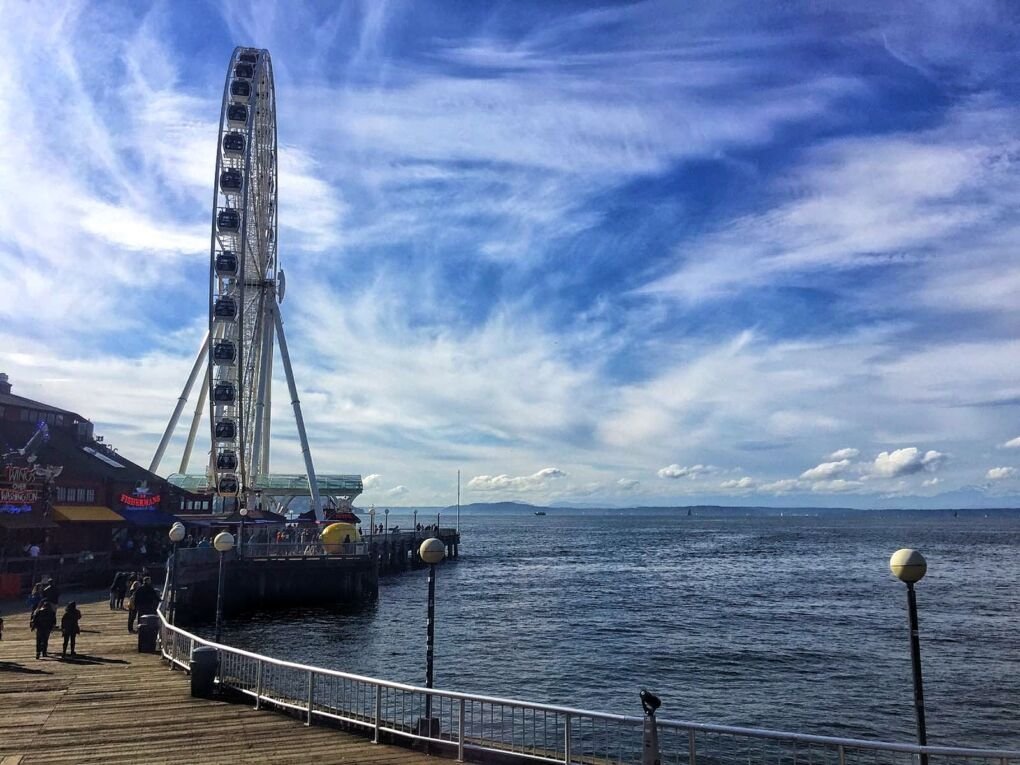 The Seattle Great Wheel is 175 feet tall making it one of the tallest Ferris wheel on the West Coast of the United States. Located at Pier 57 on Elliott Bay, the wheel spins about 4 times in a slow pace (Perfect place to watch the sunset.) There's a photo opportunity available with the green screen of the wheel available for purchase. You can also purchase tickets online or when you arrive at the wheel for $9 for youth, $11 for seniors and  $13 for adults.
• The Seattle Aquarium

This is truly a spectacular experience for people of all ages! Cost per person: Adult (ages 13 & over) : $24.95; Youth (ages 4-12): $16.95 and Children (ages 3 & under): Free.
• Eat at the Fisherman's Restaurant & Bar

For quick, affordable and tasty food stop at the Fisherman's Restaurant and Bar for a bite. You won't regret it! I had 2 piece Fish & Chips ($9)
• The Space Needle
This observation tower was built-in 1961 and today it's Washington's most recognizable building seen on Grey's Anatomy and the 1995 movie "Dumb & Dumber". It has an observation deck at 520 ft (160 m) and the rotating SkyCity restaurant at 500 ft (150 m). (Note: Restaurant is quite pricey). Cost for the Space Needle: $19 adults/$17 senior/$12 children.
Experience the best views of Seattle on a 1-hour long narrated cruise where you'll learn about Seattle history, be dazzled by the ever-evolving Emerald City skyline, explore the workings of our shipping port, get a close-up view of Seattle's historic waterfront, all wrapped up in the natural beauty of Elliott Bay and the surrounding Olympic and Cascade Mountain ranges. Cost per person Adults $25, Youth $13 & Senior $21.
• Woodland's Park Zoo
Woodland's Park Zoo is a zoological garden that is home to more than 1000 species from Tropical Rain Forest, Tropical Asia, Northern Trail, Temperate Forest, Australia and Africa. Quite frankly this was very awkward for me, I was in and out in 40 minutes. Being South African I always find that everything with "Africa" on it is exaggerated, the weird huts and stories are too much for me especially because most if it is just crap, but I'd prefer to go on a game drive and see animals in their natural habitat rather than cages. Cost per person: Adult (13 – 64 years) – $13.75; Child (3-12 years) – $9.25 and Toddler (0 – 2 years) – FREE.
• The Market Theater Gum Wall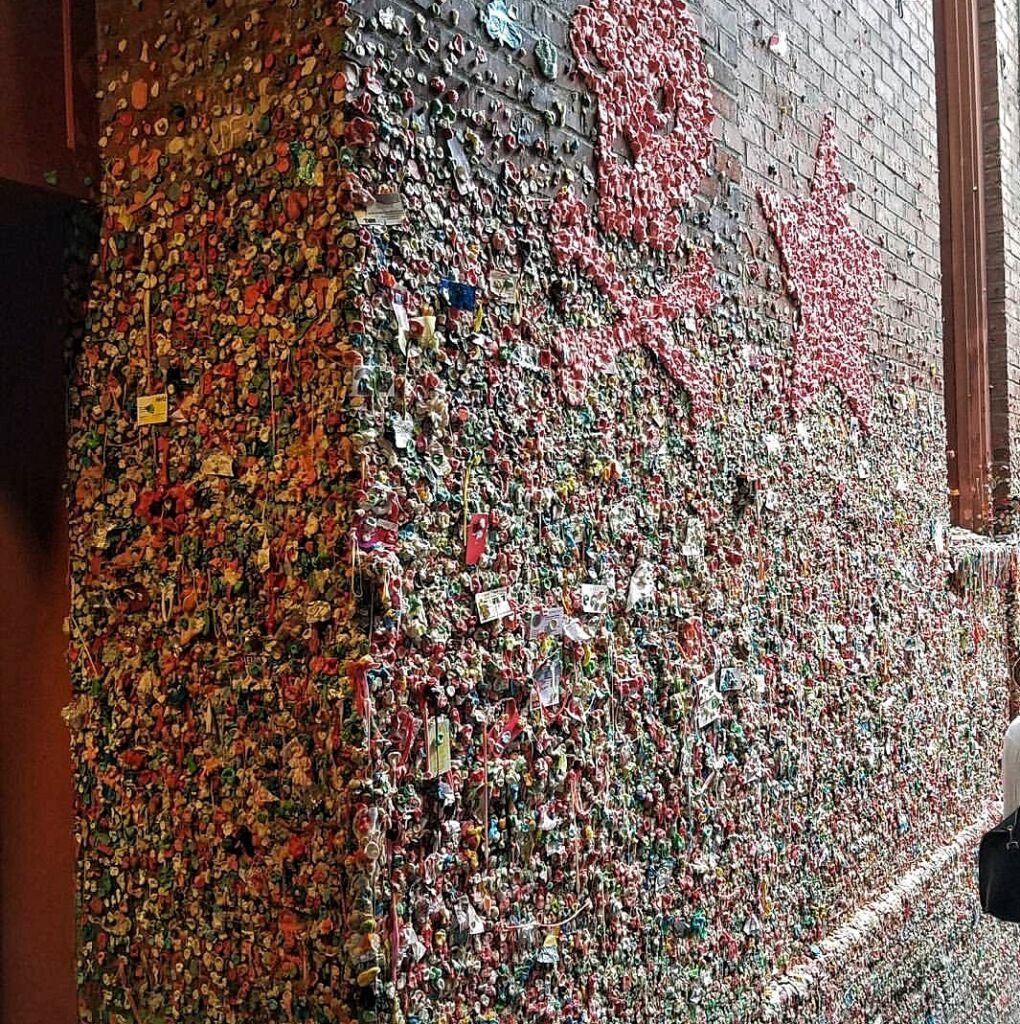 The Gum Wall is a 15 feet brick wall covered in used chewing gum since 1993. In November 2015 the Pike Place Market Preservation & Development Authority decided to clean the wall, it took 130 hours to complete, with over 2,350 pounds (1,070 kg) of gum removed and disposed of. Within 24 hours of completion people started placing gum on the wall again.
The Museum of Flight is the largest independent, non-profit air and space museum in the world! With over 175 aircraft and spacecraft, tens of thousands of artifacts, millions of rare photographs, dozen of exhibits and experiences and a world-class library, the Museum and its people bring mankind's incredible history of flight to life.
General Admission: $21 per adult, $18 Senior and  $13
• Visit the Fremont Troll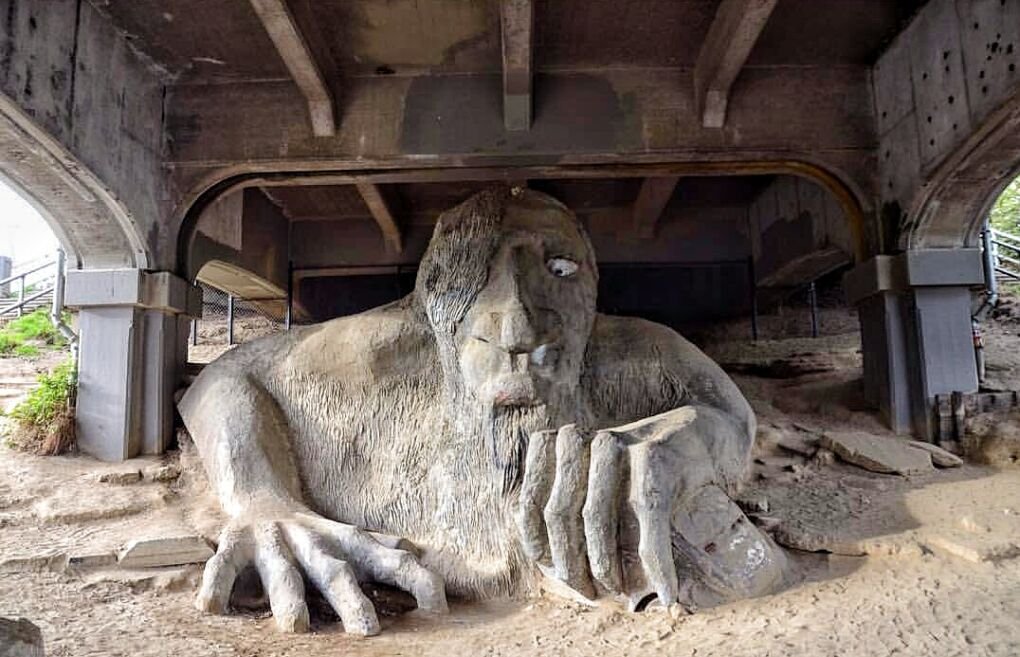 The Fremont Troll is a statue of a troll under the bridge located on N. 36th Street at Troll Avenue N., under the north end of the George Washington Memorial Bridge. The statue was built-in 1990 to rehabilitate the area under the bridge, which was becoming a dumping ground and haven for drug dealers.
• Be amazed at the Chihuly Garden and Glass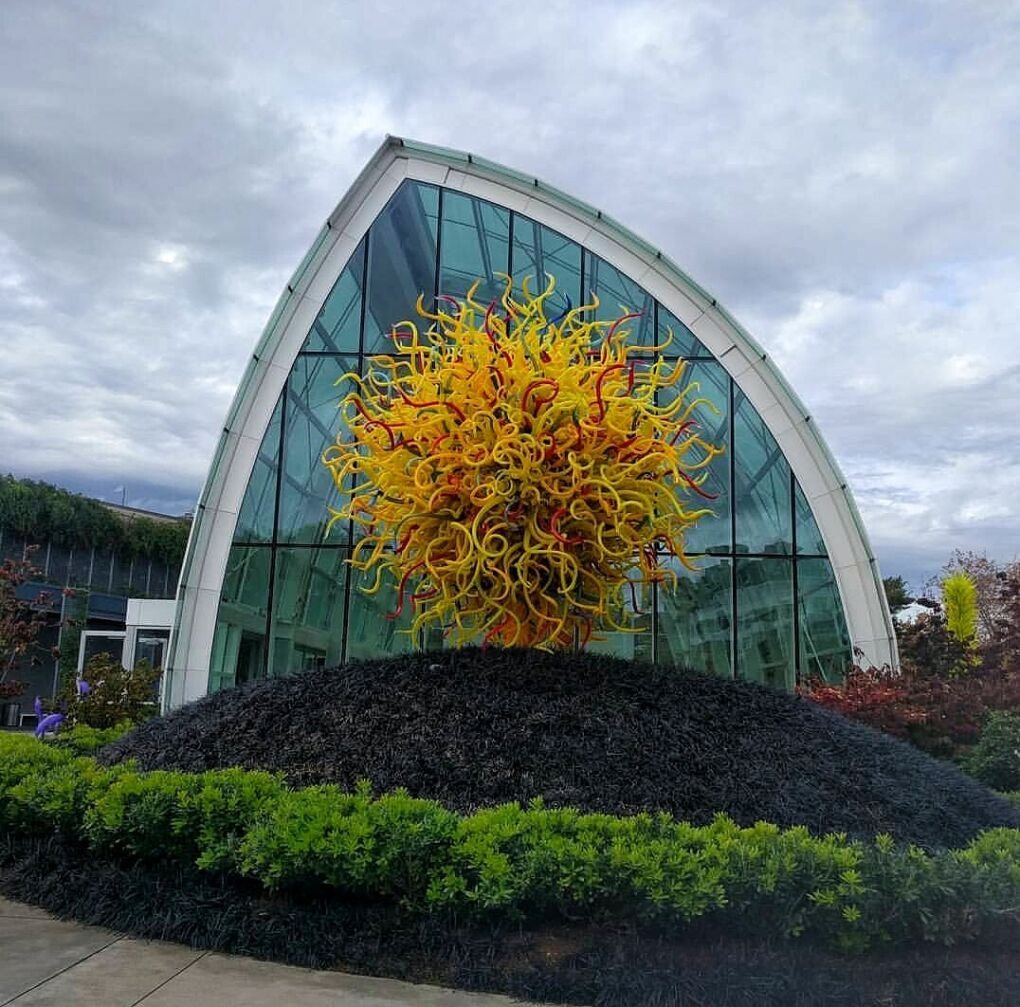 A glass blowing museum at the Seattle Center (next to the Space Needle) featuring the works of Dale Chihuly, an American glass sculptor. I was totally blown away as I've never seen anything so unique! Cost: Children  (under 4) – Free, Youth $14 and Adults $22.
•  Have a slice of Heaven at the Cheesecake Factory

The Cheesecake Factory is a US chain with stores all over the country. My absolute favourite is the Tiramisu cake.
• Explore Olympic Sculpture Park

This is a free and open park with an outdoor sculpture museum and beach.
• Watch a game at CenturyLink Field

We watched the Seattle Sounders and it was truly an amazing experience. Would love to come back for the Seattle Seahawks!
• Pop into the Seattle Art Museum (SAM)

There are different exhibits every month. At the moment there is the popular YSL showcase. More information HERE.
• Learn about culture at the Asian Art Museum
Full of information about Asian art and culture. Admission is free on the first Thursday and the first Saturday of every month.
Seattle is the home of Microsoft and other tech companies. At Microsoft most buildings at the HQ are only accessible to employees except  building 92, where you will find a museum, which showcases the history of Microsoft closely intertwined with the history of computing, as well as the latest in terms of devices from Microsoft (phones, laptops and tablets etc) These are all free to interact with. Across from the museum is the Microsoft Store. Here one can buy mostly merchandise with the Microsoft logo (t-shirts, umbrellas, organizers, geek gizmos, backpacks etc).
• Visit the Seattle Central Library

Designed by world-renowned Dutch architect Rem Koolhaas, the award-winning glass and steel structure of the new Central Library makes the building seem a little off-kilter and translucent – allowing passersby on the street to look in.
• Experience the Music Project Museum

Founded by Paul Allen in 2000 and opened as the Experience Music Project, the EMP Museum is a nonprofit museum, dedicated to contemporary popular culture.
• Factory Tour at Theo Chocolate
Learn about this Seattle brand that makes organic, fair trade chocolate. Cost per person $10 (including chocolate sampling).
• Explore Pacific Science Center

Designed for the 1962 worlds fair along with the Space Needle, the Pacific Science Center is a museum with the goal of bringing science to life. The center offers exhibits, IMAX Movies, and an 80 foot diameter Laser Dome – the largest and longest operating domed laser theater in the world.
• Ride the Ducks of Seattle

Tour Seattle by land and water on a WWII amphibious landing craft. This 90-minute adventure tour will have you "quacking up" through the streets of Seattle. You'll see the major sights of the Emerald City on land before you head out to the funky Fremont neighborhood where you'll splash into Lake Union. Cost per person: Adult: $35, Senior (65+): $32, Child (4-12): $20 and Infant (0-3): $5.
• Stop for a caffeine boost at Peet's Coffee and Tea


A friend recommend this place so I had to try it out!
• Watch the sun set from the Smith Tower.
The Smith Tower is a skyscraper in Pioneer Square in Seattle. At just under 500ft the tower was the tallest building in Seattle for 48 years.
Have you been to Seattle? Is there anything else I should do, leave your suggestions below…