Last updated on November 8th, 2019 at 08:11 am
"It's just a farmers market, there's nothing special about this place. Why is it even a tourist attraction?" – Me (before my tour with Savor Seattle)
Place Market Historical District Boundaries: 9 acres, stretching from mid-block south of Pike Street, northward to Virginia Street (4 blocks north), and Western to First Avenues. Famous for its fishmongers, produce stalls, craft stands and specialty food shops, but I recently learned that there's so much more to the Market than meets the eye.
Before the creation of the Pike Place Market in 1907, local Seattle area farmers sold their goods to the public in a three-square block area called The Lots, located at Sixth Avenue and King Street.
It's Pike Place Market NOT Pike's Place of Pike Market. It was named after the street and not a person.
2017 marks 109 years of the markets existence making Pike Place Market is the oldest continuously-running public farmers' market in the US.
First Building at the Market
The Main Arcade, opened November 30, 1907.
During the early years of the Pike Place Market, Seattle city ordinances limited its hours of operation to only 5 am to 12 noon, Monday through Saturday.
The daily rent for any stall in 1911 was $0.20 a day.
The Public Market & Department Store Company was founded in 1911 by the Goodwins to manage their Pike Place Market properties.
Full Time Jobs were created
In 1911, an Inspector was was employed to collect daily fees from the farmers
Second building was complete
In 1912, the Corner Market building was completed, across the street from the Bartell Building, which would later become the Economy Market.
[/caption]
Pike Place goes Commercial
In 1914, new space was created for several restaurants, bakeries, a creamery, butchers, additional stalls and rows in the lower sections for farmers to sell their goods, grain markets, public toilets, two floors dedicated to storage of meats and produce, 100 retail stores, a theater, and a printing plant.
In 1917, with America taking part in World War I, more and more women began to work the various stalls and shops in the Market as their husbands went to war.
The city opened their municipal-owned City Fish Market at Pike Place Market, cutting the cost of salmon by a third.
In February 1919, nearly all of Seattle's labor unions took part in a work stoppage, which lasted five days, during which the Market was nearly deserted. It would become the longest period of inactivity in the history of the Pike Place Market.
In September 1920, the Seattle City Council quietly passed an ordinance that farmer's stalls at the Market could no longer be placed in the street, in response to complaints from some local businesses about traffic flow.
In 1942 the market community was shaken when Japanese farmers, who accounted for more than three-quarters of the sellers, were sent to internment camps, after President Franklin D. Roosevelt signed Executive Order 9066 February 19, 1942, which eventually forced all Americans of Japanese ancestry in an "exclusion zone".
One of the most wonderful things about Pike Place is that the farmers sell goods directly to consumers – so no more middle men!
In 1963, there was a proposal to demolish Pike Place Market and replace it with Pike Plaza, which would include a hotel, an apartment building, four office buildings, a hockey arena, and a parking garage.
In May 1971, the Department of Housing and Urban Development gave the green light for urban renewal; this meant the market would be demolished but "Friend of the Market" started a petition which Seattle voters approved and this led creation of Pike Place Historic District and the preservation its buildings and character.
Victor Steinbrueck was the man who started the "Friends of the Market" group who prevented the Markets destruction in 1971. He is also one of the three architects that designed the Space Needle and today there is a Victor Steinbrueck Park up the road from the Pike Place Market.
Whose name's are on the tiles?
[instagram URL=https://instagram.com/p/BP8lkwCFyGH/]
Who owns the market
In the 1980s, federal welfare reform squeezed the social services based in the Market. As a result, a nonprofit group, the Pike Place Market Foundation, was established by the PDA to raise funds and administer the Market's free clinic, senior center, low-income housing, and childcare center.
Pike Place Market is home to nearly 500 residents who live in 8 different buildings throughout the Market.
Fishmongers have been throwing fish to each other for decades in this small shop just off Seattle's downtown waterfront at Pike Place Market. And for a long time, they have allowed guests to try their luck at catching, too.
In 1986 Rachel, a bronze pig (and charity piggy bank), was unveiled in the center of the market and becomes its leading photo opportunity. Weighing in at 550 pounds (250 kg), Rachel was named after a real 750-pound pig who won the 1985 Island County Fair.
Her cousin, Billie the Piggy Bank, arrived in the Market in 2011 and sits on Western Avenue at the bottom of the Hillclimb.
In 1991, CNN named the Pike Place Fish Market as one of the three most fun places to work in America.
The Gum Wall is a 15 feet brick wall covered in used chewing gum since 1993. In November 2015 the Pike Place Market Preservation & Development Authority decided to clean the wall, it took 130 hours to complete, with over 2,350 pounds (1,070 kg) of gum removed and disposed of. Within 24 hours of completion people started placing gum on the wall again
"Busker" is an English term for street performer. You'll find a wide-ranging variety of buskers here at the Market, performing with instruments and tools ranging from spoons, whistles and puppets to violins. Buskers enrich the Market's already vibrant cultural community.There are 13 locations throughout the Market where performers can entertain Market shoppers for an hour at a time. Painted musical notes mark the sidewalks where they stand, and the number painted on the note corresponds to the number of performers that can play there at one time. New performers are always welcome at the Market. Due to the historic nature of the Market, horns, percussion and amplified music are not permitted. All Market performers are required to purchase a performer's badge. To perform at the Market, visit the Market office on Tuesdays and Thursdays from 2 – 4 pm to apply. The cost is $30 for an annual permit.
The Starbucks at the Pike Place Market isn't the first Starbucks. It's actually the fourth one, but it is the first where they sold coffee and not just beans. The original Starbucks was a block or so away, but unfortunately it burned down
You probably think the Greek yogurt you like is the best you've ever had. I bet this yogurt will change your opinion of that!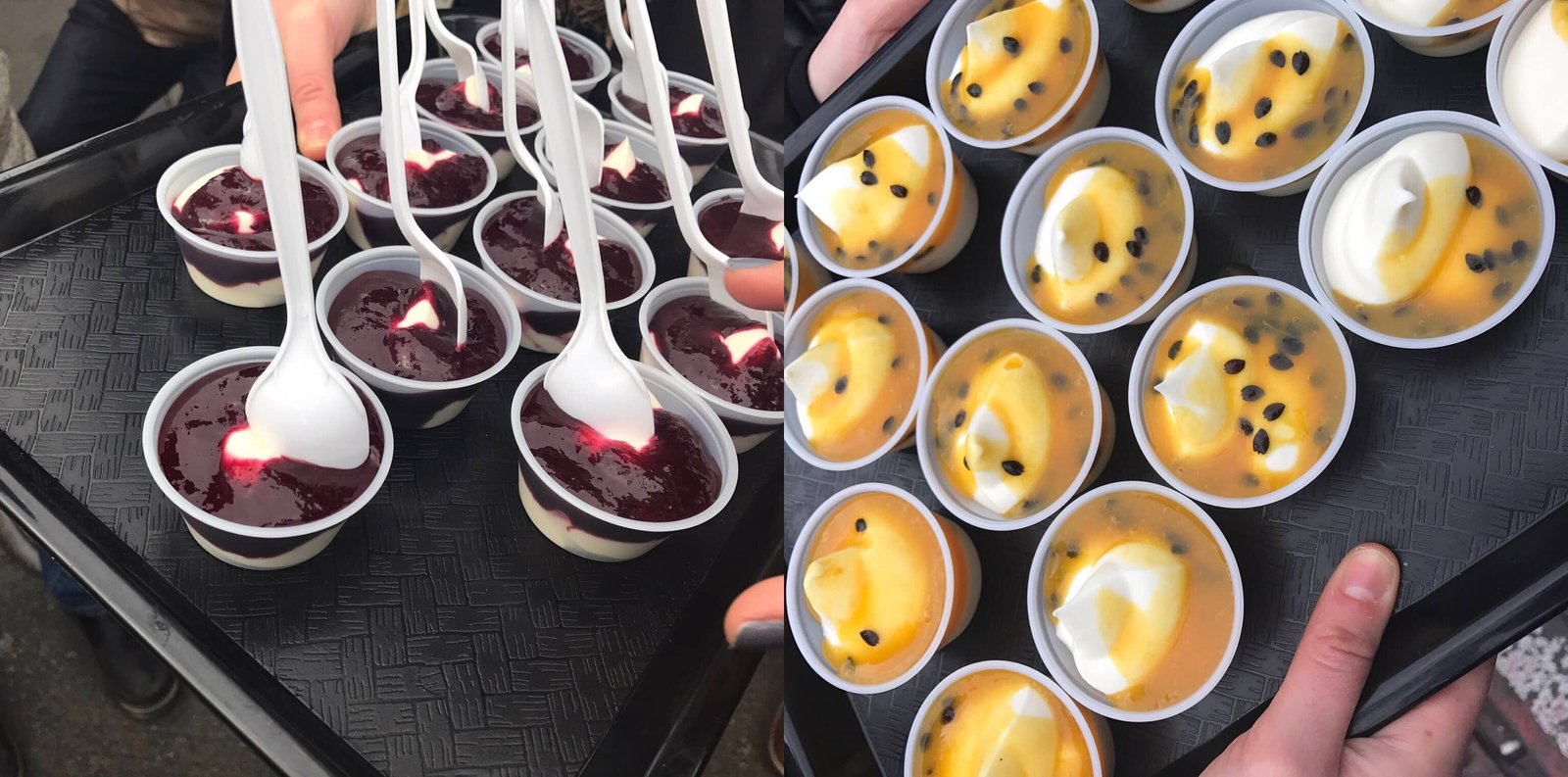 Ellenos works with local farmers to source its milk, which is then transformed into creamy, slightly tart, slightly sweet and entirely rich Greek yogurt, thanks to a secret blend of probiotics. Favorite flavors include marionberry, passionfruit and lemon curd, but be warned: after eating at Ellenos, you may never look at your local grocer's dairy aisle the same way again.
Pike Place Market Urban Garden is rooftop garden that provides fresh fruits and veggies to the Food Bank and Senior Center. In 2013, the garden logged over 700 volunteer hours and produced over 20lbs of food. The Urban garden is open for all to visit, relax and enjoy the sun.
Known for their heavenly cinnamon mini doughnuts. What most people don't know is that if they have leftovers at the end of the day, they leave them on their counter for someone who might need a pick me up.
Best Mac & Cheese you'll ever have
[instagram URL=https://instagram.com/p/BP8puEgl8Px/]
Treat yourself to a dairy-filled indulgence at Beecher's Handmade Cheese, where their Flagship cow's milk cheese is aged to perfection for at least 12 months before being released to the public. Stock up on cheese curds or an artisan creation like the No Woman, flavored with Jamaican jerk spices, and before you go, order a side of the mac and cheese, which will show you why it's called "World's Best Mac and Cheese" with just one bite.
With 10 million visitors annually, Pike Place Market is #33 on the worlds most visited tourist attractions list.
Planning a trip to Seattle soon? Here's are 48 things to do in 48 hours