This past weekend I went out for dinner and drinks at a cocktail bar named after the police who turned a blind eye to the "bars" of the 1920s prohibition era, The Blind Pig.
Prohibition era: constitutional ban on the production, importation, transportation, and sale of alcoholic beverages from 1920 to 1933.
Honestly, I was really excited because it's not everyday when you get to visit a restaurant that's so mysterious.
You make a booking via their website and then they will send you instructions on how to find the restaurant and a "key code" for entry.
No under 23s allowed.
I won't disclose the location but it's located near Grafton street in Dublin, Ireland. We eventually figured out all the clues and walked into an underground early 20th century themed restaurant with soft jazz music playing and friendly faces.
We were escorted to our table where we were told about the house rules and given "The Bible" which was basically the cocktail menu plastered into an old book.
You know when you go to the Cheesecake Factory and they have a menu with more than 10 pages of cakes to choose from, this was basically the same. I'm not a cocktail expert, but you can tell that a lot of care and expertise has gone into creating this menu.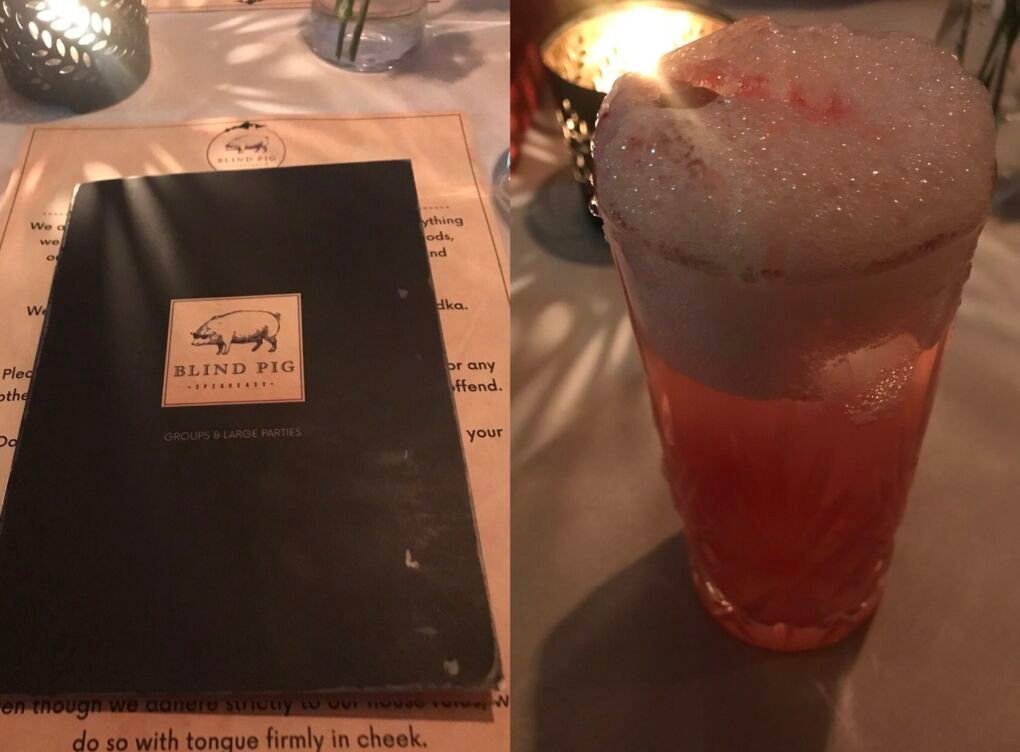 My first drink was the Source Water: vodka, elderflower liqueur, winter spice syrup, egg white and cranberry juice. It was refreshing!
To start, we opted to skip the appetizers and have the main as we had a big lunch already. I had the Roasted Salmon served with potatoes and Mediterranean salad.
I had another cocktail named the Bon Bon with salted caramel vodka. Unfortunately, I was a bit distracted, so I didn't take a picture.
Keep reading to find out what happened.
And lastly, we had dessert- New York Cheesecake.
Honestly, I loved everything about the restaurant, the food was lovely and the cocktails were amazing. I will however say that I requested a straw because there was a lot of ice in my cocktail and I could barely drink it and the waitress went over to the bar to get me one and the bar tender was a bit rude and he basically said you don't need a straw for that drink out loud and he looked upset which made me feel a bit uncomfortable, like I did something wrong. We paid and left after this.