My dad bought the 2015 Ford Ranger (manual) in April so you can imagine how jealous he was when I told him Ford has invited me to test drive their new automatic Ranger. I travelled to George, Western Cape with the Travel Massive JHB gang. Upon arriving at the airport we were chauffeured to the breathtaking Pinnacle Point Beach and Golf Estate where we rested and later had dinner and attended a "Business Meeting" with the Ford Team.
Post-dinner we learned how to play poker and I had a blast. For someone who was playing for the first time I was extremely proud for making it 3rd place. We only went to bed after midnight and somehow we were able get up early for sunrise pictures.
After sunrise we headed to breakfast where we were divided into teams. My amazing co-pilots, Nastassja of pixelvulture.com, Melanie of hypresslive.com, Ricky our Instructor from Ford were all ready to take on the challenge. We were briefed and reminded not to "Snap and Drive" then we were off…
Challenge 1: En route to our destination, Vleesbaai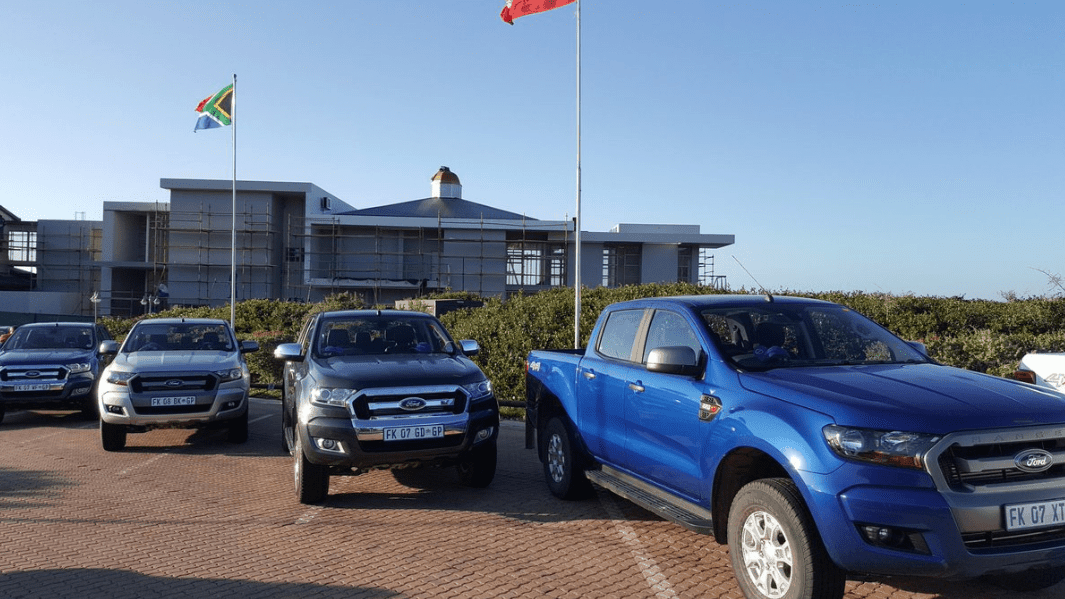 Picture by: Neil Jansson
Driving from Pinnacle Point Beach & Golf Resort to The Vleesbaai 4×4 Dune Route near Mossel Bay on the Garden Route was an easy task, which I enjoyed. Ford took us on from the highway to gravel roads, so we can experience the comfort on bumpy roads, as well as the raw acceleration power of the new Ranger Auto on the highway. No complaints there, as I found myself revving the engine on long straight roads and all my team members agreed that I'm a good driver.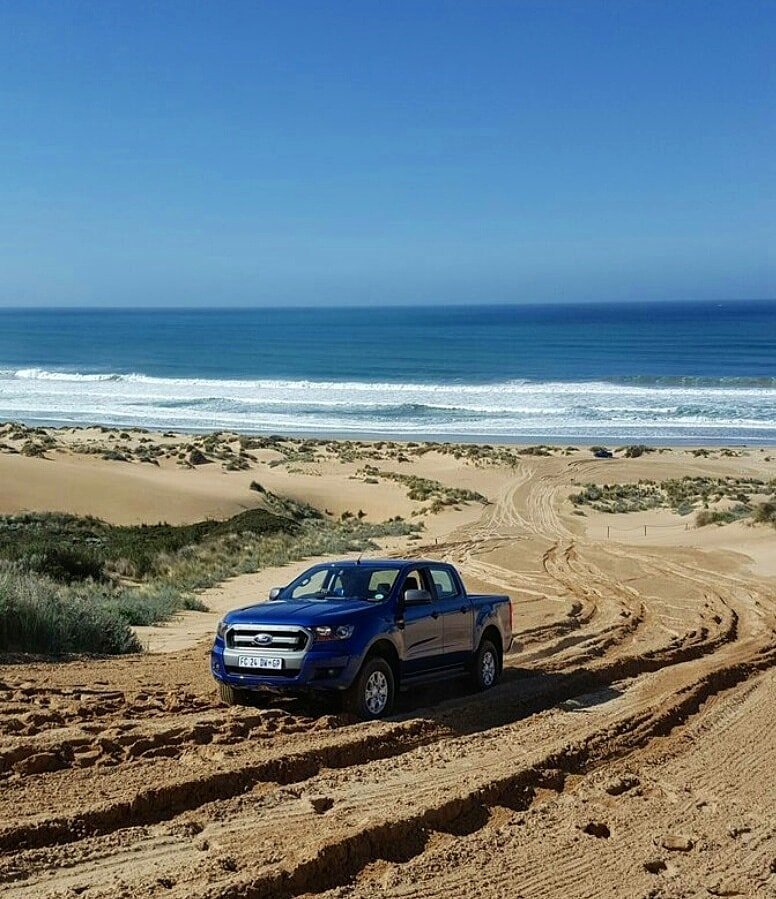 Pic by Neil Jansson
The car has modern and innovative technology, aswell as a tough, functional off-roading vehicle, perfect for a weekend drive and the capability to handle anything it encounters. I love how all aspects of the design had functionality in mind.
Challenge 2: Sandboarding (like snowboarding but more exciting)
Situated on a private farm 35km just outside of Mossel Bay, Dragon Dune (the biggest dune in South Africa) is a 320m long and fast ride that will pump pure adrenalin through your veins.
You are guaranteed a smooth ride with spectacular views over the Indian Ocean. It's really easy amd all you have to do it lie on your belly and break using your legs.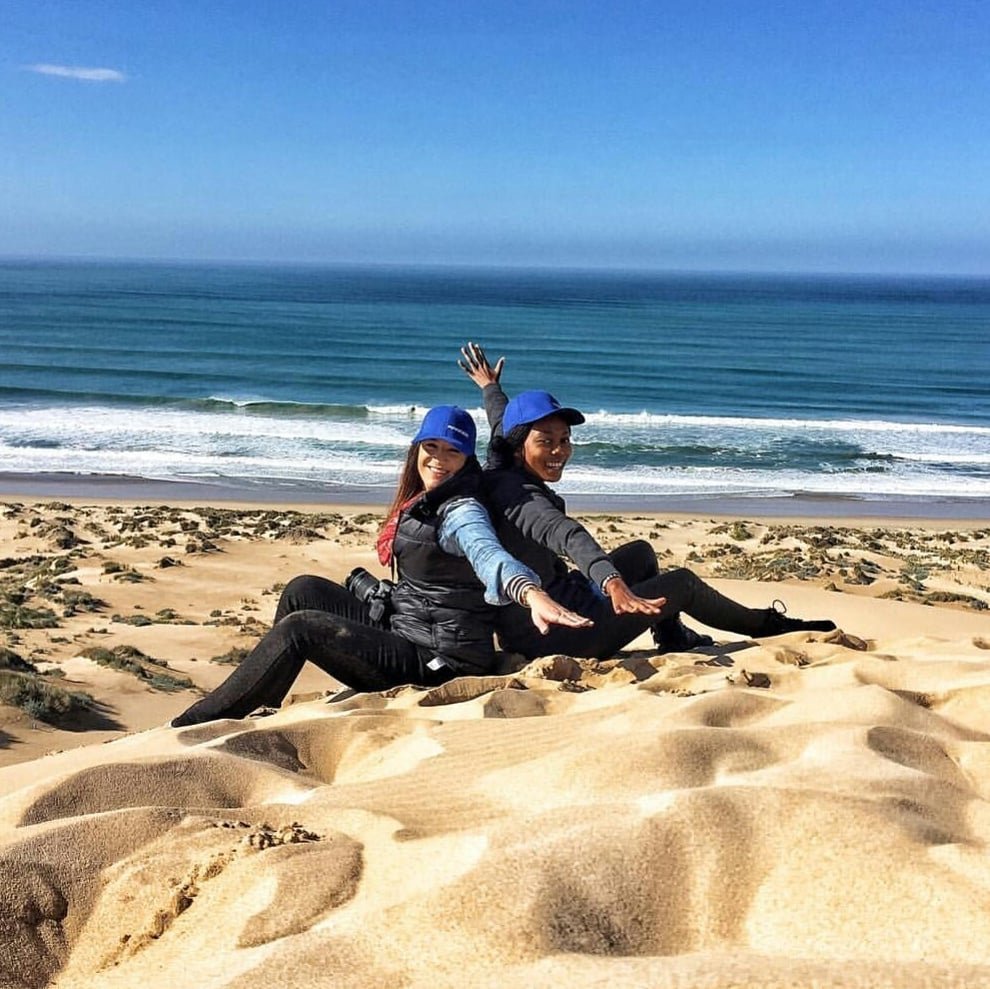 Myself and Dimi of Style Scoop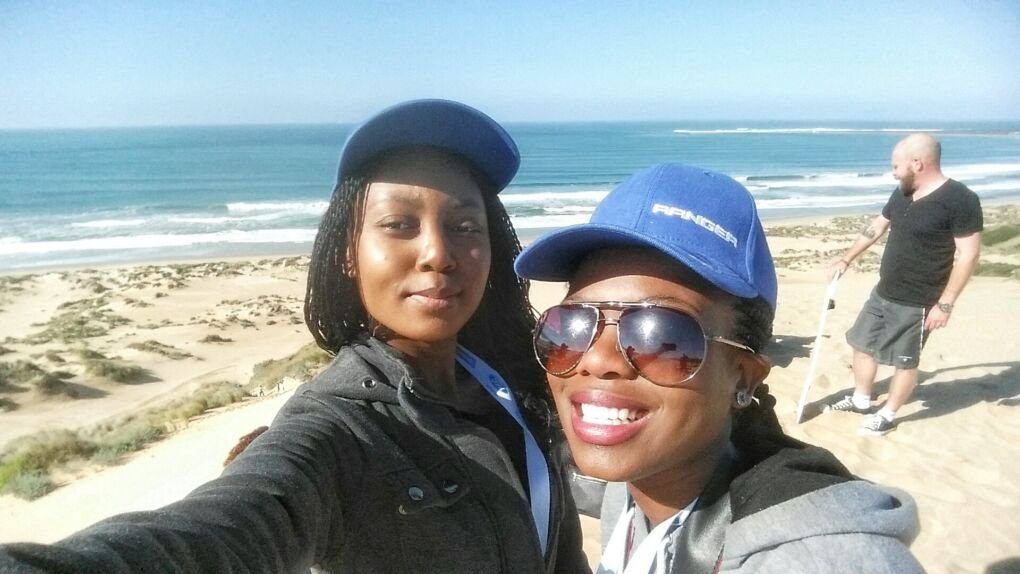 Thato from JustCurious.co.za and I
Challenge 3: Conquering the Dunes
The hill launch assist and e-locking rear differential setting comes in handy when conquering steep hills and tough terrain, and automatically adapts to the weight you are carrying, aswell as the type of terrain.
Hill descent control is one of the car's most useful features when off-road, placing the wheels under individual braking, keeping you at a constant speed as you descent down the hill. All of these features can be adjusted and customised, depending on how you prefer, however make for one truly luxurious and safe vehicle.
Other features include:
• Electronic Stability Control (ESC) – Designed to constantly monitor the vehicle's behavior and help you maintain control in difficult and dangerous driving conditions.
• Traction Control – Designed to help maintain drive in difficult conditions with three selectable control settings that can vary engine and brakinginterventions to maximize traction on any surface.
• Hill Launch Assist – Helps to prevent the vehicle from rolling back when starting on an uphill slope by keeping the brakes applied until the vehicle starts to move.
• Hill Descent Control – Regulates downhill speed in off-road conditions.
• Load Adaptive Control (LAC) – When unloaded, partially- or fully-loaded, LAC senses the center of gravity of the vehicle and adjusts the responses of the ESP system to compensate.
• Emergency Brake Assist (EBA) – Ensures full braking effect by increasing pressure within the brake system during an emergency stop.
• Emergency Brake Warning – The hazard indicator lights automatically flash during emergency braking.
• Roll-over mitigation – Designed to identify a potentially dangerous driving situation,
and activate the ESP to restore stability.
After driving a Ford Ranger you really struggle to adjust to your small car. I see this every time I drive my dad's car, I always feel like all the big cars are going to drive over me. Overall, the Ford #NewRangerAuto Test Drive was truly an eye-opening experience, where I got to learn so much more on the technology behind the Ford Ranger as well as getting a hands on driving experience. It was really amazing, thanks to Ford South Africa for the opportunity. Do check out their website www.ford.co.za to book yourself a test drive.