Although SAs iconic African safari destination, Kruger National Park is 2.5 hours away by flight, there are many game reserves near Cape Town that are home to all of Africa's 'Big Five' and scores of rare and endangered species.
Whether you want to spend a week exploring or you opt for a Cape Town Safari Day Trip, there are many game reserves near Cape Town to choose from.
To help you plan your Cape Town safari holiday, I've put together a comprehensive guide to my favorite private, national parks and game reserves near Cape Town, including the top highlights, unusual things to do in Cape Town, how to get there, and where to stay in each destination.
Map of Game Reserves near Cape Town
Best time for Cape Town Safari 
A game reserve near Cape Town can be visited all year round, with two distinct seasons offering unique treasures. 
Although it's crowded, the dry season (November to April) is the best time for wildlife viewing, while the wet winter season (June to August) is less crowded with tourists and the best time for bird watching. Keep in mind that it gets extremely cold during this season on the west coast and there are chances of snow in South Africa. 
The Best Game Reserves Near Cape Town
Aquila Game Reserve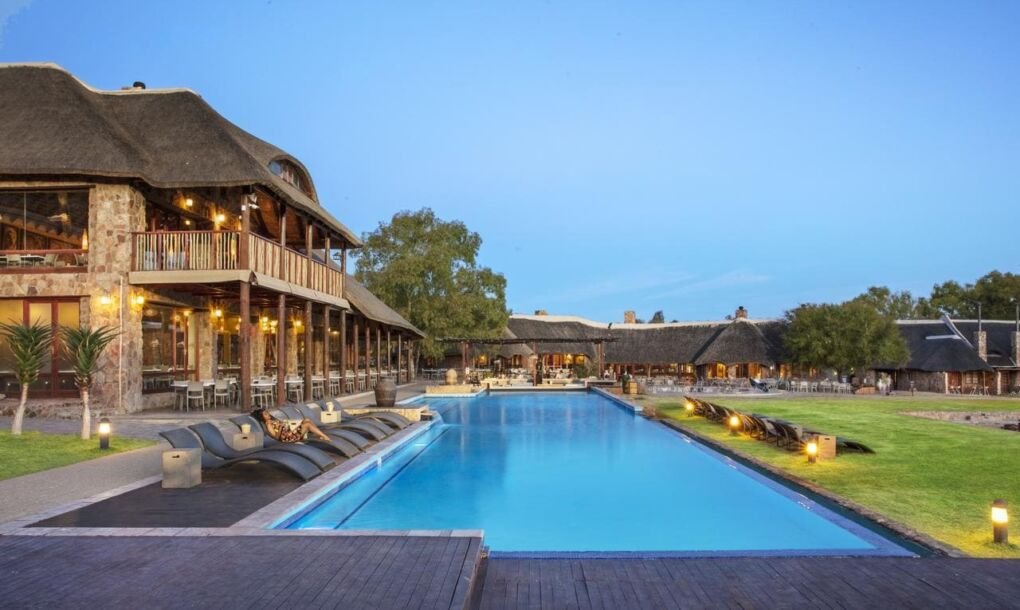 Aquila Private Game Reserve is located two hours from Cape Town, which makes it easy for you no matter what your time constraints are! They offer half-day, full-day, and overnight safari package options!
Named after the endangered black or verreaux eagle (Aquila verreauxii), Aquila's story began in 1999 when its owner, Searl Derman, driven by a desire to share his passion for the wild with Cape Town. 
Aquila offers its guests a unique opportunity to experience the reserve's natural flora and fauna by vehicle, quad bike, or on horse-back. Guests have the option of tailor-making their overnight packages or choosing from 4 different Cape Town day trip safari packages.
Top highlights:
Distance from Cape Town City Centre: 176km (2 hours)

Size: 10 000 hectares

Common Animal Sightings: Big 5 and mammals like giraffes and hippos.

170 bird species

Aquila Animal Rescue and Conservation Centre: Working towards the rehabilitation of rescued, abused, or captivity-bred animals.
Fairy Glen Game Reserve
Tucked away at the foot of the world-famous Brandwacht mountains in a peaceful rustic environment, Fairy Glen is located 1.5 hours from Cape Town.
The name Fairy Glen originates from a very large Dragonfly which was found from time to time in their natural habitat in the valley mountain streams, known as Fairy Glen.
This game reserve near Cape Town offers game drives and bush safaris and its surrounded by Proteas and fynbos vegetation.
Top highlights:
Distance from Cape Town City Centre: 114 km (2.5 hours)

Size: 10 000 hectares

Common Animal Sightings: Big 5 and Cape Mountain Leopards also roam free and

 come out to hunt at night.
Gondwana Private Game Reserve
Gondwana Game Reserve is the most luxurious game reserve near Cape Town. Situated in the heart of the Garden Route, it's one of the best places to immerse yourself in the wild beauty of the natural surroundings.
The name derives itself from Gondwanaland, the landmass that existed one hundred and twenty million years ago. In paleogeography, Gondwana, originally Gondwanaland, is the name given to the more southerly of two supercontinents which were part of the Pangaea supercontinent that existed from approximately 510 to 180 million years ago.  
The Outeniqua and Swartberg Mountains that the Reserve looks upon are the last visible evidence of the former Gondwanaland after the continent split into how we know it today.
This luxury Safari Park near Cape Town offers guests attentive service, wholesome African Cuisine, inspiring interiors, expert game rangers, and an array of activities including Big 5 Game Drives, Mountain Biking, Hikes, Africology spa treatments, and the popular Junior Ranger program.
Top highlights:
Distance from Cape Town City Centre: 382km (4 hours)

Size: 11 000 hectare

Common Animal Sightings: Big 5, Herds of wildlife including eland, giraffe, hippo, cheetah, and zebra.

Offers an opportunity for guests to take an active role in Wildlife Conservation and enroll in the new Tented

Eco Camp Program

.
Inverdoorn Game Reserve
Inverdoorn Private Game Reserve is located in the malaria-free Ceres Karoo. This private game reserve offers luxurious Big 5 safaris for day visitors and overnight guests.
If you want to experience a diversity of wildlife in luxury, this is the best game reserve near cape town to visit. Inverdoorn is acclaimed for is Cheetah Rehabilitation Program and offers Chetaah Education Tours
Top highlights:
Distance from Cape Town City Centre: 210km (2.5 hours)

Size: 10 000 hectare

Common Animal Sightings: Big 5, herds of eland, gemsbok, zebra, and hippos.
Sanbona Wildlife Reserve
Sanbona Wildlife Reserve is located along the Little Karoo Wine Route, close to the town of Montagu, and is less than a 4-hour drive from the city of Cape Town. 
This game reserve close to Cape Town does not offer day trips and self-drive game drives but offers romantic breakaways for couples and a family-friendly lodge with specialized children's activities, to a personalized walking safari camping option for the adventurous.
Under the stewardship of non-profit conservation organization the Caleo Foundation, Sanbona Wildlife Reserve is a pioneer of conservation, reserve development, and eco-tourism, and sustainability and responsible utilization are the cornerstones of all lodge operations.
Private road transfers and charter flights to Sanbona Wildlife Reserve can be arranged at an additional fee and booked with the game reserve.
Top highlights:
Distance from Cape Town City Centre: 280km (3 hours)

Size: 58 000 hectares

Common Animal Sightings: Big 5
Thali Thali Game Lodge
Thali Thali Game Lodge is a fynbos and game reserve near Cape Town, bordering the West Coast National Park. It has a 3-star rating and can accommodate 29 people for overnight stays from 3 accommodation options.
With almost year-round sunshine and boasts azure waters and unsurpassed natural beauty. The game reserve offers a laid-back West Coast style staycations – complete with game drives, archery lessons, and sundowners on the deck of their restaurant and bar.
There is unique flora on the game reserve and 3 different kinds of vegetation types: Strandveld, Renosterveld, and Weskus Savannah.
Top highlights:
Distance from Cape Town City Centre: 120km (1.5 hours)

Size: 1,460 hectare

Common Animal Sightings: Water buffalo, kudu, oryx, giraffe, blue wildebeest, eland, zebra, sable antelope, red hartebeest, springbok, duiker, bontebok, steenbok, ostrich, dromedary camel, emu, and the African Cape Buffalo.
Best Cape Town Safari Day Trips
Here are some recommendations:
What to pack for a safari close to Cape Town?
Your South Africa Packing list will depend on which season you choose to visit! Also keep in mind that the less you bring, the better as you don't want to be dragging a huge suitcase in the bush.
It is not advisable to wear any form of clothing that may be construed as "camouflage" as some military personnel wears this and you stand out as a tourist when you're dressed in head to toe khaki. Most animals are color blind but its recommended to wear colors that won't get dirty easily like browns, beiges, blues, and greens.
Your Safari Packing List essentials should include:
Good quality camera and binoculars

Sunscreen

Hat

1 pair of closed shoes like boots or trainers and socks

Swimwear

Comfy long pants

Shorts

Comfy long sleeve shirt

Bio-degradable toiletries including insect repellent.

A fleece or jacket
Read my year-round South Africa Packing List
---
South Africa Travel Guides
---
Travel Insurance for South Africa
Use travel insurance while visiting South Africa so you are covered for theft and medical expenses. There are a lot of things to do in SA, and it's best to have peace of mind while driving, hiking, and trying some of the best food in the world.
Find out why I recommend World Nomads, check out my World Nomads Insurance review.
Disclaimer: This article contains affiliate links. This means that if you make a booking after clicking on a link, I may receive a small commission at no extra cost to you!