Ever since I  heard of Hotel Sky in Sandton, I was instantly intrigued; a hotel in South Africa with robots that assist with room service delivery, luggage carriage and they even answer your questions about the hotel and surrounding areas. I knew I had to add it to my African Bucket list!
Where is Hotel Sky Sandton
The hotel is situated at 150 West Street in the heart of Sandton in Johannesburg, South Africa.
Important things to know about Hotel Sky Sandton
They charge per room and not per person like most South African establishments.

Hotel Sky in Sandton opened in November 2020.
They claim to have

the largest hotel pool in Sandton.

Check-in is at 2 PM and Check out is at 11 AM.

Breakfast is not inclusive.
Hotel Sky Sandton Review
If you're a traveler who likes value-for-money hotels with a zestful design and world-class luxury, you'll love Hotel Sky in Sandton! From the minute you walk in, you will be wowed!
Every part of this hotel is Instagrammable, the rooms are compact but have everything you need. There is even an automated Grand Piano that plays music for you.
The hotel is perfectly located in Sandton for both leisure and business travelers, in fact, I met and spoke to a few international guests during my stay there!
Hotel Sky has enlisted state-of-the-art hospitality technology to make your stay as simple, convenient, comfortable, and unforgettable as possible.
It all begins with their app, which gives you full control of your stay. From booking to checking in and out, the app even acts as your door key, allowing you room access immediately upon arrival. Alternatively, you can use the self-check-in option or speak to the receptionist.
I recorded a video as I walked into Hotel Sky Sandton, watch it HERE
Sleeping at Sky Hotel Sandton
Hotel Sky has 453 rooms. You can opt for the standard, exec, or suite. I stayed in a standard room and it has the usual amenities found in a hotel and automatic blackout blinds, a laptop-size safe, and a standard queen-sized bed.
The rooms are 15 m² and the bathrooms are really tiny, you'll only find a shower and toilet. Your basin is in your bedroom. 
The Hotel Sky App allows you to access the room, control the tv remote, request room service and housekeeping.
Dining at Sky Hotel Sandton
My friend and I had breakfast, lunch, and dinner at their Eclipse Restaurant and Bar. The restaurant offers elegant dining and can seat up to 240 people and includes an amazing bar area and an open terrace. 
The menu is presented as a QR code that you have to scan to view on your phone. This is a savvy way to save money on reprinting menus all the time. The food options are kinda limited, the lunch and dinner menu are the same but I will say, I was glad that they had vegetarian options.
I have a Poke Bowl for lunch and Beetroot Risotto for dinner. Breakfast is a continental buffet and this is not inclusive, you need to pay an additional fee for this. They also stop serving breakfast at 10:30 AM. The food was great and affordable. Cocktails were on the higher end when it comes to pricing.
The Pool Terrace at Hotel Sky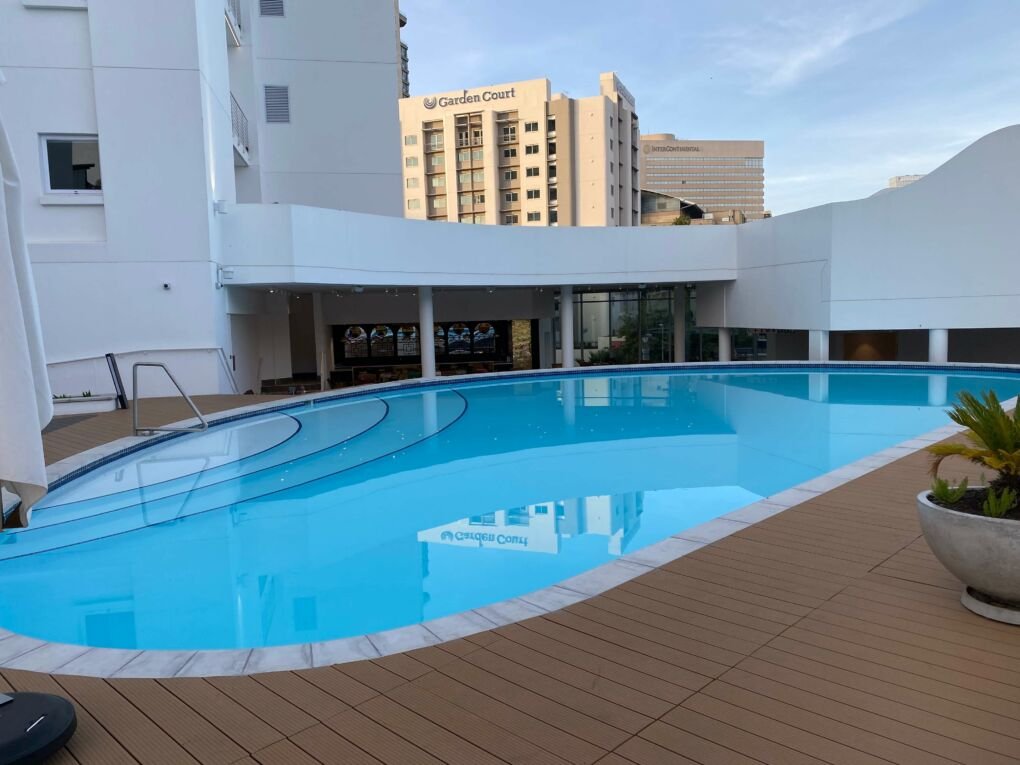 Hotel Sky Sandton has a heated pool next to their outdoor bar. It's a great part of the hotel to just relax and sip on champagne EXCEPT the bar was actually closed on this day and you needed to walk all the way to the restaurant to order drinks then walk back to the pool as waiters don't bring your drinks to you, this was my least favorite thing about my stay.
Other Facilities
The hotel has a gym and 13 world-class conference venues that can be used for corporate or entertainment events.
Things I liked about Sky Hotel, Sandton
The Price: Cost per room per night. (including breakfast) was R801.25. (Please note: this was in February 2021 and prices are subject to change.
Fast uncapped wifi: Out of all the hotels I've stayed at in South Africa, I must say this one had the best wifi ever in every part of the hotel, even at the pool. 
Decor: Modern, everything is still new and well maintained.
Coffee Machine: An actual coffee machine vs. a kettle and instant coffee and teabags was highly appreciated.
Food: Beyond Amazing!!! But I do recommend that they add more options or at least have different menus for lunch and dinner.
Things I didn't like about Sky hotel
You wait for a really long time for your food (or maybe it was busy when I stayed).

The Pool Terrace Bar should be open at all times.
---
More Amazing Hotel Reviews
---
Travel Insurance for South Africa
Use travel insurance while visiting South Africa so you are covered for theft and medical expenses. There are a lot of adventurous activities to do in South Africa, and it's best to have peace of mind while driving, hiking, and trying some of the best food in the world.
Find out why I recommend World Nomads, check out my World Nomads Insurance Review.
Disclaimer: This article contains affiliate links. This means that if you make a booking after clicking on a link, I may receive a small commission at no extra cost to you!