Last updated on October 8th, 2019 at 07:13 pm
Known for extreme steep cliffs and spectacular views, Northern Ireland is actually part of the United Kingdom of Great Britain and Northern Ireland. Southern Ireland (Now known as the Republic of Ireland) separated from Northern Ireland in the 1922 partition. Before this Ireland as a whole was part of the UK.
A trip to Ireland is not complete without going up north.
The island is still politically divided although as a visitor you won't see much of a difference in terms of general appearance. Everyone has "similar" accents and they all speak English. Although North Ireland is mostly protestant while Ireland is mostly catholic.
This is my guide on how to explore the Causeway Coastal Route in one day:
9:00 – Visit the Gracehill House
In 1775, James Stuart build the Gracehill House and named it after his wife, Grace Lynd. The family planted an avenue of over 150 beech trees along the entrance to the Georgian estate. It was intended as a compelling landscape feature to impress visitors as they approached Gracehill House.
10:00 – Stroll through The Dark Hedges
Game of Thrones fans will recognize this as The King's Road. This is actually Bregagh Road where a unique, tranquil and spellbinding tunnel of ancient beech trees create a spectacular fusion of light and shadow.
Planted in the 18th century by the Stuart family, these beech trees are actually dead and they have become a natural phenomena and one of the most photographed attractions in Northern Ireland.
11:00 – Find Scotland ???????
Scotland and the North Antrim Coast are just twelve miles apart.
12:00 – Cross the Carrick-a-Rede Rope Bridge
In 1755, salmon fishermen made the first rope bridge to reduce reliance on a boat to reach the island.
The bridge links the mainland to the tiny island of Carrickarede. It spans 20 metres (66 ft) and is 30 metres (98 ft) above the rocks below. Today it's a major tourist attraction with around 300,000 visitors per year.
Admission: Adults (£7) and Children (£3)
13:00 – Admire The Giants Causeway
Legend states that an Irish giant challenged a Scottish giant to a duel, and thus they built the causeway across the channel in order to do battle; however, the truth is the natural wonder is comprised of around 40,000 polygonal basalt rock columns, formed by the ancient volcanic landscape and stretching along the coastline like a series of gigantic stepping stones.
This is one of the four UNESCO World Heritage Sites in "Ireland".
14:00 – Grab a bite at Fullerton Arms
Located in the centre of Ballintoy, Fullerton Arms serves traditional British food and amazing drinks.
15:00 – Find the Game of Thrones Doors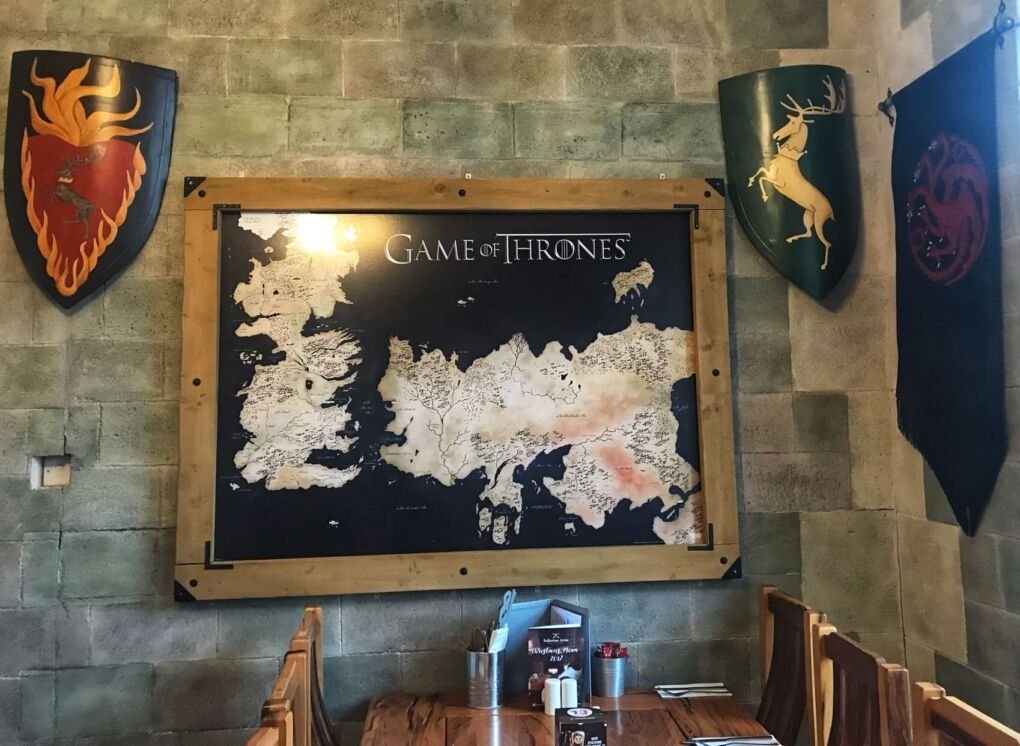 In January 2016 a storm Gertrude hit, felling trees from the famous Dark Hedges (known as The King's Road filming location by Game of Thrones fans). The wood from these trees was carved into the 10 Game of Thrones Doors that are now dotted around Northern Ireland. Tours to see the carved doors are also available.
Locations: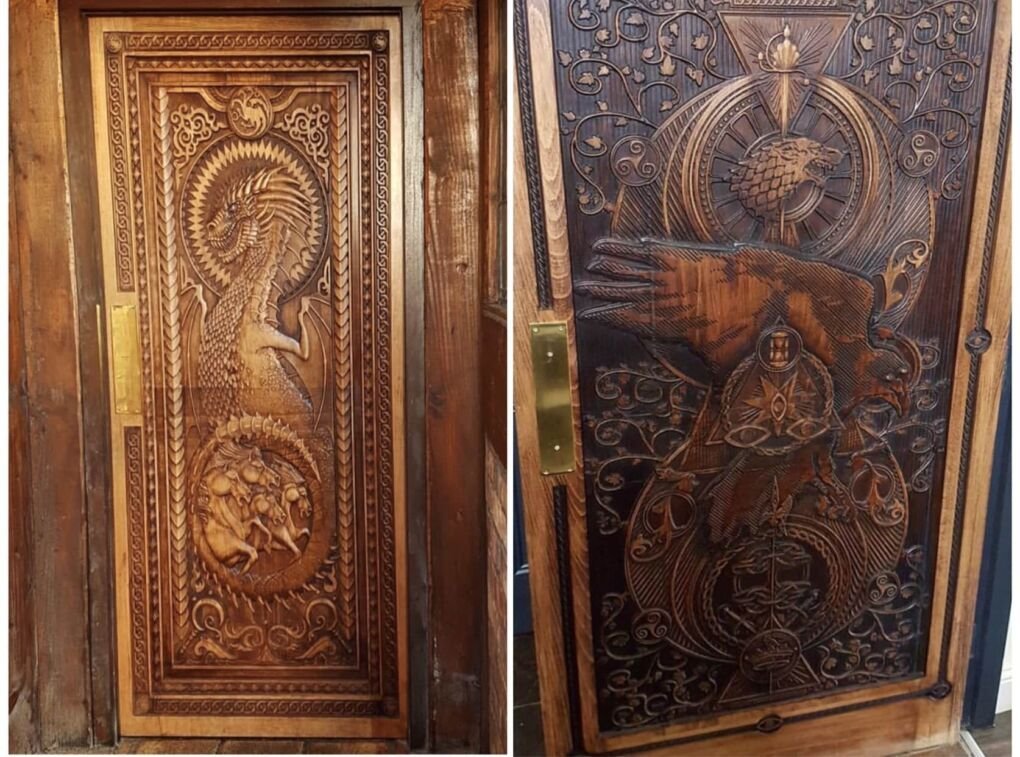 Left to Right: Door 6 and 7
• Door 1: The Cuan guest inn in Strangford
• Door 2: Fiddler's Green bar and B&B in Portaferry
• Door 3: Percy French Restaurant in the Slieve Donard Hotel in Newcastle
• Door 4: Blakes of the Hollow pub in Enniskillen
• Door 5: Frank's (Owens) Bar in Limavady
• Door 6: Fullerton Arms in Ballintoy
• Door 7: Gracehill House near Ballymoney
• Door 8: Mary McBrides Bar in Cushendun
• Door 9: Ballygally Castle Hotel
• Door 10: The Dark Horse in Belfast
16:00 – Enjoy world famous whiskey at the The Old Bushmills' Distillery
King James granted the Governer of County Antrim a license to distil Bushmills in 1608, making this the oldest Whiskey Distillery in the WORLD.
The Distillery Tour Centre is open 7 days a week. Visitors can go on guided tours of the working distillery with all the associated sights and smells, tutored whiskey tastings, and a specialist whiskey shop.
17:00 – See Dunluce Castle
Perched on basalt cliffs 100 feet above the North Atlantic, this 17th century medieval castle was built by the McQuillans, who came from Scotland in the 1200s as hired mercenaries. They held the castle for about 55 years before it was taken by the MacDonnells.
Dunluce means fortified residence.
These families were embroiled in near constant conflict to control the area of North Antrim known as 'The Route'. The history is so amazing, definitely worth reading about!
18:00  – Have a pint of Guinness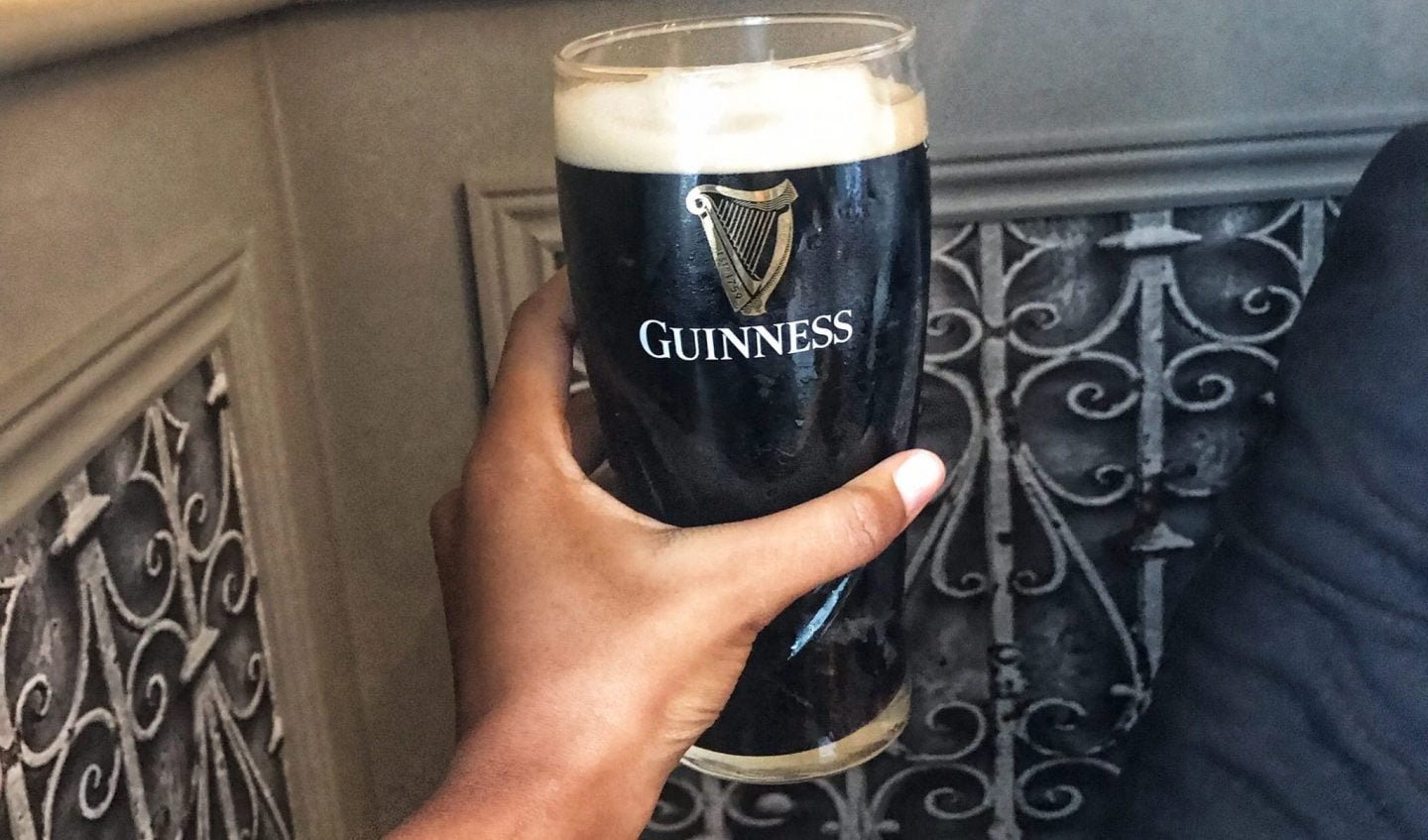 Guinness contains antioxidants like those found in red wine and dark chocolate, which are not found in other beers.
19:00 – Have a taste of South Africa at Nandos, Victoria Square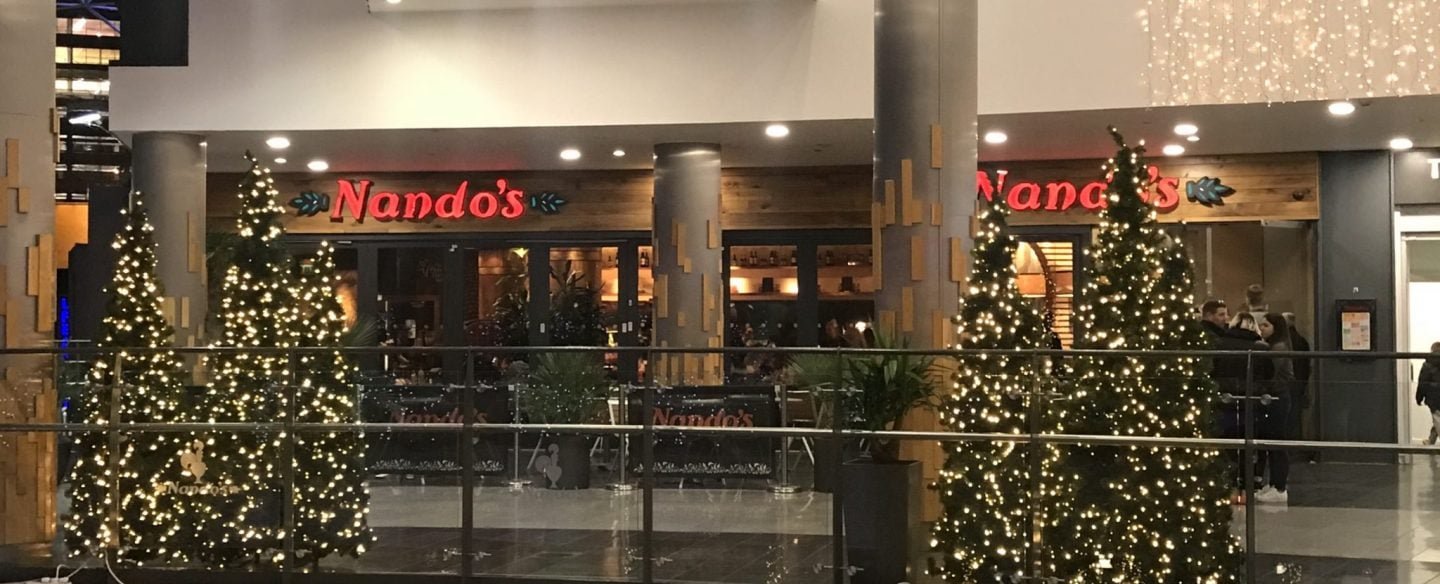 How to get there and other practical things
Drive: 2 hour drive from Dublin City Center.
Currency: Pound Sterling (£) is the official currency, but Euro's (€) and major credit cards are also accepted at some places.
Visa: although South Africans don't require a visa for Ireland, however we do require a visa for the UK. (travelers are not subject to passport control.)
Also read: How to apply for a UK Visa in South Africa.
I enjoyed The Giant Causeway Tour from Dublin with Paddywagon Tours and learned so much about the Causeway Coastal Route.
A special thank you to our guide/bus driver Val, who not only went out of his way to make sure everyone was comfortable and having fun. He was super organized; had a great sense of humor, enthusiastic and genuinely loved his country. Honestly, Valentine was one of the nicest people I met in Ireland! For someone whose constantly on my phone/laptop and working I had so much fun, I even forgot the WiFi on the bus wasn't working. It takes a great guide to do that!