Wondering if Solo Female Travel in Russia is doable? Is it dangerous to travel to Russia? Which places should I visit? This blog will answer all those questions.
I recently returned from my first trip to Russia and whenever I tell people about my experience as a female solo traveler in Russia, the first question I get is: Is Russia safe? Were you not scared to travel in Russia alone?
Is it safe to travel to Russia right now?
Most people perceive Russia as a dark underworld rife with criminal activities (Thanks Hollywood). The truth is, these stereotypes are a myth and even if it is happening, you probably won't even notice. Foreigners who take the appropriate precautions usually enjoy a crime-free stay in the country.
Russia is like a museum with vast mountains, deserts, beaches, geyser fields, heritage sites, palaces, icy lakes, stunning art and architecture. Like any country you visit, the question you need to ask is: "Which areas in Russia are tourist friendly". There are many things to do in Russia, after all Russia is the largest country in the world.
Unless you have a lot of time, I wouldn't recommend visiting Russia without an itinerary, even if it's not a day to day plan, the least you should do is make a list of places to visit in Russia and how to get there so you can have some kind of idea of what to expect.
Places to Visit in Russia
Is Moscow safe for tourists
The capital city of Russia, Moscow is famous for ballet, nightlife, onion-shaped domes of historic churches fill the skyline. Most international travelers arrive or depart from Moscow, the city is a great start or end to your Russia visit. With many things to do in Moscow, the city is a dream destination for theatregoers, art enthusiasts and Architecture fanatics.
Walking though the streets of Moscow is like traveling through time. If you're not much of a walker, experience the magnificent Moscow Metro. It is largest (total of 200 stations) and oldest (opened in 1935) underground railway system in the world. The stations are remarkably beautiful. With their grandiose architecture, intricate mosaics, and dramatic sculptures, it has turned many metro stations into picturesque tourist attractions.
Is it safe to travel to St. Petersburg
St. Petersburg was founded in 1703 by Peter the Great. He wanted not just a port and a navy on the Baltic Sea, but also a city that looked European and lived in accordance with European standards. St. Petersburg enjoyed the status of capital for a little over 200 years. In 1918, Vladimir Lenin moved the capital back to Moscow. After his death in 1924, the city was renamed Leningrad.
After the Soviet Union's collapse it was once again renamed St. Petersburg. Current Russian President Vladimir Putin hails from St. Petersburg and pays special attention to his hometown. Today's St. Petersburg is second largest city with 44 islands that are connected by over 300 bridges. The city is also known as the county's cultural capital. It has a different vibe than Moscow and was my favorite city in Russia.
Sochi
From Olympic sightseeing to swimming in the Black Sea and gambling. Russia's Riviera has so much to offer for a City only founded in 1838 (youngest city in Russia). Sochi is the second longest city in the world streching for 145 kilometers along the shores of the Black Sea near the Caucasus Mountains. It's also the largest resort city in Russia.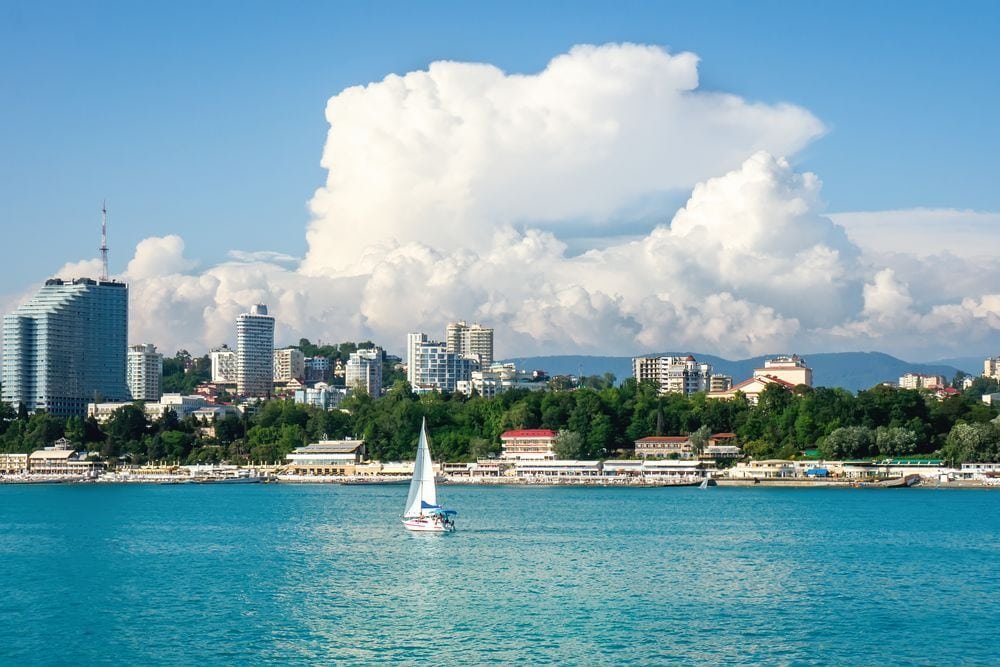 Known to most at the location of the 2014 XXII Olympic Winter Games and XI Paralympic Winter Games. Winter Olympic Games in Sochi were the only one in history which were held in subtropical climate. Sochi is a Black Sea resort with a perfect combination of mountains and beaches. Great for skiing in winter and sunbathing in summer.
Kazan
Kazan is the capital of Tatarstan, and has a very distinctly different culture than other Russian cities. Like every Russian city, Kazan has a rich history. It is one of the largest political, economic, educational, industrial, commercial and tourist centers of Russia. The city was founded as an advanced post in the northern part of Volgian Bulgaria more than a thousand years ago. In the XIII-XIV centuries it became the main political and commercial center of the Golden Horde.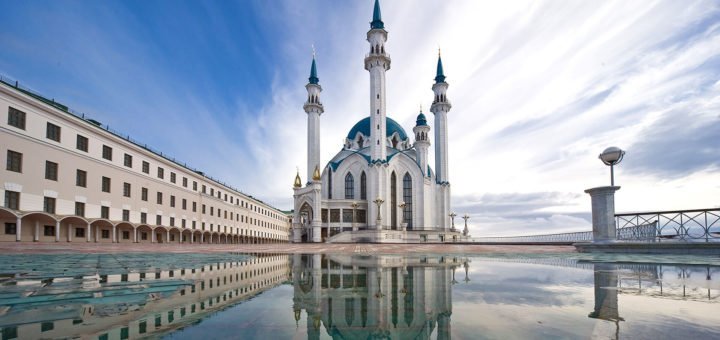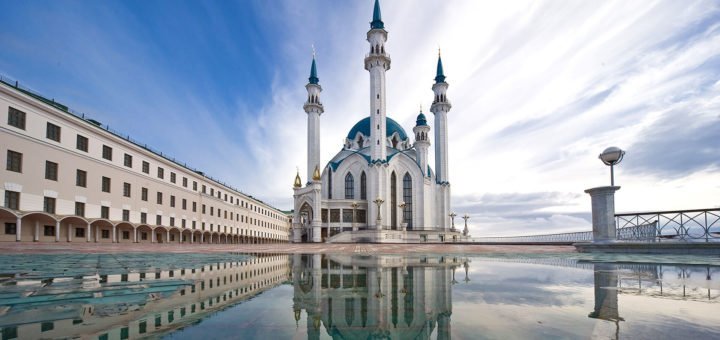 The largest river of Eastern Europe – Volga river, flows through Tatarstan.
Today Kazan is one of 15 Russian cities with population of more than 1 million. There are more than 115 nationalities living in Kazan. It's definitely one city to stop if you go on the Trans-Siberian Railway.
Lake Bakail
Are you planning on visiting Lake Baikal? Known as "Galapagos of Russia" because of its exceptional biodiversity and importance to evolutionary science. The age, isolation and deep oxygenated water of Lake Baikal has resulted in one of the world's richest freshwater ecosystems.
Things to know about Lake Baikal
Lake Baikal is the oldest lake in the world. It and the surrounding mountains were formed by the Earth's crust fracturing and moving.
It's home to approximately 1,700 to 1,800 endemic plant and animal species.
In 1996 it was declared a UNESCO World Heritage Site. (Russia has a total of 28 heritage sites)
Lake Baikal is the clearest lake in the world.
Lake Baikal holds 20% of all freshwater on the planet.
More than 300 streams and rivers feed into Lake Baikal
The earth under Lake Baikal is heated And the heat source is unknown.
The large freshwater seal indigenous to Lake Baikal, called a "Nerpa".
There are more than thirty rocky islands in Lake Baikal. One of them is the world's second largest island in a lake, Olkhon.
Lake Baikal have about 100 gas ("mud") volcanoes.
Lake Baikal Stats
Volume: 5,521 cubic miles of water (23,013 cubic km)
Maximum depth: 5,387 feet (1,642 meters).
Average depth: 2,442 feet (744 m)
Surface area: 12,248 square miles (31,722 square km)
Length: 397 miles (640 km)
Maximum width: 49 miles (79.5 km)
Average width: 29 miles (47 km)
Minimum width: 16 miles (25 km)
Coastline area: 1,300 miles (2,100 km)
How to get to Lake Baikal
Lake Baikal is located in south-central Russia near the Mongolian border. The three main points of access to Baikal are Irkutsk and Ulan-Ude and Slyudyanka.
Lake Baikal is reachable by car, plane or train.
This is the fastest way to get there is by flight from a major Russian cities (such as Moscow, Ekaterinburg, Novosibirsk, Krasnoyarsk, Vladivostok, etc.) to Irkutsk or Ulan-Ude, which are located within a close reach to Lake Baikal (Irkutsk: 65 km and Ulan-Ude: 250 km). The flight from Moscow to Irkutsk takes about 6 hours and flights from Moscow to Ulan-Ude takes about 7 hours.
You can also get there using the Trans-Siberian railway. The train from Beijing will take 2 days. The train from Vladivostok will take 2.5 days. Trains arrive at the main Irkutsk railway station located in close proximity to city center. To get to Lake Baikal, you need to go the main bus station (it takes 10 min by public transport to get there from railway station).
Generally it costs from €150 one way for 3rd class (common carriage) to about €250-€300 one way for 2nd class (4-berth coupe).
If you opt to drive, which I don't recommend due to the distance and road conditions. Only two roads lead to Lake Baikal:
M55L (also called Baikal Highway) from Irkutsk to Listvyanka
R-438 from Ulan-Ude to Gremyachinsk and then along shore up to Ust-Barguzin.
Best time to visit Lake Baikal
Russian Winter is probably the best time of year to visit Lake Baikal. The lake's surface is frozen solid and the temperatures are subzero. At the same time the air is dry and the skies are surprisingly sunny. The lake usually melts in May or June and will be frozen again by the end of October. For less crowds and more unique tours visit in winter.
Is the Trans Siberian Railway safe?
What is the Trans Siberian Railway?
Also known as Transsib – The Trans Siberian Railway is the longest railway in the world (about 9300 km). The best time to go is between May and September, though it's cheaper during winter. The journey can be broken into sections with overnight stays in hotels in different parts of the country.
How long does the Trans Siberian Railway take?
This train journey is the longest you can make on a single train: the longest of the three trans-Siberian routes, between Moscow and Vladivostok, covers 9,258km (6,152 miles) and takes seven days.
Trans Siberian express cost
Reservations are required for all trains, so you cannot decide to hop off one and catch another without the necessary ticket. For a one-way journey by service train to Vladivostok, allow £500 in second class and £800 for first class, including food. Both routes to China cost £600–£830 respectively, including food.
How to get a visa for Russia
Russia is visa free for 30 days for citizens of Argentina, Armenia, Azerbaijan, Belarus, Bolivia, Bosnia and Herzegovina, Brazil, Brunei, Chile, Colombia, Cuba, Croatia, Dominican Republic, Hong Kong, Iceland, Israel, Kazakhstan, Kirghiz Republic, Macedonia, Moldova, Montenegro, Mozambique, Nicaragua, Panama, Paraguay, Serbia, South Africa, Thailand, Tajikistan, Ukraine, Uruguay, Uzbekistan, Venezuela. If you need to apply for a visa, Learn more about application process on the Russian government website.
Russia Packing List for Females
In cities like Moscow and St Petersburg women love to dress up and are rarely seen without make-up and high heels. But I highly suggest that you save your high heels for the evenings especially if you'll be walking all day.
Although you are allowed to wear anything you want, sportswear like leggings and yoga pants are not really appropriate and you will stand out as a tourist because locals dress up EVERYDAY. Opt for Jeans, Shorts or Dresses and comfortable walking shoes.
Russia is fairly conservative, and if you choose to wear bright colors – particularly in the winter months you will stand out as a tourist.
Churches will refuse entry if shoulders and knees are uncovered. Always cover your head with a scarf, and cover up bare arms by wearing a jacket and legs by wearing long dresses or skirts. Men aren't allowed to wear shorts inside churches.
Fur in Russia is popular, acceptable and affordable.
In winter it's advisable to wear boots with soft rubber soles, because medium soles get hard in the freezing cold. Make sure that your boots have large spaces between the tracks, or the snow will get stuck in them and make them very slippery.
In winter always pack gloves, scarf and hat and/or ear muffs. A furry lining or trim will keep you even cosier.
Solo Female Travel In Russia
Is it safe to travel to Russia alone? Russia is not dangerous for solo female travelers.
In fact before the 2017 World Cup the country introduced tourist police who speak English and have high presence around the center of Moscow this gives a feeling of greater security.
As a woman, you will face much of the same street harassment and aggressive behavior you'd find in many other countries.
If you're a minority (Black / African descendant) you will get a bit of stares and random people asking for pictures. I'm never offended as I understand that most people don't get the opportunity to travel, learn more about the world and meet different people.
As a solo female though, one thing to keep in mind when visiting Russia is your alcohol intake. In the land of great vodka, it can be easy to overdo it. The last thing you want though is to be stumbling alone back to your hotel a little too drunk.
If you are taking an overnight train or hoping to experience the Trans-Siberian railroad, you might need to plan a bit more as well. Unless you want to book an expensive train car all to yourself, you will likely be sharing a car with other travelers. As a solo female, see if you might book an all female car.
Tips for Traveling in Russia
Be mindful and ask security if you are allowed to take pictures of certain building. Download the Google Translate app with offline Russian translations as majority of people in Russia don't speak English. For the best apps, maps, public transport, read this checklist for visiting Russia for the first time.
Are these Russian Stereotypes True or False
Russia is always cold. False, While it does get cold in winter, Russians usually get to see all four seasons. I was visiting in Summer and the temperature was between 25 – 30 degrees Celsius everyday. Keep in mind that Russian winter is long and lasts five to six months a year. So plan your trip accordingly.
Russians are unfriendly and never smile. False, I found Russians to be friendly and always willing to help even when there was a language barrier. In other parts of the world, smiling is a way of expressing friendliness to people around you. In Russia, smiling is reserved for showing affection among loved ones, reacting to something funny or during times of genuine enjoyment.
Russian women are beautiful. True, When I arrived in Moscow, I was amazed how many beautiful women there are. Everyone has stylish outfits, complete with beautiful bags, fine jewelry, and flawless make up, nails and hair. From the street cleaners to ladies in nightclubs. Personal grooming is important to Russian women.
Russians only drink vodka. False, Russians drink any drink. Although Vodka is believed to have been first produced in Russia at the end of the 9th century. The oldest known vodka distillery opened two hundred years later in the town of Khylnovsk. Some claim Vodka originates from Poland, some say it's Russia, Though its origins remain uncertain, the name "vodka" originates from the slavic word for water – voda (вода). When in Moscow, a visit to the Vodka Museum is a must!
Russian food is bland. True and False. Personally, I found Russian food to be bland. I'm South African and our food has Indian influences (we love spicy food), so your preference might be different. The best food is from Uzbek and Georgian restaurants, which can be found in every city in Russia.
Bears are Russia's national animal. True, Russia's national animal is the brown bear, with the world's largest population living within its borders. The popularity of the bear started in the 16th century when bears were kept as pets and exchanged as gifts (mostly by wealthy people). Since then bears have been known as a symbol of Russia.
In fact a lot of Russian products make use of a bear symbol on their packaging. However, bears are not kept as pets. In 2017, Moscow banned the private ownership of bears.
Is Russia safe for solo travel Right Now?
Yes! There has never been a better time to plan a trip to Russia than it is now.
Get Insurance before visiting Russia
Use travel insurance while visiting Russia so you are covered for theft and medical expenses. There are a lot of adventurous activities to do in Russia, and it's best to have peace of mind while drinking vodka, hiking and swimming in the amazing beaches.
Find out why I recommend World Nomads, check out my World Nomads Insurance review.