If you're wondering how to move to Ireland from South Africa? you've come to the right place!
Living as a South African Expats in Ireland can be an amazing experience, but it will come with some challenges. If you're thinking about making the move, it's important to do your research first.
If you've already made the move, you'll know its not a smooth process and sometimes any help available is always appreciated.
I've put together a resource guide for South African expats in Ireland. From things to know before going to Ireland for the first time, how to meet South Africans in Ireland even where to find South African Food in Ireland.
The Best Ireland Cities for Expats
With so many cities to live in Ireland that it can be difficult to decide exactly where you want to live. Based on the cost of living, health care, education, the economy, infrastructure, quality of life, state fiscal stability, and public safety – these are some of the best cities to live in Ireland:
Best city to live in Ireland for families – Cork
Most scenic city to live in Ireland  – Donegal
Best city to live in Ireland for expats – Galway
Best place to retire in Ireland  – Wexford
Overall Best city to live in Ireland – Dublin
How to move to Ireland from South Africa
This is a guide on how to adapt and survive while working and living in Ireland.
Visas needed for South African Expats in Ireland
First things first, visas! If you are a non-EU national, you need a visa to live in Ireland. I'll focus on what you need as a fellow South African who looking to move and work in Ireland. There are 5 ways to get an Irish residency permit:
If you are sponsored by a company so you can work in Ireland

If you're the spouse or dependent of a foreign national who received a job offer in Ireland

If you're the spouse of an Irish Citizen, the EU and the European Economic Area (EEA) & Switzerland

If you are enrolled in a school. Everything you need to know about student visa's 

HERE
If you get a work holiday visa (only applicable to Australians)
Types of Irish Work Permits
Critical Skills Work Permit – This visa is for highly skilled people such as ICT professionals, professional engineers, and technologists. There is no labor test required and the job offer must be for two years with a minimum annual remuneration of €30,000 – €60,000. The processing fee for a Critical Skills Employment Permit is €1,000. If an application is unsuccessful then 90% of the fee will be refunded.
General Work Permit – All occupations unless specified can apply for this permit, it allows you to work in Ireland doing work like construction, teaching, hospitality, etc. The minimum annual remuneration is €30,000. Remuneration includes the salary for the job and health insurance. To qualify, a labor market test needs to be conducted by the employer. The processing fee is also €1,000.
Dependent Work Permit – You can apply for this visa if your spouse or child has a critical work permit. You have to prove that you are the wife or husband or parent of a foreign national who works in Ireland and that you are financially dependent on this person. The application for this visa is free.
Things South African Expats in Ireland need on arrival
Getting a GNIB Card – A Garda National Immigration Bureau (GNIB) Card is a residency permit that is issued to Non-EU/EEA or Switzerland citizens who live in Ireland. You need to apply for an appointment online.
What you need to bring with you to your appointment:
Valid passport
Current student card
Evidence of financial support, e.g. current bank statement showing your name, a letter of guarantee from parent or guardian indicating the availability of sufficient funds to sustain you for the duration of your stay in Ireland; or a letter from your sponsoring body confirming financial status.
If you're a student, a letter from your college including your student status, start date and the duration of your course and stating that fees have been paid.
If you have a job, a letter from your company.
Evidence of private health insurance.
€300 application fee – this must be paid by card (no cash allowed).
Applying for a PPS Number – The Personal Public Service Number (PPS) is an identification number issued by the Irish government. Your PPS number is always 7 numbers followed by either one or two letters.
It's similar to your social security number in the US and ID number in South Africa. You need a PPS number to apply for work, rent an apartment, register for tax and get a bank account.
If you want to get a PPS number, you must first register with MyGovID then make an appointment online at MyWelfare.ie.
Applying for a Bank Account in Ireland – To apply for a bank account in the Republic of Ireland, you'll need two documents one valid form of a photo ID and a document to prove your address. Your passport, driving license or national identity card (if you're an EU citizen) are all valid forms of photo ID. In order to prove your address, you will need to produce one of the following documents:
a recent utility bill (less than 6 months old)
a recent bank statement (less than 6 months old); or
correspondence from a government department or authority.
Best Banks in the Republic of Ireland
Allied Irish Banks (AIB)

Bank of Ireland

Ulster Bank

Permanent TSB

EBA
Most banks allow online applications, but you will have to come in to bring your original ID and proof of residence.
Unfortunately, you don't get your card immediately after applying. They send your card in the mail within 7 days and you will also receive a separate letter with your pin after a few days to activate the card.
They do this for security reasons and honestly, this was one thing I didn't like about opening an account, I felt like it took such a long time.
How South African Expats in Ireland can find jobs
It's illegal to work in Ireland without a work permit. You also can't immigrate without a job offer. If you are seeking a job that requires qualifications, you will need a qualification recognition certificate in order to provide evidence that your credentials are formally recognized in Ireland.
To apply for this certificate, contact Qualifications Recognition Ireland. Degrees from most Western countries are usually considered equivalent to Irish qualifications. Work can be found through Recruitment agencies and a list of registered and reputable agencies can be found on the National Recruitment Federation (NRF) website.
Alternatively, you can apply on Indeed, Irish Jobs, LinkedIn and Facebook groups like Jobs in Ireland, Expats in Dublin and more.
Why South African Expats in Ireland must register with the SA Government 
Whether you are a South African Expats in Ireland or simply visiting the Emerald Isle, it's highly advised to register with ROSA –  'Registration of South Africans Abroad'.

A large number of South African travel abroad on a daily basis and have no problems. However, there is a growing number of South Africans who have become victims of crime, accident/s, diseases, death, natural/man-made disasters, civil unrest, or whose relatives and/or neighbors wanted to contact them in an emergency.
You need to register your personal details and travel itineraries with the Department of International Relations and Co-operation before traveling abroad. The personal information of travelers who register will allow the Department to assist South African citizens in the event they experience an emergency while abroad. 
The registration is free, and the assistance and services provided by the Government (through the Department of International Relations and Cooperation) are of an advisory and non-financial nature. Registration is applicable to South African citizens who are traveling, living or working abroad.
By registering your trip you assist the Department to locate you during an emergency, verifying your status and liaising with your next-of-kin. Please note that your information will only be accessed during a declared consular emergency. Registration is voluntary and free of charge.  I highly encourage you to consider registration as an integral part of your travel planning and security.
How to register with ROSA
South African Citizens, both individual and group travelers, should register at the nearest South African Embassy, High Commission, or Consulate-General abroad (South African Representation Abroad). You may also register before departure, in which case you may forward your request for registration to the following E-Mail Address: [email protected]
Where is the South African embassy in Ireland
South Africa has 1 embassy in Ireland and it's located in the capital city of Dublin.
How to renew a South African Passport in Ireland
South African Expats in Ireland know that renewing your South African Passports abroad can be a nightmare. Not only does it take between 6 to 12 months, but getting an appointment at the SA embassy can also be difficult.
Passport applications are forwarded to the Department of Home Affairs in South Africa for processing and issuance of new passports. The waiting period to receive a new passport abroad can be for several months.
In emergency situations, the South African Diplomatic or Consular Mission is in a position to issue you with an Emergency Travel Certificate, which will allow you only to travel directly back to South Africa.
What happens if your South African Passport is stolen/lost while abroad?
If your passport is lost or stolen while you are traveling abroad, report the loss/theft immediately to the local law enforcement agency (e.g. police station). Take a copy of the police report to the nearest South African Embassy or Consulate-General where you will apply for an emergency travel document. In order to apply for a new Passport or an Emergency Travel Certificate, you must:
Complete an application form.
Be finger-printed.
Produce written evidence of your South African citizenship (e.g. a birth certificate, identity document, a certified copy of your passport, driver's license). Where available.
Provide a copy of the police report.
Present two photographs.
Pay the prescribed fee (as determined by the Department of Home Affairs).
It is the responsibility of travelers to ensure that they are in possession of the required valid passports and other required documents, issued by the Department of Home Affairs, before departure abroad.
The DIRCO will not intervene on behalf of travellers, before their departure from South Africa, on matters relating to the issuance of new RSA passports, the renewal of it or the issuance of ID, Birth-, Unabridged birth-, marriage certificates, or any other matter that falls within the mandate of the functions of the Department of Home Affairs.
How to vote as South African

Expats in Ireland
South African Expats in Ireland (citizens of South Africa) who wish to vote in the National Elections are required to inform the Electoral Commission of their intention to vote outside of the country. You can do this by submitting an online VEC 10 application that is available at www.elections.org.za.
You will receive a registration notice via text or email and the date for voting in your "specific country" – usually, this day is the same for all South Africans abroad.
On voting day abroad, voters will need to take their South African identity document (ID) – either a green barcoded ID book, smart ID card, or valid temporary ID certificate; AND their valid South African passport to the SA Embassy. Voting hours are from 07:00 to 19:00. If you're not registered or you don't have both your ID and passport, you cant vote.
How to meet South African Expats in Ireland
Facebook Groups:
Tax for South African Expats in Ireland
Read my detailed guide to South African Expat Tax
How South African Expats in Ireland can find accommodation 
Daft.ie is the best property resource in the country.
To apply for most things in Ireland,  you will need proof of address which can be found on utility bills like electricity, cable or WIFI.
Proof of address is going to be a valuable piece of paper you will need to set up most things, so it's important to sort out your living arrangements ASAP.
Where to find South African Food in Ireland
Irish restaurants aren't shying away from the bold flavors of African cuisine.
From the food of Nigeria to Kenya or the tastes of Morocco and even South Africa.
As a South African expats in Ireland you don't only miss your family and friends but you miss the lekker food and drinks.
Every time I move to a new country I try to find as many South African stores as possible. In my time in Ireland I discovered some really amazing places that offer selections inspired by culture and locations from all across South Africa:
Créole Food
Address: 16 Strand Road, Bray, Co. Wicklow
Tucked away in a Brennan's Parade in Bray, Creole Food has a great ambiance for all occasions, be it a date, catch-up with friends or a family dinner.
Every dish on the menu is great, but I'd recommend the South African classics Beef Bunny Chow and a Melktart for dessert. (Note: SA dishes weren't on the menu the last time I was there, you have to request it).
The South African Shop
Address: Spout Well Lane, Bellview, Mullingar, Co Westmeath
The South African Shop brings a taste of home to the Emerald Isle with your favorite foods & arts & crafts. I drove for an hour to find this shop and I had no regrets. They had everything you would need from spices to Boerewors and body lotions. You can shop for instore or online.
Nanos Cafe
Address: Rochfortbridge, Co Westmeath
Anand Naidoo offers South African cuisine cooked to your liking. His specialty is Bunny Chows (lamb, beef, chicken or vegetarian). Cooked and uncooked meals are available. As well as spice mixes that you can purchase online.
West Coast Kitchen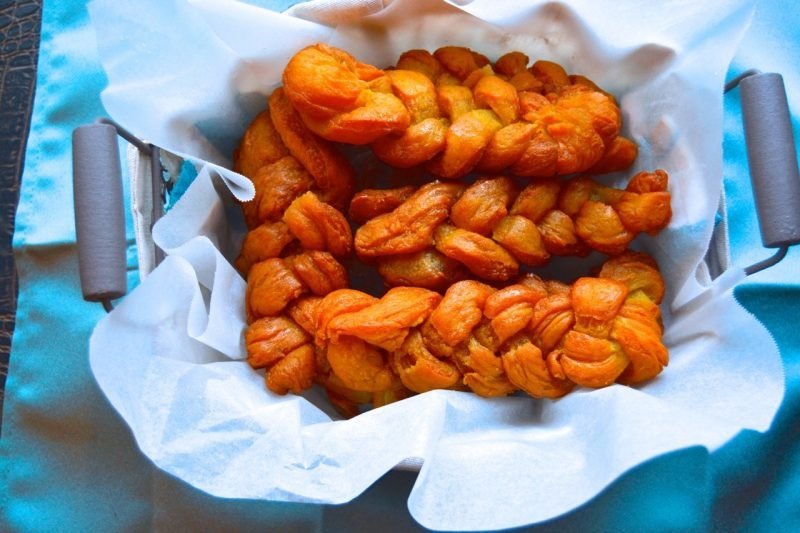 West Coast Kitchen imports South African products and delivers to your doorstep. You will find canned and preserved goods, crisps and biscuits. They also sell home-baked good like milk tart and koeksisters.
Uncle Boks
Address: 16 St John's, Ballinalee, Co. Longford
Uncle Bok makes Biltong, Droëwors, Boerewors with flavors like garlic, Sosatie, Mrs. Balls Chutney and Burgers from high-quality Irish Beef. They sell at their store, online and to suppliers all around Ireland.
Cahill Butchers
Address: 43 Bunclody Road, Ferns Upper, Co Wexford
For great quality Boerewors and Biltong visit Cahill Butchers in Ferns or shop on their online store. When I went to the guys who worked there were really friendly, they didn't have Boerewors in stock but I bought some Droewors, Fritos, Mrs. Balls Chutney.
Nandos
You will find the South African brand, Nandos Restaurants all over the Republic and Northern Ireland. The menu is similar to the one in South Africa with the addition of Irish ciders and wines.
Grocery Shopping in Ireland
There is a range of supermarkets in Ireland, depending on whether you live in a city or country (rural areas) you will find a large variety of foods from countries like South Africa, the UK, and the USA.
I always got excited when I would purchase fruit and see "Made in South Africa" on the packaging ????. None of the supermarkets are open 24/7, most are open from 08:00 am to 10:00 pm.
Ireland passed a plastic bag tax in 2002. So unless you want to pay 50 cents for a bag, then remember to bring your own reusable shopping bag with you.
Where to buy food in Ireland
Aldi
Dunnes Store
Lidl
Marks & Spencer (M&S)
Spar
SuperValu
Tesco
Tesco and Supervalu are the only stores that offer online shopping and home deliveries.
The most expensive food is from Dunnes and M&S, very similar to South Africa's Woolworths.

SuperValu has amazing deals and my favorite was the section with international foods. It's similar to Checkers.
Aldi always has great deals and it reminded me of Target from the US, you go in to buy one thing and always end up spending more and getting random things you don't need but it's so affordable so you end up getting it anyway.
More South African Expats Resources
Are you thinking of moving to Ireland from South Africa? Moving to a foreign city, where a different language is spoken and a completely new way of life awaits can be daunting.
Whether it's adapting to a new workplace, making new friends or understanding the locals it's important to be ready for an adventure and a sometimes stressful situation.  
---
Best Insurance for South African Expats in Ireland
With so many places to visit in Ireland, make sure you get travel insurance so you are covered for theft and medical expenses. There are a lot of adventurous activities to do in Ireland, and it's best to have peace of mind while swimming, hiking and trying some of the best food in the world.
Find out why I recommend World Nomads, check out my World Nomads Insurance Review.
Disclaimer: This article contains affiliate links. This means that if you make a booking after clicking on a link, I may receive a small commission at no extra cost to you!