Living as a South African Expats in USA can be an amazing experience, but it will come with some challenges. If you're thinking about making the move, it's important to do your research first.
If you've already made the move, you'll know its not a smooth process, I've put together a resource guide for South African expats in the US. From the best cities to live in the USA, how to meet South Africans in the US, even where to find South African Food in America.
First things first, The USA is huge and I don't cover all the cities in this guide but places where I have worked and visited. While traveling to 30+ countries and living and working in 4 – Ireland, USA, Turkey, and Indonesia for over a year each, not only have I realized how many South African expats living abroad but how amazing some of the world's greatest cities are, there are tons of unique opportunities for expatriates from different walks of life.
The Best USA Cities for Expats
With so many cities to live in the US that it can be difficult to decide exactly where you want to live. Based on the cost of living, health care, education, the economy, infrastructure, quality of life, state fiscal stability, and public safety – these are some of the best cities to live in the USA:
Best cities to live in the USA for families – Buffalo, New York, & Nashville, Tennessee
Most scenic cities to live in the US – Portland, Maine, & New Orleans, Louisiana
Best cities to live in the US for expats – San Francisco, California & Raleigh, North Carolina
Best place to retire in the US  – Austin, Texas
Overall Best city to live in the USA – Seattle, Washington
 Read my guide of the 23 best USA cities to live
Why South African Expats in US must register with the SA Government 
Whether you are a South African Expats in USA or simply visiting the US, it's highly advised to register with ROSA –  'Registration of South Africans Abroad'.
A large number of South Africans travel abroad on a daily basis and have no problems. However, there is a growing number of South Africans who have become victims of crime, accident/s, diseases, death, natural/man-made disasters, civil unrest, or whose relatives and/or neighbors wanted to contact them in an emergency.
You need to register your personal details and travel itineraries with the Department of International Relations and Co-operation before traveling abroad. The personal information of travelers who register will allow the Department to assist South African citizens in the event they experience an emergency while abroad. 
The registration is free, and the assistance and services provided by the Government (through the Department of International Relations and Cooperation) are of an advisory and non-financial nature. Registration is applicable to South African citizens who are traveling, living or working abroad.
By registering your trip you assist the Department to locate you during an emergency, verifying your status and liaising with your next-of-kin. Please note that your information will only be accessed during a declared consular emergency. Registration is voluntary and free of charge.  I highly encourage you to consider registration as an integral part of your travel planning and security.
How to register with ROSA
South African Citizens, both individual and group travelers, should register at the nearest South African Embassy, High Commission, or Consulate-General abroad (South African Representation Abroad). You may also register before departure, in which case you may forward your request for registration to the following E-Mail Address: [email protected]
South African embassy in America
South Africa has 4 embassies in the USA. [table id=6 /]
How to renew a South African Passport in the US
For South African Expats in USA, renewing your South African Passports abroad can be a nightmare. Not only does it take between 6 to 12 months, but getting an appointment at the SA embassy can also be difficult.
Passport applications are forwarded to the Department of Home Affairs in South Africa for processing and issuance of new passports. The waiting period to receive a new passport abroad can be for several months.
In emergency situations, the South African Diplomatic or Consular Mission is in a position to issue you with an Emergency Travel Certificate, which will allow you only to travel directly back to South Africa.
What happens if your South African Passport is stolen/lost while abroad?
If your passport is lost or stolen while you are traveling abroad, report the loss/theft immediately to the local law enforcement agency (e.g. police station). Take a copy of the police report to the nearest South African Embassy or Consulate-General where you will apply for an emergency travel document. In order to apply for a new Passport or an Emergency Travel Certificate, you must:
Complete an application form.
Be finger-printed.
Produce written evidence of your South African citizenship (e.g. a birth certificate, identity document, a certified copy of your passport, driver's license). Where available.
Provide a copy of the police report.
Present two photographs.
Pay the prescribed fee (as determined by the Department of Home Affairs).
It is the responsibility of travelers to ensure that they are in possession of the required valid passports and other required documents, issued by the Department of Home Affairs, before departure abroad.
The DIRCO will not intervene on behalf of travellers, before their departure from South Africa, on matters relating to the issuance of new RSA passports, the renewal of it or the issuance of ID, Birth-, Unabridged birth-, marriage certificates, or any other matter that falls within the mandate of the functions of the Department of Home Affairs.
How to vote as South African

Expats in USA
South African Expats in USA (citizens of South Africa) abroad who wish to vote in the National Elections are required to inform the Electoral Commission of their intention to vote outside of the country. You can do this by submitting an online a VEC 10 application that is available at www.elections.org.za.
You will receive a registration notice via text or email and the date for voting in your "specific country" – usually, this day is the same for all South Africans abroad.
On voting day abroad, voters will need to take their South African identity document (ID) – either a green barcoded ID book, smart ID card, or valid temporary ID certificate; AND their valid South African passport to the same mission mentioned in their online VEC10 template. Voting hours are from 07:00 to 19:00. If you're not registered or you don't have both your ID and passport, you cant vote.
How to meet South African Expats in USA
Facebook Groups:
Tax for South African Expats in USA
Read my detailed guide to South African Expat Tax
Where to find South African food in America
Food is one thing not in short supply in America. In this country with a diverse population, there are various restaurants and markets that cater to widespread ethnic tastes. As a South African Expats in USA, you'll sometimes miss the taste of home and luckily for you, there are amazing places to find lekker South African food.
Nandos
Ever wondered if there Is there a Nandos in America? South Africa's fast-food chain Nandos specializes in flame-grilled peri-peri chicken, influenced by the Portuguese flavors of the Mozambican frontier. You can find Nandos in many countries like the UK, Ireland and even in America in Illinois, Pennsylvania, Maryland, and Washington, DC, you can find the US. chain branches.
Where to find South African food in the East Coast
Springbok Bar and Grill
If you're wondering where to find South African food in  Los Angeles. Head to 16153 Victory Blvd, you'll quickly spot the place by the huge South African flag outside. Springbok Bar and Grill is a great place to watch all the best Rugby, Soccer, Cricket and of course American Sports in Los Angeles while enjoying some of the best Boerewors I've ever had.
Where to find South African food in New York
Food is one thing not in short supply in New York. In this city with a diverse population, there are various restaurants and markets that cater to widespread ethnic tastes. Here are some of the best places to find lekker South African food:
Kaia Wine Bar
Located on 1614 3rd Avenue in New York, Kaia is a phonetic version of 'Kgae' meaning home, house, place of gathering in Sotho and eKhaya in Zulu. For six years Suzaan has been bringing a taste of her South African home to her beloved Upper East Side community.
"I've been coming to Kaia for more than five years, it's more than a typical New York City Wine Bar, it's warm, cozy and when you walk in you feel like you're part of the family." says a lady sitting next to me at the bar.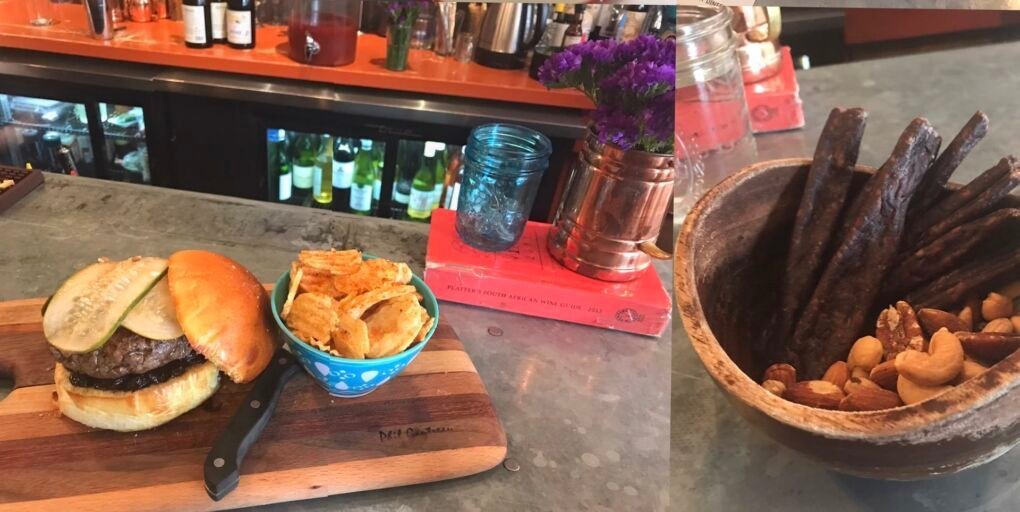 They don't make traditional dishes but they use South African ingredients to make innovative, scrumptious meals. Try their Lamb Burger with Kaia pickled cucumbers, sour cherry compote & local Roquefort on brioche with peri-peri chips.
Jonty Jacobs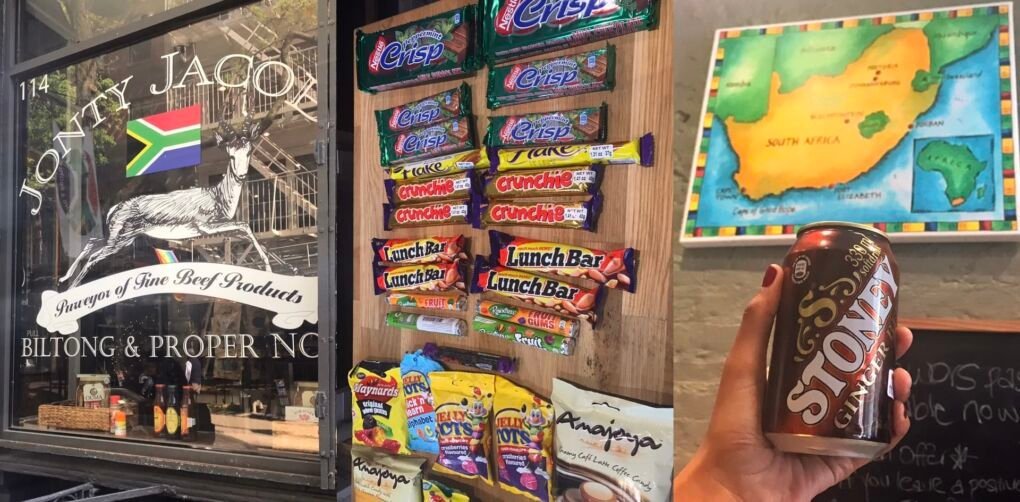 Located on 114 Christopher St in New York. I accidentally discovered this gem while I was in a Uber, I was staring out the window and I saw the South African flag in a store window, it was 7 am and the place wasn't open yet so later I returned and walked into heaven…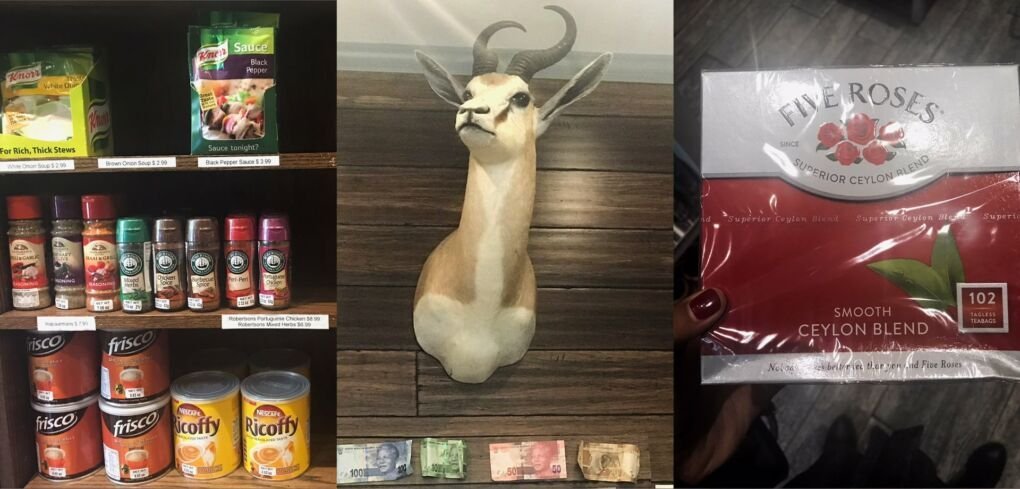 Jonty Jacobs specializes in Biltong & Droewors that don't contain chemicals/additives and are not cured using sodium nitrates like American beef jerky. They have a store in Manhattan and San Diego. They also sell candy, soda, spices, and everything you'd need even Atchaar and Eet Sum Mor Biscuits!
Madiba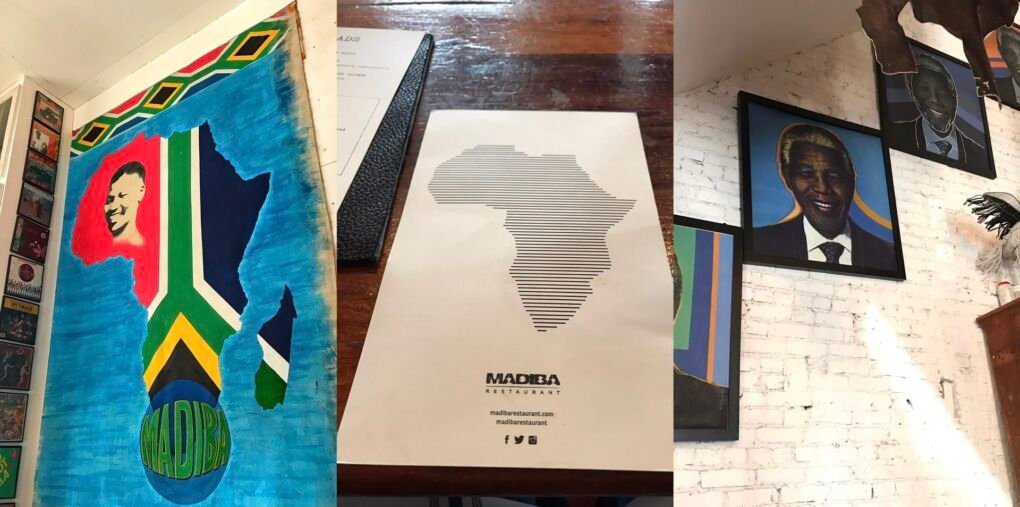 When I walked into Madiba I was impressed with their decor and ambiance, it resembled a typical South African place, although It was a bit cramped as I changed tables three times till I was comfortable.
They have a wide variety of traditional South African dishes although some aren't as authentic as they should be. I wasn't impressed with their slap chips – But, do TRY their Amarula French Toast and Umgushu (Samp and Beans).
Update: Madiba Restaurant on (195 Dekalb Ave, Brooklyn) closed in May 2018.
More Places to find South African food in the United States
Karoo Restaurant
In a picturesque atmosphere with indoor and outdoor seating, Karoo Restaurant in Eastham, MA offers contemporary South African cuisine.
The menu represents the unique blend of influences from African, British, Dutch, Portuguese, Malaysian and Indian for which South Africa is so well known for. Cape Malay soup, beef, and tofu bobotie and beef bunny chow are included in the entries.
The Shebeen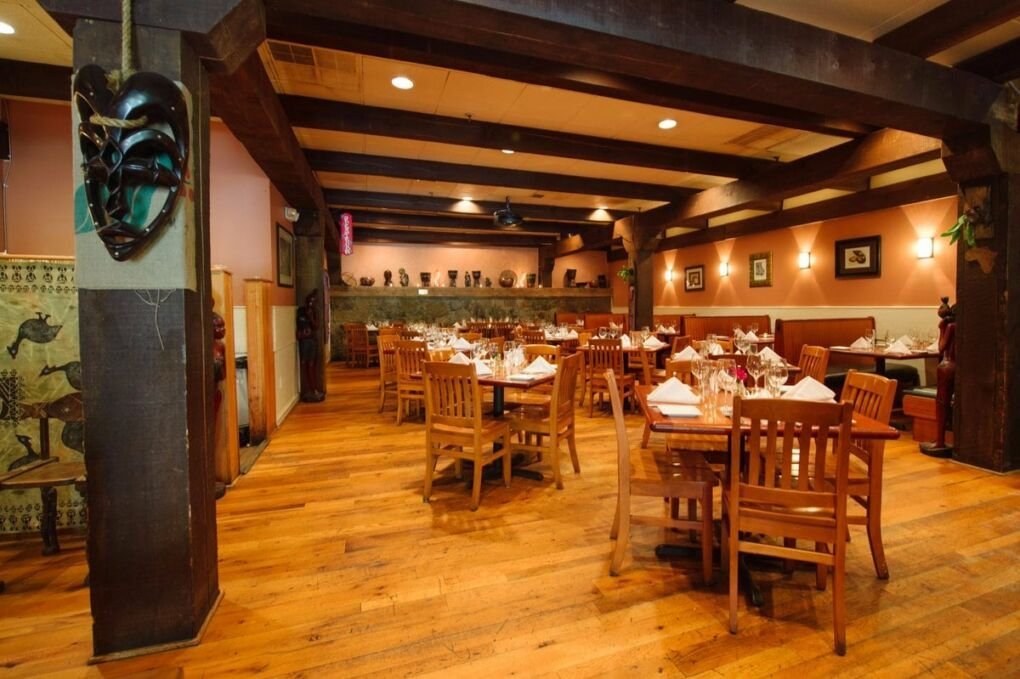 The Shebeen Pub & Braai in the heart of downtown Charlottesville!
They serve South African staples for breakfast, lunch, and dinner. Lunchtime highlights include burgers boerewors and sadza cakes, while Cape Mussels and Camps Bay calamari offer a taste of the country's seafood bounty for dinner.
More South African Expats Resources
---
Best Insurance for South African Expats in USA
With so many places to visit in USA, make sure you get travel insurance so you are covered for theft and medical expenses. There are a lot of adventurous activities to do in USA, and it's best to have peace of mind while swimming, hiking and trying some of the best food in the world.
Find out why I recommend World Nomads, check out my World Nomads Insurance review.
Disclaimer: This article contains affiliate links. This means that if you make a booking after clicking on a link, I may receive a small commission at no extra cost to you!