With so many fun things to do in Cape Town, its no surprise that it often referred to as the trending city in South Africa, and that's with good reason.
Cape Town seems to have an inexhaustible offer of all things cool, innovative and extraordinary – be it urban pools, open-air festivals or rooftop bars.
Not taking into account the usual touristy sights, Cape Town is a popular tourist destination for any season in South Africa.
Tip: To save time, buy a Cape Town City Pass, So you can avoid waiting in long lines for tickets.
Cape Town was the first outside of Europe to be awarded Blue Flag status for its beaches, owing to high water quality, good facilities, safety, and cleanliness.
Not only is Cape Town one of the best cities to live in Africa, but it's also a historically important city in South Africa.
---
Planning a trip to South Africa? Read this first…
---
Where is Cape Town
Cape Town is the second-most populous city and the legislative capital of South Africa. It's located in the south-western corner of the country at the foot of Table Mountain in the Westen Cape Province.
Best time to visit Cape Town
Like in most cities around the world, winter is low season in Cape Town (and most destinations), meaning you'll have more of the city to yourself and won't have to compete with hordes of tourists for entry to exhibits, monuments or when making restaurant reservations. Not to mention the fact that accommodation and flights are cheaper than in peak season.
The temperature in Cape Town in Winter
In Winter (June – August) the average temperature is 64 F/18° C (high) and 46 F/7°C (low). It also rains a lot and for a city where outdoor activities are the main attractions, most people are discouraged to visit. In Cape Town, most things weather-dependent but I didn't let this affect my decision to visit the city.
The temperature in Cape Town in Summer
Summer in Cape Town is usually warm, dry, and it is windy year-round. Over the course of the year, the temperature typically varies from 48°F to 76°F and is rarely below 41°F or above 84°F.
Things to do in Cape Town 
1. Introduction to the city
Learn more about the city, its history, interesting facts and take in the beautiful sights with Cape Town Free Walking Tours. With the following tours available: a historic tour, and Apartheid to Freedom tour, a Bo-Kaap tour, and a Taste of Cape Town tour. Each one offers a unique perspective on Cape Town and what this amazing city has to offer.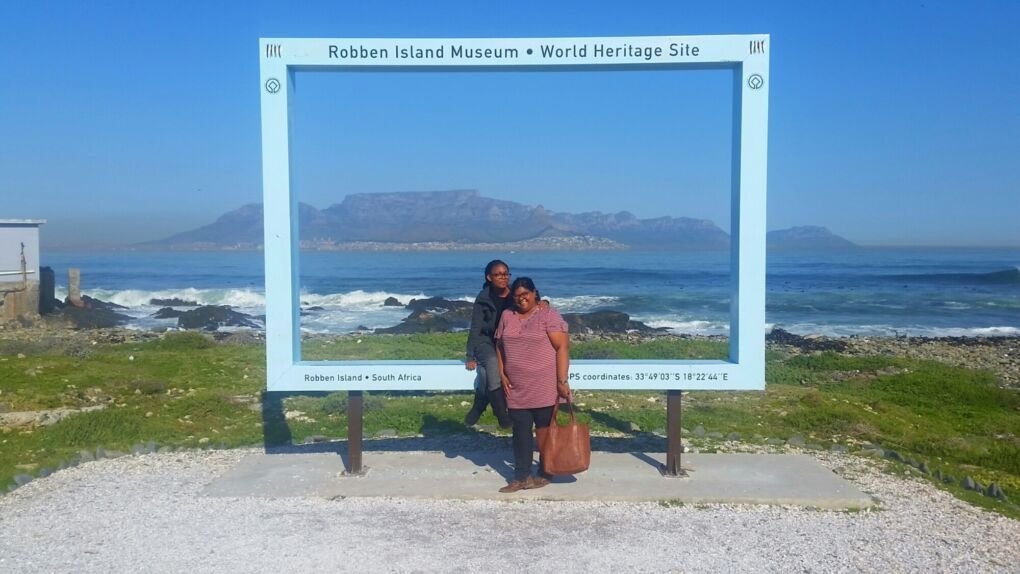 Known as the island where Nelson Mandela, Walter Sisulu, Robert Sobukwe, Govan Mbeki and other political prisoners were imprisoned, Robben Island is actually more than just a prison.
I recently discovered that Robben Island is more than just a prison. Made famous by it's a most illustrious inhabitant, Nelson Mandela. Declared a UNESCO World Heritage site on the 1st of December, 1997. Robben Island is 11KM's from Table Bay Harbour and has more than 100 bird and animal species.
Over the years, the island has housed a hospital, mental institution, leper colony and a military base in World War II. Today Robben Island is home to an estimated 200 people. The Island also has a school, church (weddings are also held here), supermarket and there are plans for building guest houses and conference facilities in the next five years.
Pre- Tour
The tour of the Robben Island Museum begins at the Nelson Mandela Gateway at the V & A Waterfront with a multimedia exhibition whilst you wait for the ferry to depart for the island.  Please be sure to be there at least 45 minutes prior to the departure time, with the gates closing 10 minutes prior to departure.

Things to see on Robben Island
When we got off the boats we were told to get onto the buses that were parked outside the entrance. Each bus has about 60+ people on it. The guided bus tour will take you past the mosque, the house on Robben Island where Robert Sobukwe (PAC Leader) was kept in solitary confinement.
The John Craig Hall – named after the civil engineer responsible for the Island's expansion during WW2. This hall was used for weekly dances (entertainment) for prison wardens.
The Limestone Quarry where prisoners endured long hours of hard labor.
You will stop for a 30-minute break where we were allowed to get off the bus and take pictures and buy snacks.
After the bus tour, we went inside the maximum-security prison block where Nelson Mandela and other political prisoners were held. Our guide was a former political prisoner who served a 15-year sentence on the Island. He shared his experiences and told us about the "Dompass" and the different punishment methods.
Usually, when you watch a Robben Island experience on TV you see people walk into different cells and view Nelson Mandela's cutlery, blankets, and books. We didn't do any of that, I actually felt like the prison tour was rushed but I was able to snap a few images from the corridor.
Overall, I believe a visit to Robben Island is a must for everyone to see how far South Africa has come. It was definitely an emotional experience.
Tips for visiting Robben Island
Robben Island is a popular tourist destination. It's advised for you to book your tickets in advance. Tickets can be bought at the Robben Island Museum departure point at the V&A Waterfront or online
Ferries depart at 9 am, 11 am and 1 pm.
Each tour takes approximately 3.5 hours.
Take enough water and snacks with you as the stores on the Island are ridiculously expensive.
Try and sit in front and on the right-hand side of the bus for the best views.
I find the best way to explore a city is; purchasing a bus pass, hoping a random bus, getting off a random stop and finding your way back. This can be done with the City Sightseeing Bus.
There are 2 ticket options available. If you opt for a 1-day ticket it allows you to experience all four routes – Red, Yellow, Blue, and Purple Routes.
The 2-day ticket allows you to take advantage of all routes – Red, Yellow, Blue and Purple Routes – for 2 consecutive days.  The 2-day ticket also includes 2 walking tours and a harbor cruise.
4. See Penguins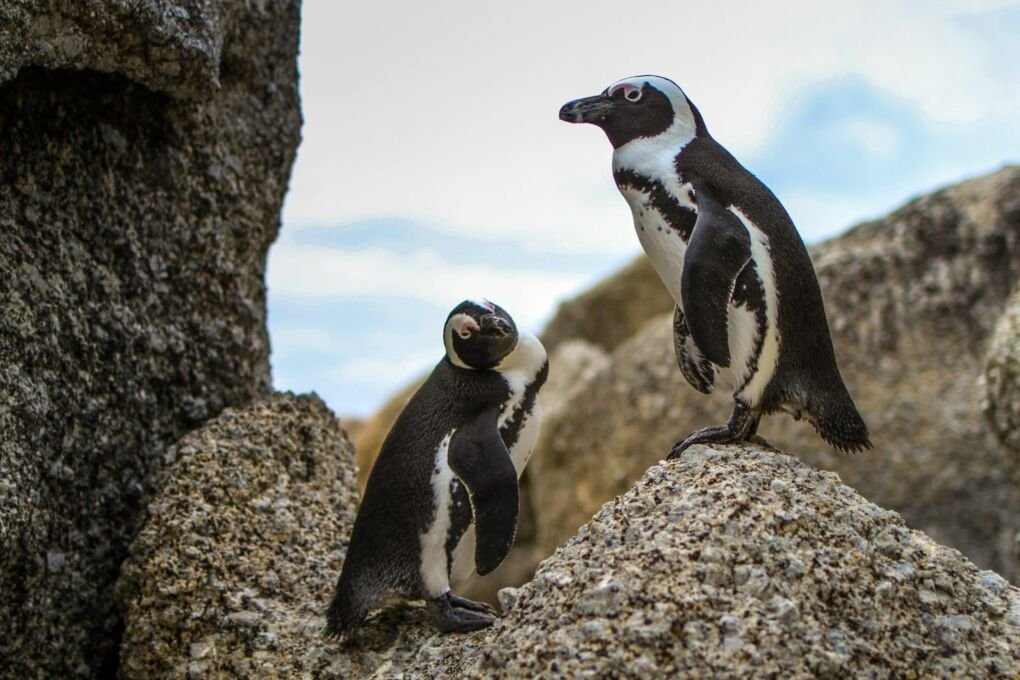 Head to Boulders Beach, a sandy stretch of shoreline on the Cape Peninsula with rocky outcrops and wild waves. Particularly as it's home to a load of African penguins. The water will be extremely cold, I wouldn't recommend swimming but makes for a wonderful coastal walk.
Read my detailed guide for finding Penguin Beach in Cape Town
5. See the best view of Cape Town
A trip to Cape Town is not complete without visiting Signal Hill, I mean… why are you even in Cape Town?
If you don't want to walk up an elevation of 350m, rather drive. Signal Hill looks out over the whole bay, city, and even Table Mountain. Its name is un-cryptically derived from the Noon Gun, a time signal given off each day at midday since 1806.
Paraglide or zipline with Table Mountain as your backdrop!
The best way to see Atlantic Coastline, Lion's Head, Signal Hill, Camp's Bay, Clifton Beaches, Waterfront, and Robben Island.
Fly for up to 20 minutes depending on weather conditions and thermal activities.
7. Take a cable car to the top of Table Mountain
Buy your tickets here and check the weather conditions.
Here are 12 facts about Table Mountain you should know before visiting!
8. Admire the flowers at Kirstenbosch
A visit to Kirstenbosch Botanical Gardens is a must!
Set against the backdrop of Table Mountain National Park, you'll find a garden that not only showcases the unique and incredibly diverse flora of the Cape but also offers incredible views.
The garden was founded in 1913 on an estate that covers 528 hectares and supports a diverse fynbos flora and natural forest.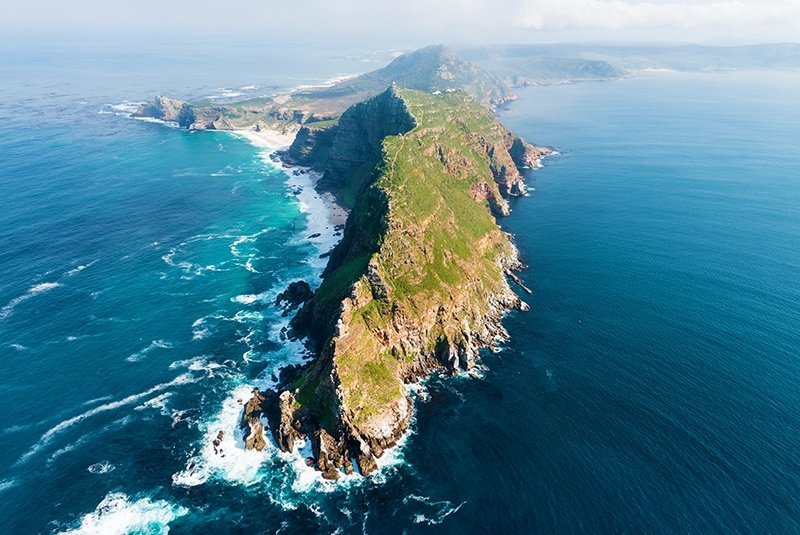 Head to Cape Point known as the corner of the continent – where the two oceans meet. It's a breathtaking site with cliffs covered in fynbos flanked by beaches and hidden coves.
10. Dive with sharks in Cape Town
Fancy a meeting the most feared animal on Earth? See majestic great white sharks up close during a cage dive or watch from a boat as these powerful creatures launch themselves into the air while on the hunt for food (seals in most cases).
With over 500 species there is no exact figure of sharks in our oceans. The Great White Shark is the most common and oldest species of sharks and can be found in the water surrounding South Africa and Australia. The earliest ancestors of great white sharks were around 400 million years ago.
Great White Sharks Interesting Facts
Great White Sharks live and hunt on the coast of every continent in the world except Antarctica.
Great White Sharks have a life expectancy of 70 years.
When full Great White Sharks can go a whole three months without having to eat another meal.
Great White Sharks have six senses (Sight, smell, touch, taste, hearing, and electroreception) and can detect the scent of blood in the water from up to three miles away.
Great White Sharks have 5 rows of teeth with 46 teeth in each row.
Female Great White Sharks are pregnant for 11 months before giving birth to 2-12 babies.
What is Shark Cage Diving


Great whites congregate seasonally around five "hubs" or territories, including California's coast down to Mexico's Baja California, South Africa's southern shores, and Australia's southern coast.
For White Shark Diving South Africa, Divers are locked inside a metal cage used to prevent sharks from making contact. Shark cage diving enables divers to monitor sharks for scientific, commercial or recreational purposes, and sometimes interact with them. This became a tourist activity in the early 2000s and today shark tourism is popular around the world.
Cape Town is the most popular international Shark Cage Dive Location In South Africa.
Shark Cage Diving Experience in South Africa
First, you meet at the tour operators' office for breakfast and a briefing. After you will travel together to the dock where you take a boat ride (about 10-20 minutes).
The crew has to bait and chum. The baits and chum are natural marine products! It is strictly avoided to use anything that is not natural to the sharks and the environment.  It can take several minutes or several hours for the first shark to appear.
Once the sharks approach the boat, the cage will go into the water and the diving will begin.
A typical diving trip takes 1 – 4 hours. Depending on the company and number of people who booked, boats take about 10 people but only 5-6 can go inside one cage at the same time. 
Where to go Shark Cage Diving in South Africa
Shark Cage Diving In Western Cape
Gansbaai South Africa Shark Diving: Gansbaai is which can be loosely translated to 'Goose Bay'. A scenic two-and-a-half-hour drive from Cape Town. Most operators offer a shuttle service at an additional fee.
Shark Cage Diving In Simons Town: Sometimes spelled Simonstown, it's a 45-minute hop around the peninsula from Cape Town's city center. Most shark cage diving operators offer a shuttle service from anywhere in the greater Cape Town area.
Shark Cage Diving In Hermanus: The once-humble fishing village of Hermanus has developed into a world-famous tourist destination. Located just 90 minutes from Cape Town, Hermanus is most famous for whale watching but Shark Cage Diving tours are also available. The town offers many water activities like kayaking, horse riding at the beach, with an abundance of wineries.
Shark Cage Diving In KZN
The warmer waters of KZN is the best place to spot Blacktip, Dusky and Spinner sharks, and occasionally see the Tiger. Most cave diving adventures are on Aliwal Shoal Reef.
Alternatively, head to Umhlanga for in-cage and out of cage shark diving experiences in the shark-infested water of South Africas KZN coastline. 
Best time to go Shark Cage Diving in South Africa
Tours are available year-round but it's important to remember that they are weather dependent. In the event of a weather cancellation, most operators offer vouchers to reschedule the tour for another day.
Cost of Shark Cage Diving in South Africa
Depending on the tour operator, Shark cage diving and viewing costs range between R2000 to R3000 for adults and R1500 for children under 12.
If you purchase a Cape Town City Pass, you get free entry to over 70 Cape Town attractions, including Great White Shark Tours
Are Sharks Vanishing in Cape Town?
The Shark Spotting Programme was established to warn swimmers when the three-ton predators approached beaches, reported an average of 205 sightings of the fish off the beaches of False Bay. In 2018 that fell to 50 and this year (2019), not one has been seen. None have been seen at Seal Island, a one-time feeding ground off the coast.
The shark cage diving eco-tourism operators, who would normally witness multiple individual sharks visiting their vessels and up to 30 seal predations daily, have not had a single white shark sighting at Seal Island in 2019.
Despite the disappearance of great white sharks from False Bay in Cape Town. You can still go shark spotting at very popular Cape Town beaches of:
Fish Hoek
Clovelly
Kalk Bay
Muizenberg
Monwabisi; and
Caves at Kogel Bay
Take a drive to Rylands also known as the "Little India of Kaapstad". I spent an hour walking around until I spotted a salon and walked in for a mendhi (R50) and eyebrow threading (R35) experience.

Mehndi (also known as Henna in Urdu) is an important part of Hindu tradition. A ceremony is held the evening before a wedding where the application of the mehndi on a bride's hand (starting from the elbows) and feet (starting from below the knees). After a few hours, the mend starts to peel off and you are left with a deep brown color pattern dye on your body.
Updated: July 2019 – With over 2000 murders in the first quarter of 2019 in the townships near Cape Town, I would only recommend visiting the townships with a local or tour company like this one!
12. History Lesson
Visit the museums and galleries. The ever-popular District Six Museum and The Springbok Experience get extremely busy.
I recommend getting there early to avoid the crowds or heading a little out of the main tourist traffic and heading to Rhodes Memorial or Bo-Kaap Museum. All these museums have fantastic exhibits and experiences for kids of all ages.
13. Taste SA's finest beers
When only beer can quench your thirst, head over to SAB's Newlands Brewery.
Making your way up each level, through the 'History of SAB'  then you finally end up in the bar, where you can sit back with bottles of the finished product.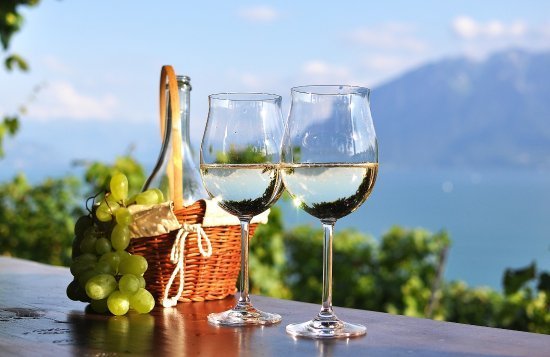 There's nothing like a bottle of fine wine!
The Cape region is one of the most beautiful wine regions, in fact, South Africa produces 7% of the world's wine.
There is a lot of wine tasing tours available from Cape Town to Stellenbosch, Franschoek, Robertson and surrounding areas.
---
South Africa Wine Country Resources
---
15. Go for lunch in
Muizenberg
Home to the Instagram famous colorful beach houses. Spend the day in Muizenberg, it's a popular surfing destination with cute cafes and boutiques to visit.
A helicopter ride is a wonderful way to see the majestic Cape Town – Perfect for dates, family adventures, special occasions, and even proposals, there's always an excuse to jump on a scenic flight.
There are different tour options, we went on the hopper tour which takes off from the iconic V&A Waterfront, passes through City Bowl, Green Point, Sea Point, Clifton, Camps Bay, The Twelve Apostles, and back.
Like Signal Hill, the walk to the top of Lions Head is popular with both tourists and locals alike.
Signal Hill Trail is a round loop. Two different routes to reach the top of Lion's Head mountain are available. Lion's Head routes to choose from include the Chains and the Spiral Route
Generally, the walk takes about 90 minutes and is fairly manageable although there are a few chains and ladders that one might need to negotiate along the way, especially as one nears the steeper sections of the climb.
Go on a day trip to a private game reserve!
Experience an open vehicle game drive with the opportunity to view giraffes, lions, leopards, zebras, rhinos, wildebeests & many other wildlife types. Enjoy lunch at the lodge
Where to stay in Cape Town?
With close to 50,000 beds available in the greater Cape Town area. Find your home away from home, with world-class services and facilities for work and play. I've shared a list of my favorite hotels in Cape Town and also reviewed some.
---
More AMAZING South Africa Resources
---
Travel Insurance for South Africa
Use travel insurance while visiting South Africa so you are covered for theft and medical expenses. There are a lot of adventurous activities to do in SA, and it's best to have peace of mind while diving, hiking and trying some of the best food in the world.
Find out why I recommend World Nomads, check out my World Nomads Insurance review.
Disclaimer: This article contains affiliate links. This means that if you make a booking after clicking on a link, I may receive a small commission at no extra cost to you!