Visiting Georgia and wondering what are the best things to do in Tbilisi?
The capital of Georgia and one of the oldest urban settlements in the world, Tbilisi is definitely among the most interesting places in the Caucasus and has yet to receive the attention it deserves.
Relatively undiscovered as a travel destination, Tbilisi welcomes its visitors with a wealth of culture and history.
Spectacular panoramas, hiking opportunities, delicious cuisine, and unique architecture make Tbilisi a special place.
With its mix of European modernity, Soviet relics, and Asian touches, the city has a lot of character.          
I've shared important things to know before visiting Georgia for the first time and guides for neighboring countries like Armenia, Azerbaijan, Turkey, and Russia.
I even drove from Tbilisi to Istanbul in Turkey (21 hours) and shared a detailed guide with stops and hotels!
10 BEST Things to do in Tbilisi
If Tbilisi is one of the oldest cities in the world, the Old Town, Tbilisi's historic district, is a testament to that. Although the city was destroyed and rebuilt many times, the Old Town has been, thankfully, preserved intact.
Wandering through the labyrinth of narrow, winding streets, visitors can admire the historic old Georgian houses with charming courtyards. Painted in vibrant colors, all houses include stunning wooden balconies and staircases. The Old Town is also where you can find most of the local art shops, wine houses, bars, and small guesthouses.
Take the Funicular to the Mtatsminda Park
Tbilisi is nestled in a valley, run through by the Mtkvari River and backed by mountains and rolling hills. Since the Mtatsminda Park is situated on the highest hill surrounding Tbilisi, it offers the most amazing views of the city and the surrounding areas.
Both locals and visitors love to gather here in the evening, where several small bars and traditional Georgian restaurants await them with affordable drinks and tasty local cuisine.
Mtatsminda also includes a small amusement park and a Paris wheel. A modern funicular takes visitors to Mount Mtatsminda, but the park can also be reached by bus 124.
Browse Soviet Memorabilia at the Flea Market
Georgia was part of the Soviet Union from 1921 to 1991, which means that the Soviet influence is still pervasive in the country. One of the best spots to explore the history of Soviet Georgia is the Dry Bridge Flea Market near Dedaena Park.
Locals who lived most of their lives under the Soviet regime come here with a staggering range of artifacts for sale. Browsing the items will reveal precious antiques, propaganda books, and posters, household items, handmade jewelry, old vinyl records, or war medals.
The place is filled to the brim with strange and unique treasures so if you want a souvenir, peruse the assortments and take your pick.
Even if you find the diversity of items too overwhelming, the Flea Market is truly a history lesson worth exploring. The market also includes a section for local artists.
See the iconic Freedom Square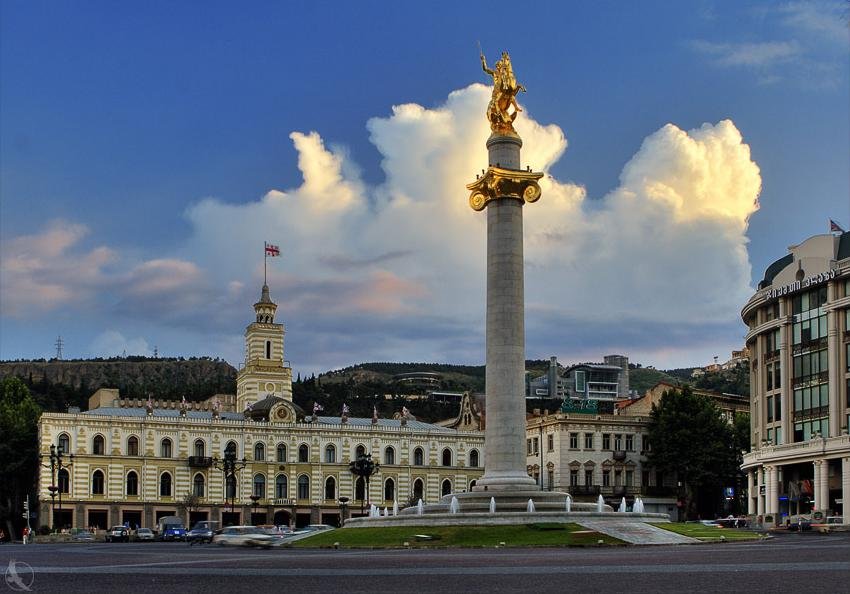 Georgia has a thousand-year-old wine-making tradition, using traditional methods that involve huge clay vessels, some examples of which can be admired at the National Museum of Georgia.
Naturally, there are many great local wine cellars in Tbilisi, where not only that you can learn more about the Georgian tradition of wine-making, but you can also taste many excellent regional varieties of wine.
Georgia it the birthplace of wine.
Depending on the region of origin, Georgian wines can be very different from each other. For the best selections of local wines, visit the many wine tasting spots in Tbilisi, and you will also get a taste of local life.
A wine tasting tour is also a great opportunity to experience the hospitability and friendliness of the locals.
Take the Cable Car to the Mother Georgia statue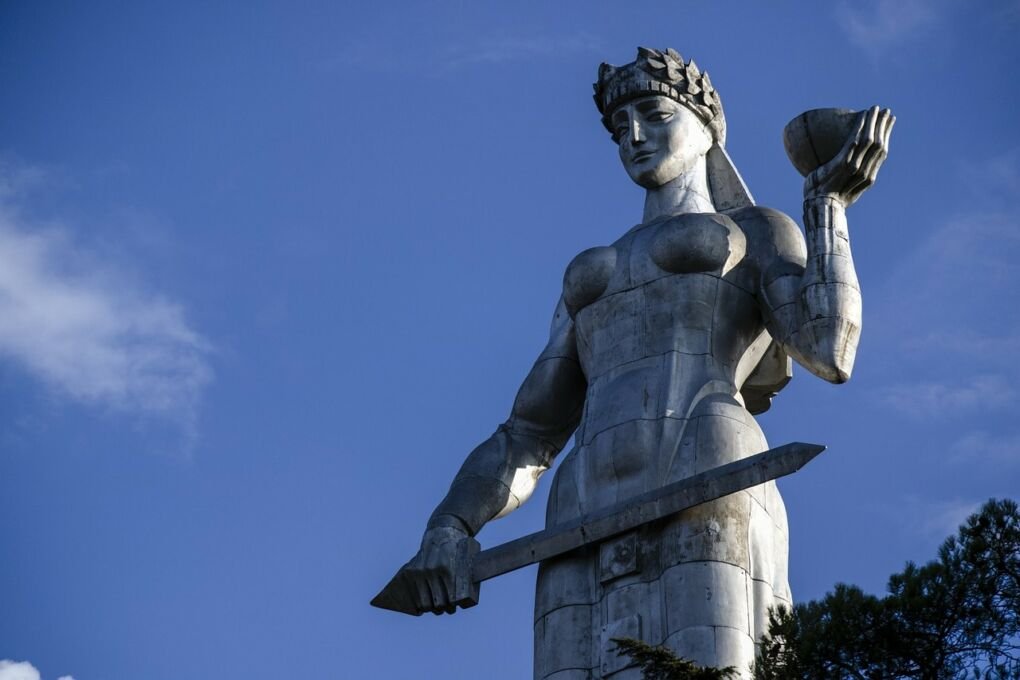 Located on Sololaki Mountain, a high hill overlooking Tbilisi, the Mother Georgia statue is outside of the city, but still within easy reach.
A symbol of Georgian character, the statue was built in 1958 to celebrate the 1500th anniversary of Tbilisi.
With a sword in one hand and a bowl of wine in the other, Mother Georgia expresses the hospitable and valiant nature of Georgians.
To get to the statue, visitors can take the extremely cheap cable car from Rike Park. It is possible to walk as there is a marked path up the hill.
At the top, there is also a 4th-century ancient fortress, Narikala, but the main attraction is the stunning panorama of Tbilisi and the valley.
The cable car journey is also lovely and offers striking views of the Old Town and other districts of Tbilisi.
Although Tbilisi is an amazing introduction to Georgia, there is a lot more to see in this beautiful country, especially if you're interested in a gorgeous mountainous landscape, medieval villages, complex cave towns, and ancient monasteries perched on rolling hills.
Since Georgia is a small country, the distances are fairly reasonable so it is easy to take day trips from Tbilisi to numerous interesting spots.
Tbilisi Opera and Ballet Theatre
Formerly known as the Tiflis Imperial Theater, The Georgian National Opera and Ballet Theater of Tbilisi is an opera house situated on Rustaveli Avenue in Tbilisi.
It was opened in 1851 and Tbilisi Opera is the main opera house of Georgia and one of the oldest such establishments in Eastern Europe.
They have many opera and ballet shows throughout the year and if you want to attend, it's highly advisable to book online to avoid disappointment.
Things to do in Tbilisi at night
Cross the Peace Bridge
The Bridge of Peace is a bow-shaped pedestrian bridge, a steel and glass construction illuminated with numerous LEDs, over the Kura River in downtown Tbilisi.
The bridge was brought to Georgia from Italy in 200 unassembled components.
The bridge is 156 meters long and has more than 10 000 LED bulbs built-in, which is switched on daily 90 minutes before the sunset.
The best way to see the bridge is from the cable car, an evening boat cruise or simply walk across the bridge.
Have a Sulphur Bath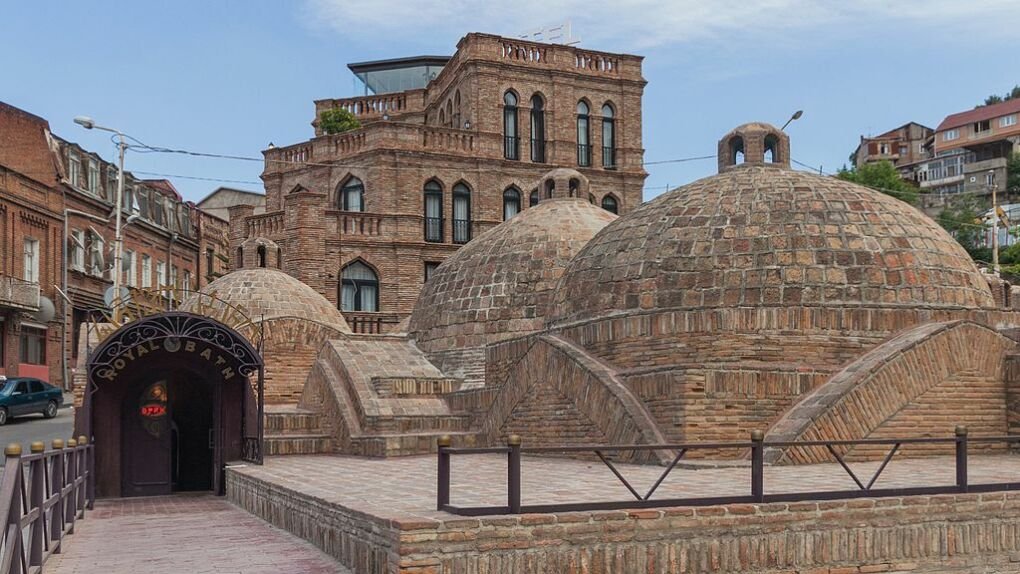 Visiting Abanotubani is one of the top things to do in Tbilisi!
Most places are open 24/7 and I chose to get a sulfur bath after a long day of exploring.
Abanotubani is the ancient district located at the eastern bank of the Mtkvari River at the foot of Narikala fort across Metekhisuban. It's known for its sulphuric baths an
What is a Sulphur Bath
Historic bathhouses with pools of hot, sulfur-rich water.
Sulfur is a naturally occurring mineral that is found primarily near hot springs and volcanic craters. Sulfur has a distinct smell which is caused by sulfur dioxide gas escaping into the air.
Sulfur is part of the chemical structure of three different amino acids (the building blocks that make protein) — namely, cystine, cysteine, and methionine.
Sulfur works with vitamins B1 (thiamine), B5 (pantothenic acid), and H (biotin) to promote metabolism and communication between nerve cells.
Is Sulphur Water good for your skin
Sulfur is part of the chemical structure of three different amino acids (the building blocks that make protein) — namely, cystine, cysteine, and methionine.
Sulfur works with vitamins B1 (thiamine), B5 (pantothenic acid), and H (biotin) to promote metabolism and communication between nerve cells. Sulfur is known as "nature's beauty mineral" because your body needs it to manufacture collagen, which keeps your skin elastic, beautiful, and young-looking.
Difference between Turkish Bath and Tbilisi Sulphur Bath
Turkish Bath and Sulfur Bath are different.
A Turkish Bath is a hot steam hydro-therapy treatment which has a miraculous effect on both the mental and physical state of mind. During a Turkish bath, your body gets insanely scrubbed and you get to relax in a sauna afterward.
During a sulfur bath, you sit in a tub and your body absorbs trace amounts of minerals such as carbon dioxide, sulfur, calcium, magnesium, and lithium. These trace minerals help provide healing effects to different organs and systems in the body.
These seemingly subtle health benefits include increased immunity due to stimulation of the immune system; physical and mental relaxation; endorphin production; as well as gland function normalization.
My Sulphur Bath Experience
Personally, I didn't enjoy it. I didn't feel relaxed after the bath and although my skin felt soft.
I felt like I smelled like rotten eggs for the next 24 hours even after taking 3 showers.
However, it was a unique experience and if you want to try something different, then you should get a Sulphur Bath in Tbilisi.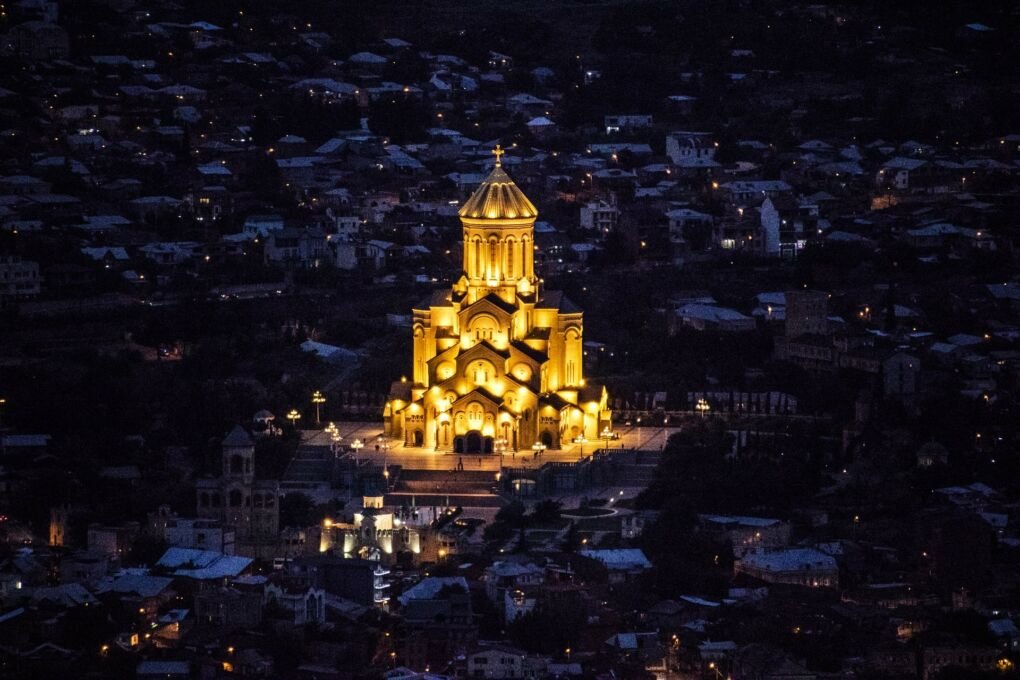 If you think Old Town is beautiful in the day time, wait until you experience it in night time! The best views of Tbilisi are seen in the night time!  
Best area to stay in Tbilisi
Avlabari
Avlabari (Georgian: ავლაბარი Avlabari) is a neighborhood of Old Tbilisi on the left bank (east side) of the Kura River. Avlabari is the best area to stay in Tbilisi. It's close to Old Town, there is a metro station and taxi's available 24/7.
Where to stay in Avlabari
Located in Tbilisi City, 1.1 miles from Freedom Square, Hotel Passport Tbilisi provides accommodation with a restaurant, complimentary private parking, and a bar.
This 4-star hotel offers a concierge service and valet parking. The accommodation features a 24-hour front desk, airport transfers, room service, and complimentary WiFi.
Guest rooms are equipped with air conditioning, a flat-screen TV with satellite channels, a fridge, a kettle, a bidet, a hairdryer, and a desk. With a private bathroom equipped with a shower and free toiletries, rooms at the hotel also offer a city view.
At Hotel Passport Tbilisi each room comes with a seating area and balcony.
Set in Tbilisi City, 1.3 miles from Freedom Square, Brim Hotel offers accommodation with a restaurant, private parking, a bar and a terrace.
The property is around 1.4 miles from Rustaveli Theatre, 1.6 miles from Tbilisi Opera and Ballet Theatre and 2.7 miles from Tbilisi Zoo. The accommodation provides a 24-hour front desk, airport transfers, ticket service, and complimentary WiFi throughout the property.
The units come with a flat-screen TV with satellite channels, a fridge, a kettle, a shower, a hairdryer, and a desk. At the hotel, all rooms come with a wardrobe and a private bathroom.
Located a 10-minute walk of Avlabary Metro Station, Tbilisi Laerton Hotel offers complimentary WiFi.
The property provides a terrace featuring a panoramic city view. All air-conditioned rooms are designed in an elegant and exquisite way. They come with a flat-screen TV and a minibar. Junior suites provide a seating area with a sofa.
The private bathroom includes free toiletries, slippers, bathrobes and a hairdryer.
Guests can either dine in the property's own restaurant or go by metro to Freedom Square Station set next to Rustaveli Avenue that provides a variety of local restaurants and cafes.
Old Town Tbilisi
Set close to Narikala Fortress which was established in the 4th century, this hotel in Tbilisi is just 5 minutes walk from the fortress.
It offers air-conditioned rooms with a flat-screen TV. Free WiFi is available.
Each modern room at Citadel Narikala Hotel is decorated in grey and white tones and includes a minibar. Slippers and bathrobes are provided in the bathrooms.
The classic Georgian cuisine and lighter menu options are available at Restaurant Citadel and its terrace offers 360-degree picturesque views. The Citadel Terrace proposes cocktails and a full traditional Georgian menu with contemporary touches.
The lively Rustaveli Avenue is 10 minutes' walk from the hotel, and the local bathhouse with natural sulfur springs is 1,000 feet away.
Located in Tbilisi City, 1,300 feet from Freedom Square, Hotel Zeg features views of the garden.
This 4-star hotel offers a concierge service and a tour desk. The accommodation provides a 24-hour front desk, airport transfers, room service, and complimentary WiFi throughout the property.
All units are equipped with air conditioning, a flat-screen TV with satellite channels, a kettle, a shower, a hairdryer, and a desk. At the hotel, every room comes with a wardrobe and a private bathroom.
Situated a 2-minutes walk from Europe Square Tram Station, Tiflis Metekhi Hotel is 1,500 feet from Avlabari Metro Station.
The property offers on-site private parking and free WiFi service in all rooms. Featuring a balcony with beautiful views, all units of Tiflis Metekhi Hotel are air-conditioned and equipped with a minibar, refrigerator, flat-screen TV with satellite channels and a dining area.
Private bathrooms are fitted with a shower and come with free toiletries and slippers.
Mtsaminda
Shota Rustaveli Boutique Hotel is situated in the Mtatsminda district in central Tbilisi, 2,300 feet from Rustaveli Theatre and few steps from Rustaveli Avenue.
The property has a terrace for the guests to enjoy. Complimentary WiFi is available throughout the property. Elegantly decorated, every room at this hotel is air-conditioned and is fitted with a flat-screen TV. Guests will find an electric kettle, minibar, and a safety box.
Some units include a seating area for your convenience. The rooms are equipped with a private bathroom with bathrobes and slippers. You can sample a variety of dishes at the Shota Rustaveli Boutique Hotel's à la carte restaurant.
Packed lunches are available and special diet menus can be prepared upon request. Concierge and 24-hour front desk service are provided at the property. Airport shuttle is available upon request at a surcharge.
Featuring a bar, terrace, and views of the city, Boutique Hotel Khokhobi Old Tbilisi is set in Tbilisi City, 0.8 miles from Freedom Square.
This 4-star hotel offers a concierge service. The accommodation offers a 24-hour front desk, airport transfers, a shared lounge, and free WiFi throughout the property.
The units come with air conditioning, a flat-screen TV with satellite channels, a fridge, a kettle, a shower, a hairdryer, and a desk. At the hotel, all rooms are equipped with a wardrobe and a private bathroom.
A business center and meeting and banquet facilities are also available at the accommodation.
Best day trips from Tbilisi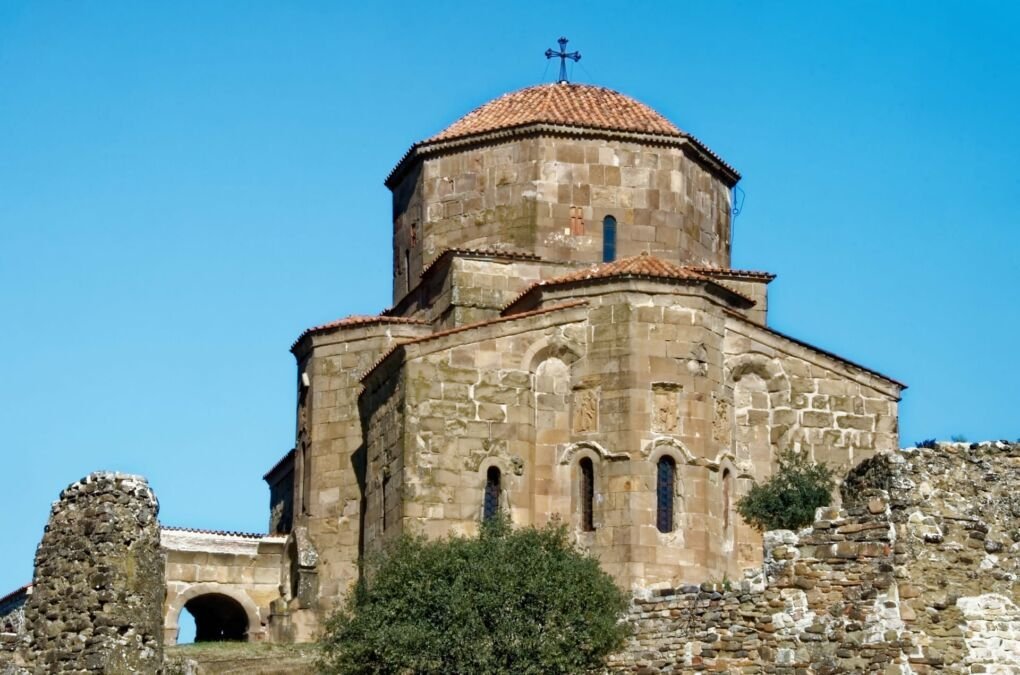 Now only a small town, Mtskheta was once the capital of Georgia and played an important role in the history of the country.
Unsurprisingly, the town still preserves a sort of charming distinction and has monuments and attractions of great cultural and historic value, which make it a UNESCO World Heritage site. The main attraction is the stunning Svetitskhoveli Orthodox Cathedral from 11th-century, where visitors can admire beautiful interior frescoes.
Since a stroll around the town will not take much of your time, you can also check out the 4th-century Samtavro Monastery, outside of Mtskheta, and the Jvari Monastery, which towers across the town.
To get to Mtskheta, you can take a marshrutka (a normal minivan that locals use as their primary means of transport) from Tbilisi's Didube Station for Mtskheta. The vans leave every 10 to 15 minutes and the ride is really short.
Located in western Georgia, Gori is mostly known among those interested in dark history for being the birthplace of infamous Soviet dictator Joseph Stalin.
The town itself is very quaint, although dominated by Soviet-era style apartment buildings.
There are, however, plenty of culturally significant places, including the Gori Fortress Citadel, which offers nice views of the city, and the St. George's Church of Gorijvari. A truly unique experience is a visit to the Stalin Museum.
History fans will be intrigued to discover that the legend of Stalin still overshadows this pretty town, and many attractions and landmarks bear his name.
Interesting facts about Joseph Stalin
Ioseb (Joseph) Besarionis dze Jughashvili, simply known as Joseph Stalin was born in Gori, Georgia.

Stalin wasn't his surname, it was a nickname which he adopted as his surname. Although "Stalin" literally translates as "man of steel".

He was born on 18

th

of December in 1878 but he changed his birthdate to the 21

st

of December and the year to 1881, in a move to confuse the Tsarist Officers.

Stalin caught smallpox at the age of seven and was left with pockmarks on his face and a slightly deformed left arm.

Joseph Stalin was

the leader (dictator) of the Union of Soviet Socialist Republics (USSR) from 1929 to 1953.

During his "reign" the USSR

transformed from a peasant society into an industrial and military superpower.

Stalin was responsible for the deaths of over 20 million people.

Stalin was nominated and shortlisted for the Nobel Peace Prize (1945 and 1948).

Stalin's embalmed body shared a spot next to Lenin's in the middle of the Red Square in Moscow from the time of his death in March 1953 until October 1961. Stalin's body was removed as part of de-Stalinization and Khrushchev's Thaw, and buried in the Kremlin Wall Necropolis outside the walls of the Kremlin.
On Stalin Avenue, visitors can also find cozy coffee shops and traditional Georgian restaurants.
Marshrutkas leave regularly from Tbilisi's Didube Station for Gori.
The journey takes less than an hour. There are also shared taxis available, which depart from the same place. Additionally, passenger train travels regularly between Tbilisi and Gori.
With origins in the Iron Age, Uplistsikhe is an ancient cave town comprised of many chambers and grottoes carved into the rock above the River Mtkvari.
The caves once formed a fully functioning and complex urban settlement with proper living quarters which at some point housed 20,000 people.
The landscape is truly fascinating and visitors are free to explore the maze of caves and grottoes. The site also includes a 9th to 10th- century church.
Since Uplistsikhe is just 14 km away from Gori, many choose to visit both on the same day trip. The best way to visit Uplistiskhe is to take the train or local bus from Gori. The bus stop is on Stalin Avenue. There is no direct train from Tbilisi, so you have to change in Gori.
I went on this is the tour with 3 destinations in one day. I absolutely enjoyed it and highly recommend it!
David Gareja Monastery Complex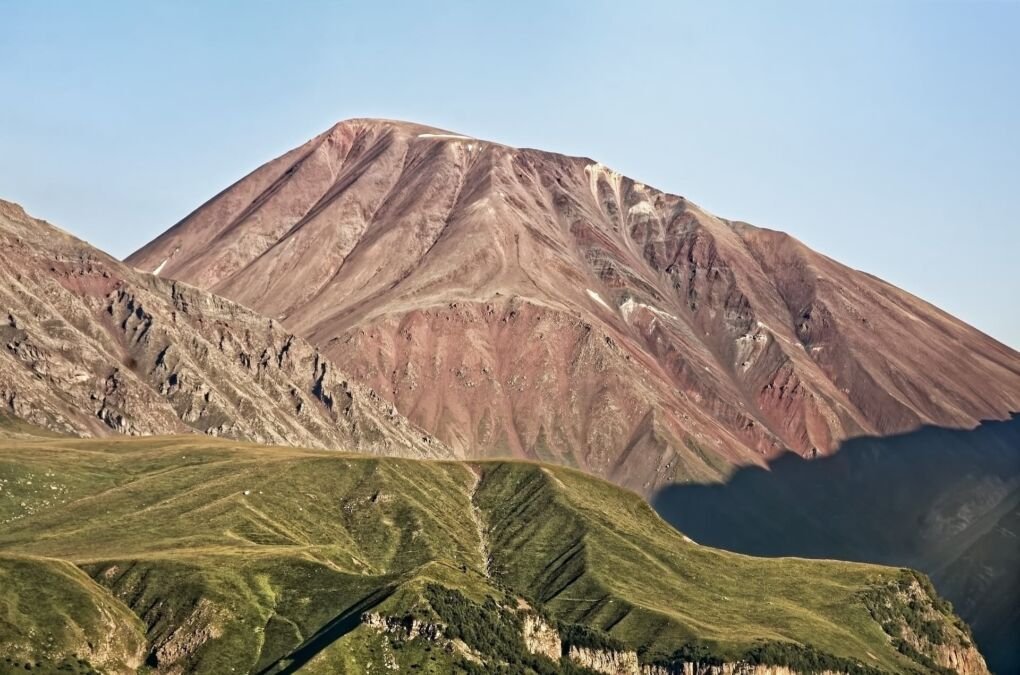 A visit to the David Gareja Monastery Complex will take you through the most stunning scenery in Georgia.
Built by Assyrian priests in the 6th-century, this Orthodox monastic complex is located right on the border between Georgia and Azerbaijan. The barren desert landscape is balanced by steep mountains and rocky hills.
After a challenging ascent to the biggest monastery, visitors find a huge site of hundreds of rooms and small chapels, all carved into the rock. Some of the chapels are decorated with beautiful ancient frescoes, and prayer rooms abound.
The views of Azerbaijan are spectacular and there are many marked hiking trails around the complex.
David Gareji is only an hour away from Tbilisi and there are several ways to reach it, including shared taxis, marshrutkas, and even a shuttle bus.
Explore Northern Armenia on a private day trip from Tbilisi.
Visit the key sights such as UNESCO protected Sanahin and Haghpat monasteries, and see the bizarre beauty of rocky mountains and abandoned Soviet towns.
This tour takes 9 hours and takes you to two UNESCO world heritage sites and an authentic Armenian restaurant to try their delicious cuisine.
If you love hiking or skiing, Kazbegi, now known as Stepantsminda is the place to visit!
Located just 10KM from the Russian border, in a small town on the north-eastern side of Georgia.
This region is a paradise for budget travelers as it's more affordable than the Alps and other comparable mountains regions, while also being higher in altitude.
Mount Kazbegi, measuring in at 5,033 meters above sea level, is rich with tales of Georgian folklore and spectacular views over the surrounding landscape.
How to get to Kazbegi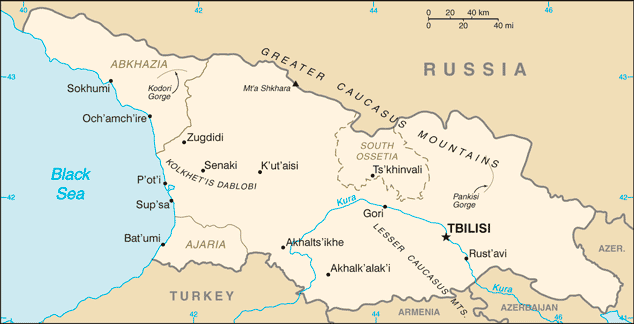 Kazbegi is located 150KM from Tbilisi, via the Georgian Military Highway – which is the main road to Russia and Armenia.
Traveling from Tbilisi to Kazbegi takes 3 – 4 hours depending on the traffic.
The region is reachable by marshrutka (minibus) or car. Marshrutka buses depart Tbilisi's Didube Station every two hours and tickets cost 10 GEL (€3). You can hire a private driver (taxi) to take you. This will cost you a minimum of 30 GEL per person (€10).
You will find private taxis outside Avlabari Metro station and you must negotiate the price before getting in the taxi. Alternatively, make use of the BOLT Taxi app and pay using your card like Uber.
Things to do in Kazbegi
Ananuri Fortress
Located by the Aragvi River, this 16th-century fortress is considered one of the most beautiful churches in all of Georgia.
The church has high, turreted stone walls, which protect two churches, a watchtower, a spring and a reservoir, and the beautifully carved facade adorned with animal, floral and Celtic style patterns.
Hike to Gergeti Trinity Church
Built-in the 14th century, this church is located at 1,800 meters above sea level (5,905 feet). If you'd like you can walk, but it will take up to 2 hours.
Other options are renting a horse (45 GEL) or a taxi (20 GEL).
I wouldn't suggest renting a horse if you aren't an experienced rider as the trek uphill is not easy.
If you decide to walk, take the left-hand pathway up to the Gergeti Church, you'll regret the middle and far-right paths!
Gveleti Waterfall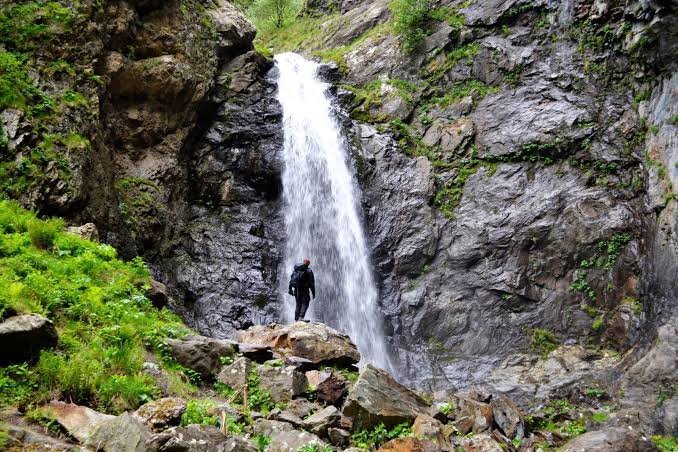 The waterfall is located in the village of Gveleti, 7 km from the town of Stepantsminda.
Gveleti means "place of snakes" in Georgian, so keep an eye out for local wildlife.
You must first drive through the stunning Dariali Gorge, from which a short, leisurely hike up a narrow footpath leads the way to the Gveleti waterfall.
Visit Gudauri Ski Resort
Gudauri is a popular winter sports resort located 120 km from Tbilisi, at the height of 2,196 m (about 7,200 feet) near the Cross Pass.
Prices for the cable carts, day passes and insurance vary, more information can be found HERE. The resort has a hotel, spa, restaurants, and other activities for non-skiers.
See the Russian-Georgian Friendship Monument
Built-in the 1980s, this unique semi-circular stone structure is covered in colorful murals that depict scenes from Georgian tradition and mythology.
It is located in a very scenic perch, surrounded by dramatic peaks.
See the Caucasus Mountains from the sky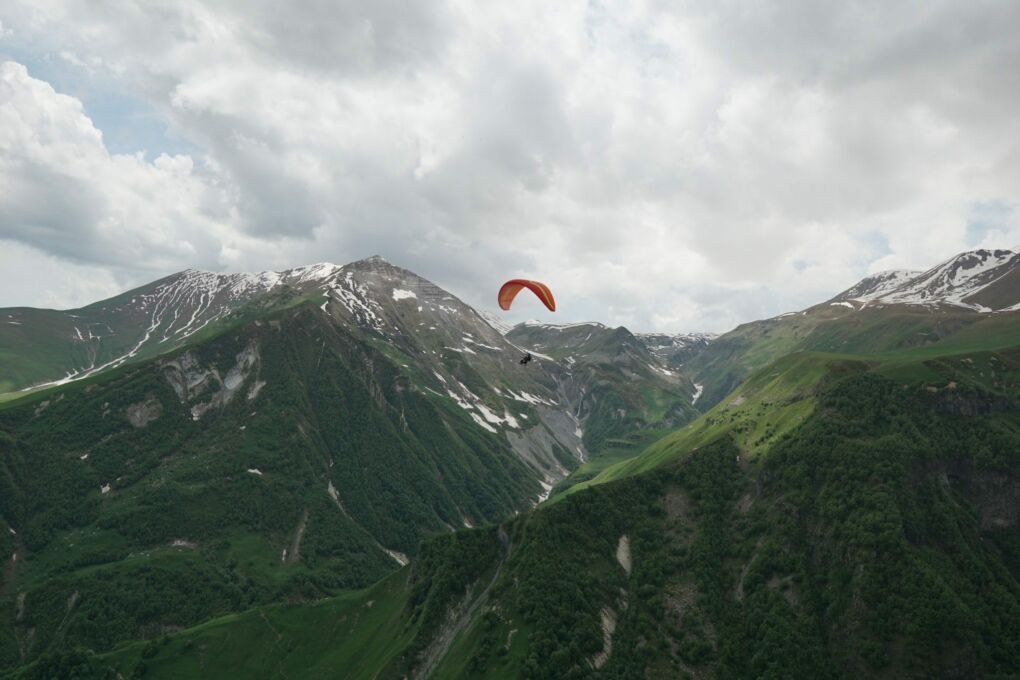 There are various ways to see the Caucasus mountains, you can either hire a helicopter for €45 for 30 minutes or paragliding for €70 or see the mountains from a cable cart.
Most of these activities must be pre-booked. If you don't have a lot of time or you prefer an organized tour, here are a few day trips to consider:
Travel Insurance for Georgia
Use travel insurance while visiting Georgia so you are covered for theft and medical expenses. There are a lot of adventurous activities to do in Tbilisi, and it's best to have peace of mind while driving, hiking and trying some of the best food in the world.
Find out why I recommend World Nomads, check out my World Nomads Insurance review.
Disclaimer: This article contains affiliate links. This means that if you make a booking after clicking on a link, I may receive a small commission at no extra cost to you!