Planning on visiting Ethiopia and not sure what to expect? You've come to the right place. Formally known as the Federal Democratic Republic of Ethiopia, the country is in the northeast of Africa.
The name "Ethiopia" comes from the Greek words aitho and ops, which together mean "burnt face." This was how the ancient Greeks referred to the dark-skinned people of eastern Africa.
Ethiopia is thought to be the world's first Christian state. The country is known for religious backgrounds are ancient, it's wildlife endemic, rare or endangered and its landscapes alien and dramatic.
Ethiopia covers an area of 1,126,829 km², this is about twice the size of France or the U.S. state of Texas.
There are many amazing things to do in Ethiopia, but before you go here are a few things to know before visiting Ethiopia.
Where is Ethiopia
Ethiopia is located in the Horn of Africa. It is bordered by Eritrea to the north, Djibouti, and Somalia to the east, Sudan and South Sudan to the west, and Kenya to the south.
With a total area of 426,400 square miles, Ethiopia ranks as the 26th largest country based on physical size. The country is approximately 1,018 miles long and 980 miles wide. The total area of Ethiopia is about 90.5% of land and 9.5% water. 
How to get to Ethiopia
Depending on where you are traveling from, there are many ways to get to Ethiopia.
How to get to Ethiopia by air
There are many airlines. that travel to Ethiopia, the most popular one is Ethiopian Airlines which has regular flights from major hubs around the world.  Addis Ababa Bole International Airport became the main international gateway for the nation.
The flight time from Johannesburg to Addis Ababa is 5 hours 15 minutes.
Why visit Ethiopia
Ethiopia is unlike any other African nation. Not only is it home to some of Africa's lesser-known wildlife, but Ethiopia has over 80 ethnic groups and some 200 dialects, each preserving their own unique customs and traditions.
Best time to visit Ethiopia
When is it the best time to visit Ethiopia?
| Best Month to visit Ethiopia | Season | Crowds | Cost of Vacation in Ethiopia |
| --- | --- | --- | --- |
| Visiting Ethiopia in January | weather is usually cool and dry | High | High - Popular Timkat festival |
| Traveling to Ethiopia in February | Start of winter | Moderate | High |
| Visiting Ethiopia in March | cold in the highlands, especially at night | Moderate | High |
| Visiting Ethiopia in April | transition month | Moderate | Moderate |
| Visiting Ethiopia in May | beginning of the rainy season | Low | Low |
| Visiting Ethiopia in June | Heavy rains | Low | Low |
| Visiting Ethiopia in July | Still raining alot | Low | Low |
| Visiting Ethiopia in August | The hot season sends lowland temperatures | Moderate | Moderate |
| Visiting Ethiopia in September | slowly stops raining | High | High - New Years celebrations |
| Visiting Ethiopia in October | End of rain season | High | High |
| Traveling to Ethiopia in November | Perfect weather, expect plenty of wildlife | High | High |
| Visiting Ethiopia in December | weather is mostly dry | High | High |
Interesting facts about Ethiopia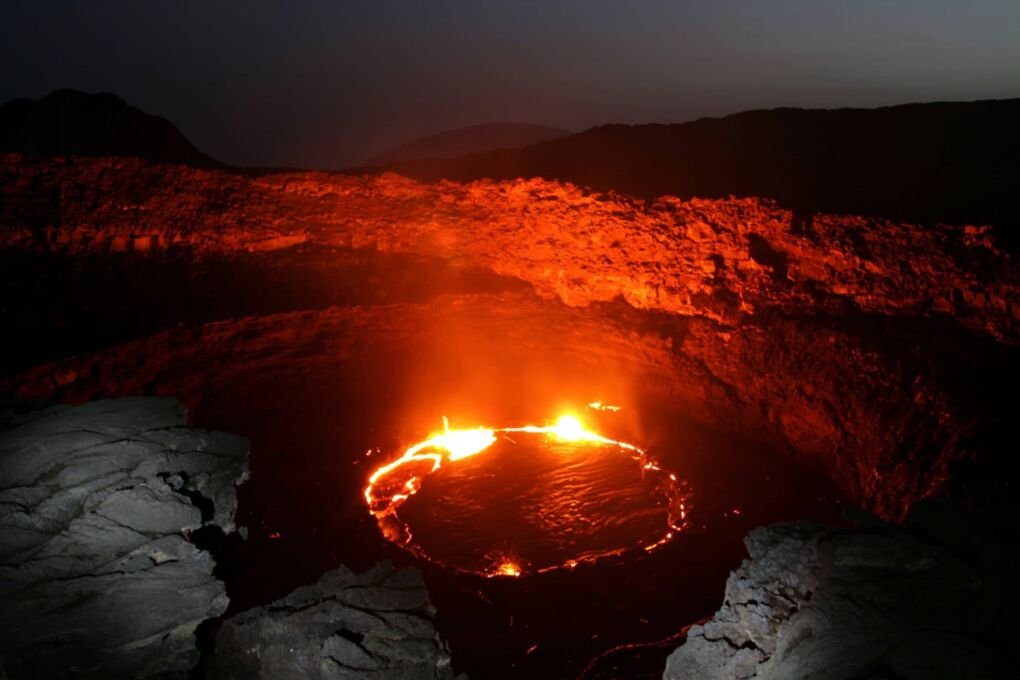 Hottest place on Earth
Erta Ale is a continuously active basaltic shield volcano in the Afar Region of northeastern Ethiopia. It is situated in the Afar Depression, a badland desert area. Erta Ale is the most active volcano in Ethiopia and often called one of the hottest places on Earth.
The oldest nation in the world
Ethiopia is one of the oldest nations in the world. Due to skeletal fragments uncovered, it's believed that Ethiopia was founded in 980 BCE.
Religion in Ethiopia 
Ethiopia offers a fascinating mix of religions and religious sites. 63% of Ethiopians are Orthodox  Christians and about 40% are Muslim. Like Russia, the country celebrates Christmas in January.
Language in Ethiopia
Ethiopia has 84 indigenous languages. Although English is the most widely spoken, Amharic was the first language in schools but has been replaced by Oromifa and Tigrinya. 
Ethiopia has 13 months
Not only does Ethiopia have their own alphabet and calendar. The Ethiopian calendar has 13 months in a year, 12 of which have 30 days. The last month, called Pagume, has five days, and six days in a leap year. The Ethiopian Calendar's four-year leap-year cycle is associated with the four evangelists of the Bible
Only African country that wasn't colonized
Ethiopia is the only country in Africa that was never formally colonized; however, it had to defeat the Italians twice to remain independent.
Coffee was discovered in Ethiopia
There. are several stories about how coffee was discovered, the most famous one is that in the 9th-century, a goat herder found that after his goats nibbled on the coffee beans they wouldn't sleep at night. This led him to try and chew the fruits from the bush.
He took these fruits to a monastery and a monk threw them into the fire. The enticing aroma attracted other monks and the fruit was dissolved in hot water, yielding the world's first cup of coffee. Coffee then moved around the world through slave trading and other means.
The second most populous country in Africa
With a population of over 109 million, Ethiopia is the second most populous country in Africa after Nigeria.
Home of the Ark of the Covenant
Aksum in Ethiopia is famous as a claimant to the final resting place of the Ark of the Covenant. The chest containing the 10 commandments to have been "written with the finger of God" (Exodus 31:18). God gave stone tablets to Moses, and the standing obelisk, which is 75 feet (23 m) high. With windows and doors, it looks like the world's first skyscraper.
The highest city above sea level
Addis Ababa is Ethiopia's capital city and the highest city in Africa at 2,355m (7,726ft) above sea level. The name Addis Ababa translates to 'New Flower' in Amharic
Important customs and laws in Ethipoia
Parents and children do not share their last name
Children are customarily named with the father's surname because of entrenched practices with roots in anthropology, politics, the inheritance of resources, and patriarchy. It's tradition to give children their father's surname, but it's not a law.
Ethiopia banned medicalization of female genital mutilation in 2017
Previously, 80% of Ethiopian women have experienced female genital mutilation/cutting. In 2017 Ethiopia banned medicalization of female genital mutilation (FGM) As part of its endeavors to ensure the health and wellbeing of its people, including women and children. Ethiopia has also. committed to eliminating female genital mutilation (FGM) and early marriage by 2025.
Travel Insurance for Ethipoia
Use travel insurance while visiting Ethipoia so you are covered for theft and medical expenses. There are a lot of adventurous activities to do in Ethipoia, and it's best to have peace of mind while driving, hiking and trying some of the best food in the world.
Find out why I recommend World Nomads, check out my World Nomads Insurance review.
Disclaimer: This article contains affiliate links. This means that if you make a booking after clicking on a link, I may receive a small commission at no extra cost to you!