Last updated on October 10th, 2019 at 10:54 am
Kruger National Park (KNP) is the oldest and largest park in Africa. This wildlife sanctuary of world-class standards is South Africa's most popular tourist destination with over 2 million annual visitors. It's customary to add Kruger National Park Safari to your South African bucket list as there's no other animal experience in the world compared to a Kruger safari.
This blog is a local's guide to help you plan your trip to Kruger National Park South Africa. It'll answer your questions about Kruger Park: from how to get there, where to stay and things to do in the region surrounding Hazyview, Mpumalanga.
Kruger National Park Facts
The Kruger National Park covers an area of 19,485 km2 (7,523 sq mi). It is about the third of size the size of Ireland, slightly smaller than Belgium and just about the size of Israel.
Kruger National Park was named after Paul Kruger. The President of South Africa between 1883 to 1900.
The South African National Parks Act was proclaimed on 31 May 1926 and when the Sabie and Shingwedzi Game Reserves were combined to form Kruger Park South Africa. 
There is evidence of Homo erectus (prehistoric man) living in the area over 100 000 years ago.
Over 300 archaeological Stone Age sites been found.
The park is home to the big 5: elephants, the Transvaal lion, the Cape buffalo, the rhino and leopard. 
KNP is home to 517 species of birds; 253 are residents, 117 non-breeding migrants and 147 nomads.
The park has been a no hunting zone since 1926.
All the animals in the park are endangered to some extent and under threat of extinction from rampant poaching that continues despite earnest anti-poaching programmes.
The best time to visit Kruger National Park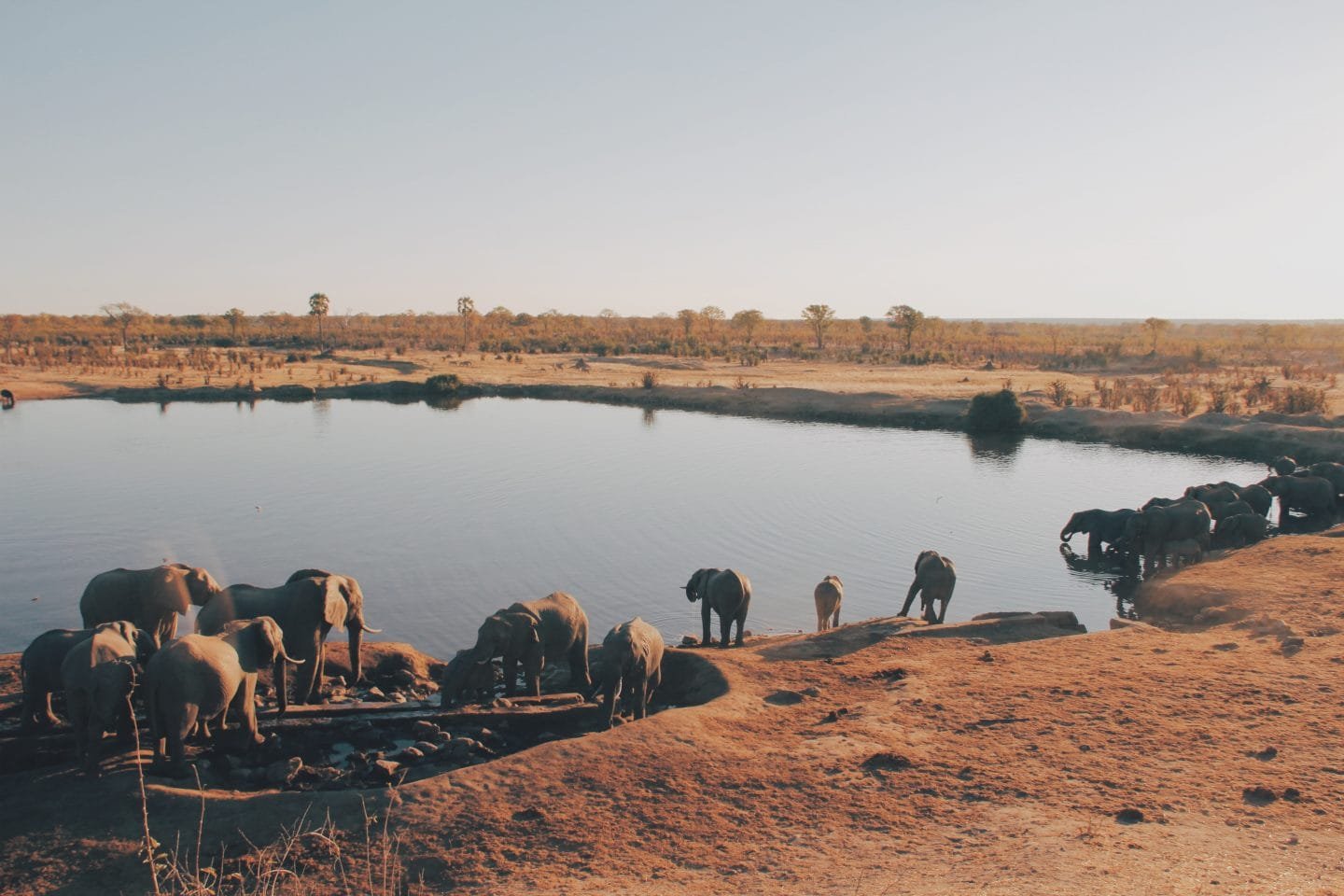 Kruger National Park is open throughout the year. Winter (end of May to August) is the best time to visit if you prefer less crowds and scorching temperatures. Rates are also lower and there's less mosquitos.
How to get to Kruger National Park
Kruger National Park is located on north-east of South Africa on the confluence of the Limpopo and Mpumalanga provinces. With Mozambique on its eastern border and Zimbabwe on its northern border.
Distance to Kruger National Park:
From Cape Town to Kruger National Park (Nelspruit):
Flight: 2 hours and 25 mins.
Drive: 1810 km (about 17 to 18 hours)
From Durban to Kruger National Park (Nelspruit):
Flight: 1 hour
Drive: 800km (about 8 – 9 hours)
From Johannesburg to Kruger National Park (Nelspruit):
Flight: 50 minutes
Drive: 3½ and 4½ hours (depending on traffic).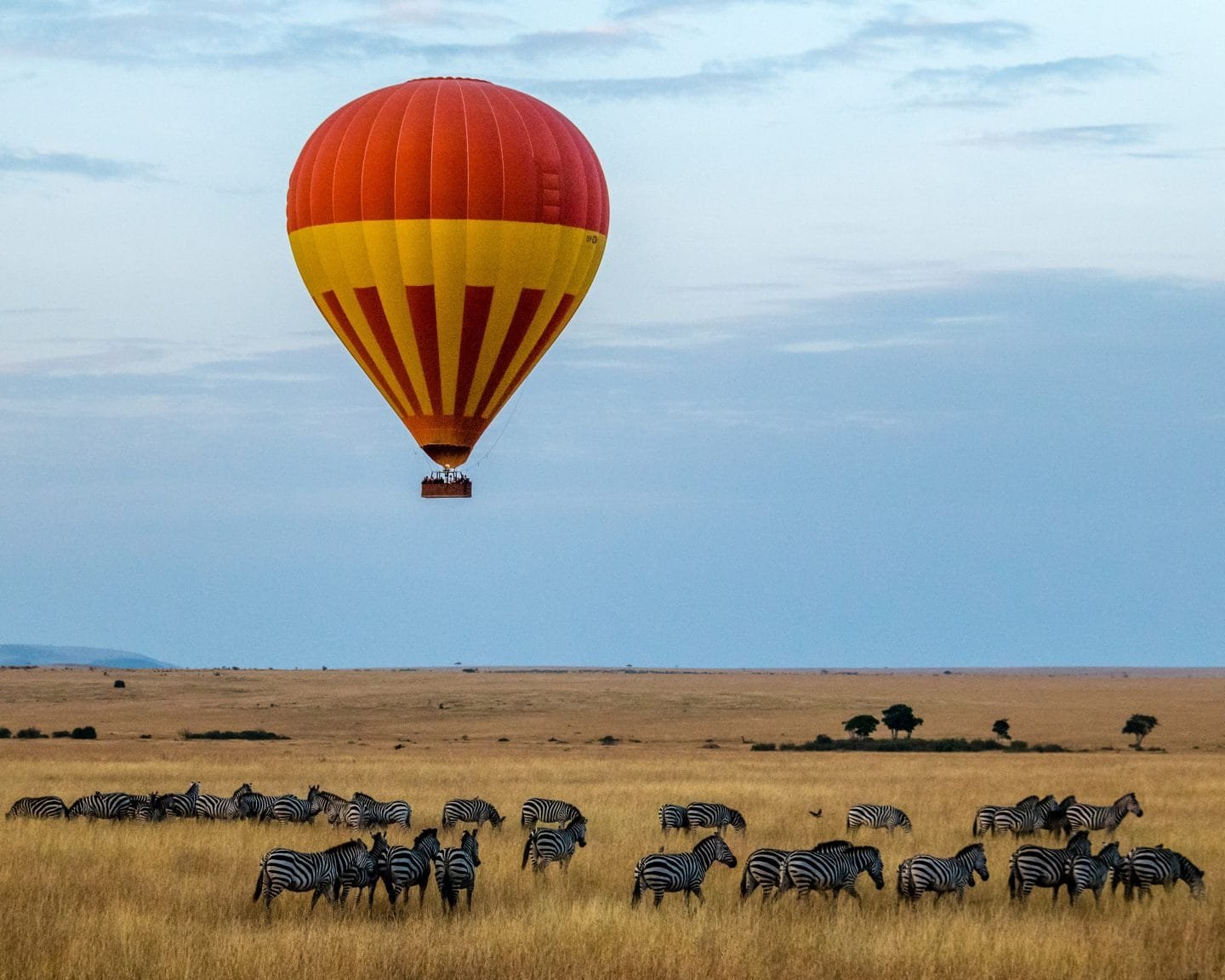 Traveling to KNP by Flight:
There are three airports near Kruger Lodge: Kruger Mpumalanga International Airport (MQP), Hoedspruit Airport (HDS), or Phalaborwa Airport (PHW-H. Van Eck).
Most travelers fly from Johannesburg – OR Tambo Internetional (JNB) to Kruger Airport (MQP) as the flights are more frequent and affordable.
Traveling to KNP by car:
The quickest way to get to KNP is to drive from Johannesburg via the N4.
Traveling to KNP by public transport:
Translux and City to City run daily buses from Johannesburg to Phalaborwa.
Kruger Park Gates and opening hours:
The Kruger National Park has 10 gates, the closest is near Hazyview, Mpumalanga which is in the south between 420km and 500km from Johannesburg.
Gates
Crocodile Bridge Gate, near Komatipoort
Malelane Gate, near Malelane
Numbi Gate, near Hazyview
Phabeni Gate, near Hazyview
Paul Kruger Gate, near Hazyview
Orpen Gate, near Klaserie
Phalaborwa Gate, near Phalaborwa
Punda Maria Gate, near Thohoyandou
Pafuri Gate, near Musina
Giriyondo Gate
Hours
November to January: 05:30 till 18:30
February: 05:30 till 18:30
March & October: 05:30 till 18:00
April: 06:00 till 17:30
May to July: 06:00 to 17:30
August to September: 06:00 to 18:00
Things to do in Kruger National Park
Obviously, see wildlife
There is nothing like a Kruger Park Safari, from budget to luxury game drives. There are different options from hot air balloons, helicopter safaris or self drives if you're feeling ambitious.
Thulamela Archaeological site
Thulamela is a stone-walled site located in the northern region of the Park, and dates back to between 450-500 years. It comprises evidence of the Zimbabwe culture and is linked to the world-famous Mapungubwe Ruins.
Bird Watching
As mentioned above, there is a diverse selection of birds in Kruger Park
Play Golf
Enjoy 18 holes at one of the golf courses: The Sabie River, the Leopard Creek, Skukuza and the Hans Merensky.
The Elephant Museum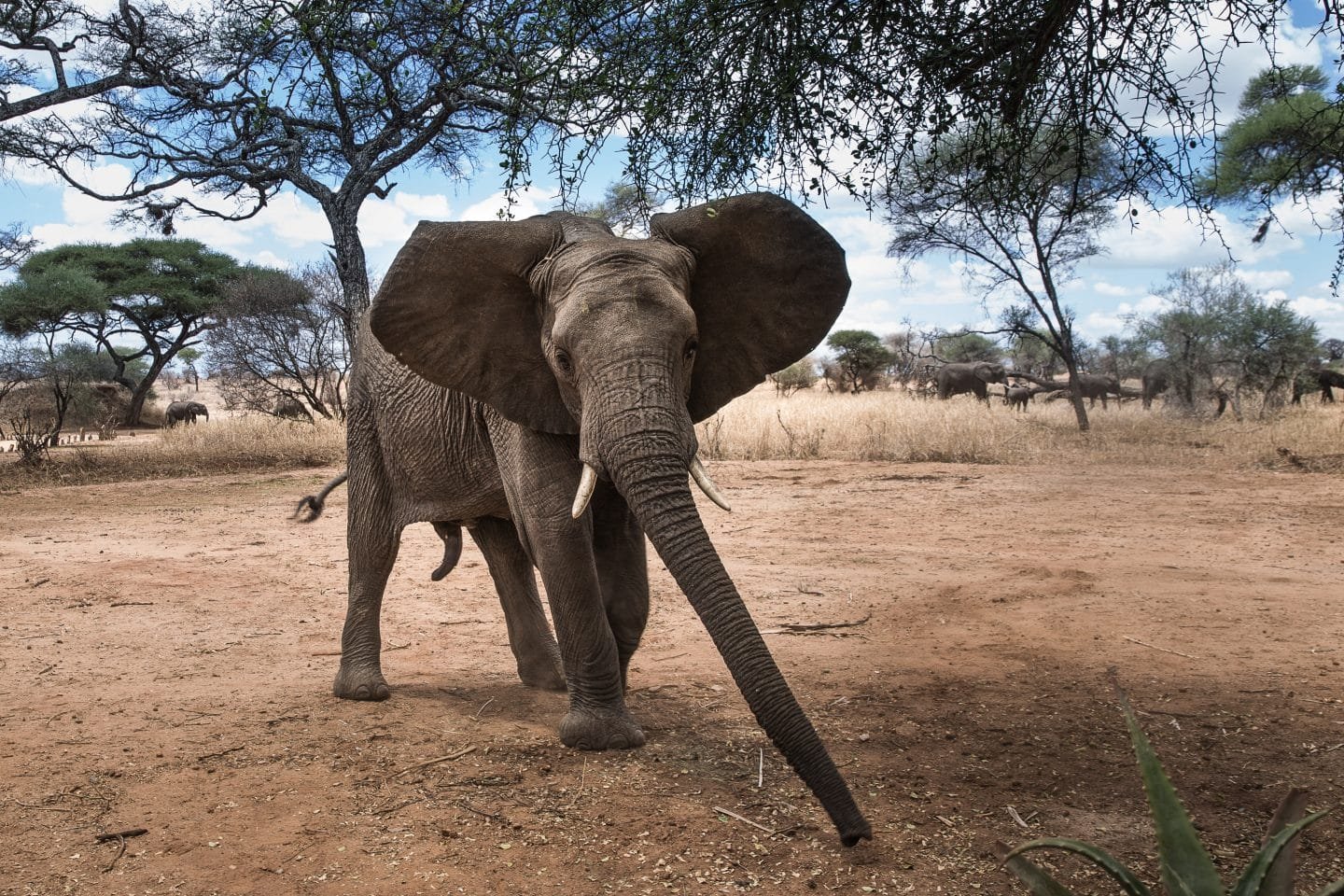 Learn about elephant evolution, biology, behaviour and ecology. It also showcases the ivory of eight of Kruger's greatest tuskers (including six of the Magnificent Seven). This site introduces you to these, and some of Kruger's other big tuskers. It also has fun and games for kids and information for schools and educators.
Albasini Ruins
The Albasini Ruins are located at the Phabeni Gate and are the remains of the 19th century trading post of the famous Portuguese trader, Joao Albasini.
Kruger National Park Prices
The entrance fee for Kruger National Park:
Kruger National Park Day Pass
Day visitors to the Kruger National Park are welcomed and encouraged. All the main rest camps have areas allocated for day visitors and there are a few picnic spots dotted around the Park where visitors can enjoy a mid-day break.
The Park manages the volume of traffic on its roads by imposing a maximum number of vehicles allowed in each day and during high-peak season it's important that visitors book beforehand to ensure they will be able to enter the Park.
The Kruger National Park recently introduced a "Park and Ride" facility which is available at the Numbi, Phabeni and Kruger gates
Kruger National Park Accommodation
The Kruger National Park has an array budget-friendly accommodation to 5-star luxury lodges for those wanting a more exclusive experience. Check in is 2pm and visitors must vacate the premises by 10am.
Best Camping Sites in Kruger National Park
The main rest camps are fenced and you are safe within its boundaries, except for the odd encounter with a greedy baboon at your braai.
Best camping spot if you have a caravan: Berg en Dal
Berg en Dal is a hotspot for leopards. With two guesthouses, a selection of bungalows and a six-bed family cottage. Caravan and camping sites have their own braai facility and a power outlet.
Best camping spot if your want to stay in a central location: Lower Sabie
Best camping spot for bird watching: Mopani Camp
Mopani Rest Camp lies very close to the Tropic of Capricorn, and in fact there is a drive called the Tropic of Capricorn loop which allows you to drive along the parallel of latitude. It's an excellent area for birding.
Best luxury camping spot: Olifants Camp
Oliphants Camp has two wheel-chair friendly huts, two luxury guesthouses; two, three and four-roomed bungalows complete with en-suites.
Best camping spot if you want to avoid crowds: Orpen Camp
Best Luxury Kruger National Park Hotels
Kruger Park Lodge:
The Kruger Park Lodge Estate is situated in Hazyview on the banks of the Sabie River. The resort has a 9-hole golf course, 3 swimming pools and offers air-conditioned guestrooms.
Check for availability and rates at Kruger Park Lodge
Protea Marriot in Hazyview
Protea Hotel Hazyview has an outdoor pool overlooking the surrounding mountains, just 20 minutes' drive from the Kruger National Park. Set on a lush 10 acre garden estate, it features deluxe rooms.
Check for availability and rates at Protea Marriot
Blue Mountain Luxury Lodge
Offering an outdoor pool and sun terrace, Blue Mountain Luxury Lodge is set on 200 hectares of farmland in the Mpumalanga Region. The Numbi Gate of Kruger National Park is 37 km from the property. Free WiFi is provided and free private parking is available on site.

Check for availability and rates at Blue Mountain Luxury Lodge
Kruger National Park Rules and Regulations
Visitors may only get out of their vehicles at designated picnic spots or look-out points.
The speed limit is 50 km/h on tar roads and 40 km/h on gravel roads.
If you are caught speeding or with your head or body out of the car, you will face a hefty fine or even worse die because the animals will have you for dinner.
The feeding or disturbing of animals is a serious offence.
The use of drones is strictly prohibited (due to anti-poaching measures).
Don't bring in an animal or leave with them.
Be aware of your surroundings. Remember you are staying in a park so you might find small rodents, bats, insects and snakes.
Get Insurance before visiting South Africa
Use travel insurance while visiting South Africa so you are covered for theft and medical expenses. There are a lot of adventurous activities to do in South Africa, and it's best to have peace of mind while on safari.
Find out why I recommend World Nomads, check out my World Nomads Insurance review.