South Africa's largest province is home to desert landscapes, wildlife, and hidden gems. If you're planning a trip and wondering Where to stay in Northern Cape, you've come to the right place!
The Northern Cape covers about 30.5% of South Africa's surface area and its home to only 1.1million people (less than 3% of the national population).
The Northern Cape shares its borders with two countries – Namibia – where wild daisies and other springtime flowers carpet the typically arid plains of Namaqualand, a region stretching into Namibia, and Botswana, who it shares Kgalagadi Transfrontier Park, known for red sand dunes shelter lions and falcons. Northern Cape also shares its borders with four South African provinces: North West, Free State, Eastern Cape, and Western Cape.
The province's capital, Kimberely is home to the Big Hole mine known the 1870s diamond rush. There are many amazing towns to visit in Northern Cape and here's a mini-guide to help you choose where to stay in Northern Cape.
Where to stay in Northern Cape
Best place to stay in Northern Cape for first timers – Kimberley
Where to stay in Northern Cape to avoid crowds –  Sutherland
Best Northern Cape town for families – Upington
Where to stay in Northern Cape for safari experiences – Kuruman
Best Nothern Cape town for a baecation – Williston
Best towns in Northern Cape
Best places to stay in Northern Cape by Neighborhood:
Kimberley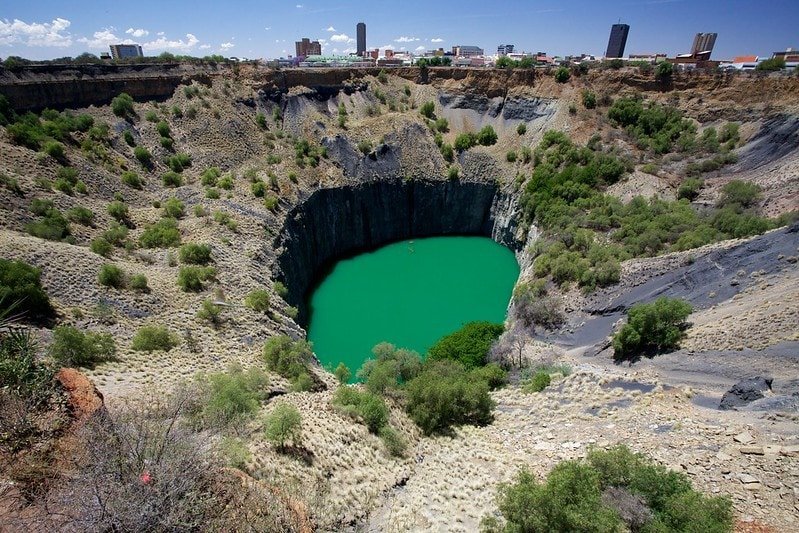 Kimberley is a diamond-mining center and the capital of Northern Cape province.
It's known for its 19th-century diamond mines, like the deep, hand-dug Big Hole. Nearby, the Kimberley Mine Museum is a re-creation of the town in its heyday and displays jewelry and uncut diamonds.
The Kimberley Diamond Mine, founded in 1871, mined nearly 15 million diamonds. The excavation was completed in August 1914.
The Big Hole in Kimberley is a popular attraction that is owned by De Beers – who eventually stopped mining the pit which allowed it to fill with water and dug shafts down into the diamond-bearing rocks below. De Beers headquarters is still in Kimberley, and there are many fun things to do in Kimberley and surrounding areas!
Best Guest House in Kimberley in Northern Cape
Where to stay in Northern Cape's capital Kimberely.
Situated in Kimberley, 1.6 miles from The Big Hole, Mondior Manor Guest House features accommodation with a shared lounge, free private parking, a garden and barbecue facilities.
Boasting family rooms, this property also provides guests with a sun terrace. The property offers an outdoor pool, a 24-hour front desk, and free WiFi is available.
The rooms are fitted with air conditioning, a flat-screen TV with satellite channels, a microwave, a kettle, a shower, a hairdryer, and a desk. The hotel rooms are fitted with a wardrobe and a private bathroom.
Diggies Lodge offers accommodation in Kimberley. The Big Hole is 3.1 miles from the property. Free WiFi is offered and free private parking is available on site.
The accommodation features a flat-screen TV with satellite channels. Every unit has a private bathroom with free toiletries. Towels are available.
Diggies Lodge also has a barbecue and free, secure parking.
Located just .5 miles from the central Kimberley and just a 10-minute drive from Kimberley Airport, Villa Mexicana Guesthouse features spacious rooms, a spa, and barbecue facilities.
The rooms and elegant suites are equipped with cable TV, a fan and tea and coffee facilities. The private bathrooms come with free toiletries and some of the suites offer a spa bath.
The property offers free parking and breakfast is available for a surcharge and packed lunches can also be arranged.
Sutherland
Home to about 3000 people, Sutherland in the Northern Cape lies close to the border with the Western Cape and it's about 4 -5-hours drive to the city of Cape Town (350 KM).
The town is known for having some of the clearest and darkest nights in the world, primarily due to its remote location as well as its altitude of 1,458m above sea level.
Sutherland experiences the coldest temperatures in South Africa due to its high altitude and its open clear skies and in winter one can experience -20 degrees Celsius and lots of snow and ice.
Sutherland hosts the telescopes of the South African Astronomical Observatory nearby, which includes the Southern African Large Telescope (SALT), the largest single optical telescope in the southern hemisphere.
The best accommodation in Sutherland Northern Cape
If you're wondering where to stay in Northern Cape, you should consider Sutherland if you want a secluded and picturesque town.
Located 15 minutes' drive from Sutherland, Rogge Cloof is a game farm in the Karoo region.
Known as a destination for stargazers, Rogge Cloof is a 40-minute drive from the South African Astronomical Observatory and the Southern African Large Telescope. The reception building is located on the reserve, a 6.8 miles drive from the accommodation.
The country house offers self-catering accommodation. Each unit at Rogge Cloof is equipped with a kitchenette and a spacious living area with a dining table. Complimentary WiFi is also available.
Activities on-site or in the surrounding area include game drives, wine tasting, star gazing, fossil hunting, hiking, cycling and volcano visits.
Upington
Upington is a city in the Northern Region of South Africa.
Previously known as Kharahais, it's bound by the Orange River and the Kalahari Desert. Upington owes its wealth to agriculture along the Orange River and its irrigated land. There are many things to do in Upington area and it's the perfect destination for the winter holidays and it has excellent facilities and beautiful countryside!
It was named after Sir Thomas Upington, the Attorney-General of the Cape. It originated as a mission station established in 1875. The mission station now houses the town museum, known as the Kalahari Orange Museum.
Best Luxury Orange River Accommodation Northern Cape
Where to stay near Northern Cape's Iconic River.
Located just 10 minutes from The Upington International Airport, Protea Hotel Upington is situated in on the banks of the Orange River in Upington.
The hotel features a swimming pool and a modern cocktail bar and restaurant. Each room at this amazing Orange River accommodation in Northern Cape has air-conditioned rooms with modern furnishing. The rooms are equipped with a flat-screen satellite TV, tea-and-coffee-making facilities and a minibar. The hotel also has 4 state-of-the-art conference rooms, this hotel is ideal for meetings and business functions.
The Courtyard Bar and Restaurant is open for breakfast, lunch, and dinner. A few restaurants can also be found within 0.6 miles of the hotel.
Complimentary Wi-Fi and private parking are also available. River cruises are available at the river and the Orange River Wine Cellars can be found 3.1 miles away. The Namibian border is 74.6 miles away.
The elegant rooms at The Oasis offer air conditioning, a safety deposit box, tea-and-coffee-making facilities and a private bathroom with shower.
The hotel also offers complimentary WiFi throughout the property and a buffet restaurant.
There is a free shuttle service at the property. The nearest airport is Upington Airport, 4.3 miles from The Oasis.
Providing pool views, River Place Manor in Upington provides accommodation, a restaurant, a bar, a shared lounge, a garden and water sports facilities. The hotel offers a buffet breakfast, complimentary WiFi and private parking.
Each unit is equipped with a patio, a fully equipped kitchenette with a microwave, a seating area with a sofa, a flat-screen TV and a private bathroom with a shower and a hairdryer. For added convenience, the property can provide towels and bed linen for an extra charge.
Kuruman
Kuruman is the main town on Namakwari Route's Kalahari portion on the Ghaap Plateau 1 131 m above sea level.
The name of the city is unclear in its origin, but it is generally accepted as a variant of the name of a San leader of the 18th century, Kudumane. Identified as the ' Kalahari Oasis, ' Kuruman is blessed with a water source that is permanent and plentiful.
The town's thriving economy owes its health to the community's mining, stock farming, and agricultural activities. Manganese, iron ore, tiger's eye and the richest blue asbestos deposits in the world are found and mined here.
$ Best Budget Accommodation  – Kuruman Inn
Set in Kuruman, 1,650 feet from The Eye Of Kuruman, Kuruman Inn offers accommodation with a restaurant, free private parking, a bar, and a garden.
Boasting family rooms, this property also provides guests with a barbecue. The property features an outdoor pool, a 24-hour front desk, and free WiFi is available throughout the property.
All guest rooms come with air conditioning, a flat-screen TV with satellite channels, a microwave, a kettle, a bath or shower, a hairdryer, and a wardrobe.
Williston
Located 103 km north-east of Calvinia and 140 km south-west of Carnarvon. Williston is a quaint town in the Karoo area, it's South Africa's version of the Spanish Camino Santiago.
In 1768 Johan Abraham Nel planted an almond tree in honor of the birth of his son. This tree eventually became enormous and was an oasis in the dry treeless area of the Karee Mountains.
Williston is situated on the beds of the Zak River, a seasonal river where unique riverbed irrigation is practiced, similar to that at the Nile River in Egypt.
Today it's home to the annual Williston Winter Festival, a deep-Karoo highlight that brings alive the semi-desert landscape with the Nama Riel show, the main attraction, and plenty of genuine Karoo food.
Best Place to Stay in Williston – Soek 'n Slapie
Soek 'n Slapie Gastehuis features a restaurant, bar, a shared lounge, and a garden in Williston. This 3-star guest house offers a shared kitchen and room service. Private parking can be arranged at an extra charge.
Guest rooms at the guest house are equipped with a seating area, a TV with satellite channels and a private bathroom with a hairdryer and a shower. All units will provide guests with a fridge.
Game Reserves in Northern Cape
This Kuruman Lodge with 16 rooms is the ideal choice if you're looking for peace, quiet and privacy!
Every unit features a private bathroom and shower, air conditioning, a flat-screen TV and modern amenities.
Just 8 km from Kuruman, if needed, guests can easily drive to the area. Take a dip with your friends in the pool, have a braai, or just enjoy a game drive. 
After a day of hiking or cycling, guests can relax in the garden or in the shared lounge area.
Nguni Moon Tepee Camp provides tented accommodation just outside of Underberg on the banks of the Mzimkhulu River.
The self-catering campsite has a fire pit and a shared kitchen. The teepee tents are fitted with beds, linen, and towels and all have access to a communal bathroom.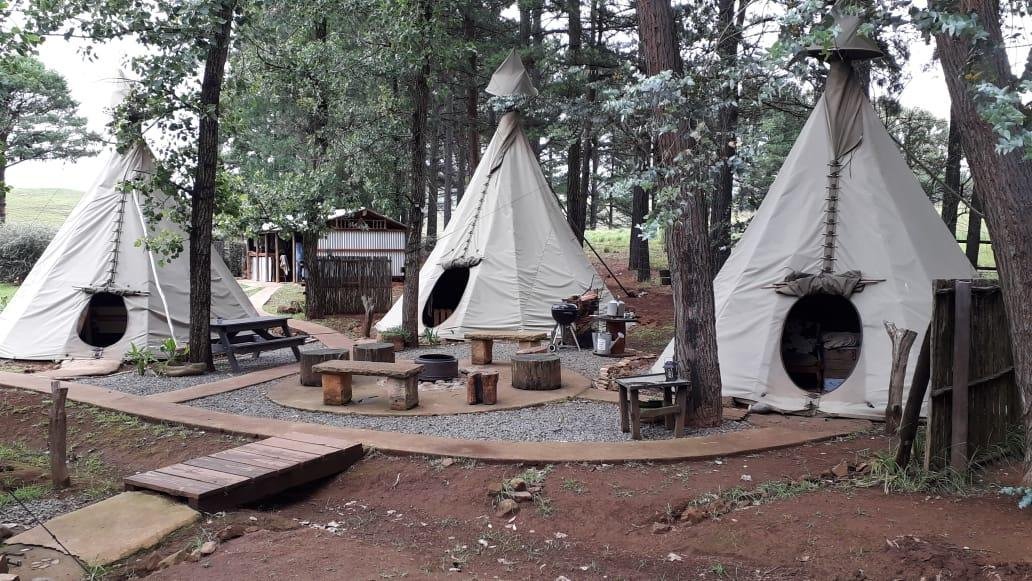 Camp Nguni is a wildlife reserve for those who love to try something new with plenty of outdoor activities. Enjoy a game drive or a bushwalk or even go horse riding, mountain biking, and hiking can be enjoyed within close proximity of Nguni Moon Tepee Camp. The Sani Pass is within 30 minutes' drive.
Tutwa Lodge is close to the Namibian border and surrounded by various national parks and game reserves. The nearest airport is Upington Airport and is a 3-hour drive away and transfers can be arranged.
Surrounded by the African bush, Tutwa Desert Lodge offers accommodation in the Greater Augrabies area between the Green Kalahari and the Orange River.
The spacious rooms and suites at Tutwa are decorated in neutral colors. Each is equipped with air conditioning, heating, a fridge, and tea-and-coffee-making facilities. The bathrooms are fitted with a bath and shower. All units feature a patio.
Full-board rates at Tutwa Desert Lodge include meals, while the all-inclusive rates also include local beverages, game drives, and nature paddles.
Guests can also relax by the pool and enjoy the mighty landscapes and mountain vistas.
Best Holiday Resorts in Northern Cape
Located on the banks of Orange River, this 4-star resort in Upington offers bright accommodations with views of the river or garden. It features a restaurant, bar, and outdoor swimming pool. Oranjerus Resort is 15.5 miles from Upington.
The well-lit units at Oranjerus Resort feature a TV and bathroom with a shower. The chalets include air conditioning, a living room, and a fully equipped kitchen.
You can enjoy a meal at the à l carte restaurant or enjoy a drink by the bar or Sundowner Deck.
---
South Africa Travel Guides
---
Travel Insurance for South Africa
Use travel insurance while visiting South Africa so you are covered for theft and medical expenses. There are a lot of adventurous activities to do in SA, and it's best to have peace of mind while diving, hiking and trying some of the best food in the world.
Find out why I recommend World Nomads, check out my World Nomads Insurance review.
Disclaimer: This article contains affiliate links. This means that if you make a booking after clicking on a link, I may receive a small commission at no extra cost to you!